中文名: 桌面出版软件
英文名: Broderbund The Print Shop
资源格式: 光盘镜像
版本: v3.0 Professional
发行时间: 2012年
简介: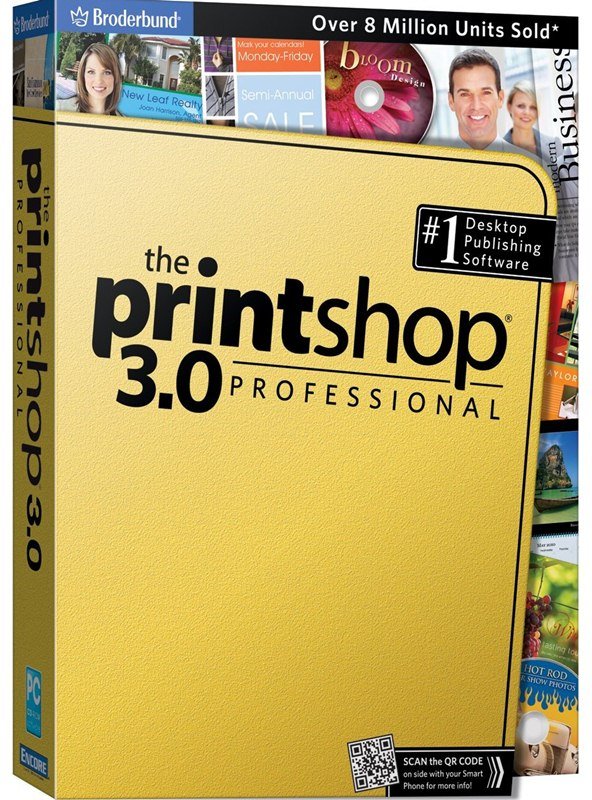 The Photo Shop 的目标是满足家用者众多且变化多端的需求,从设计名片丶彩带丶符号丶菜单丶邀请函到名条丶新闻信丶小册子丶海报丶记事卡等等,都可以自行创作。

The Print Shop 有多种输出格式,超过数万张图形和照片,因此更具有设计的弹性。从 Print Shop 的网站,还可以多下载一些图形和设计。它有支援扫瞄器和数位相机的 TWAIN 驱动程式,一个标志制作引擎和自行设计3M随意贴的能力。

The Print Shop 3.0 Professional就像是自己的家庭式创意机构 - 无需培训!简单的文字和布局工具,剪贴画和模板和照片编辑工具,The Print Shop有你需要的一切,包括广告,文具,网页和在几分钟内创建专业品质的材料。

超过6000 +专业设计的模板和超过220,000 +打印照片,剪贴画,相框,边框和更多的选择,快速上手。有了一个强大的工具,在您的指尖广泛,可以很容易地控制设计。

The Print Shop 一直是美国的超过27年最喜爱的桌面出版软件!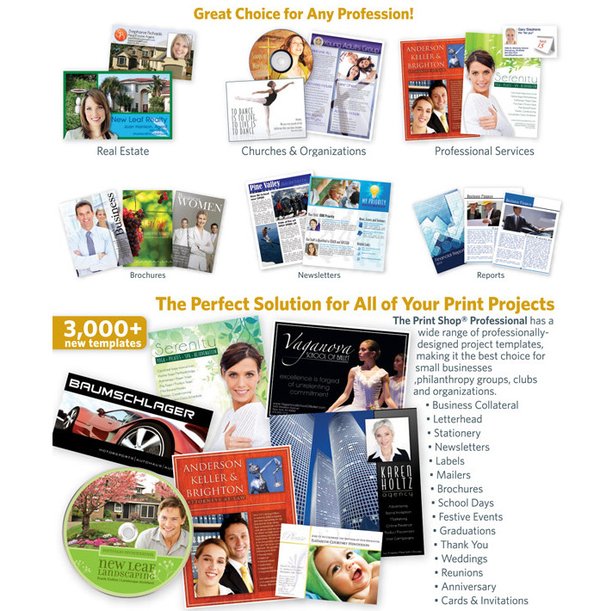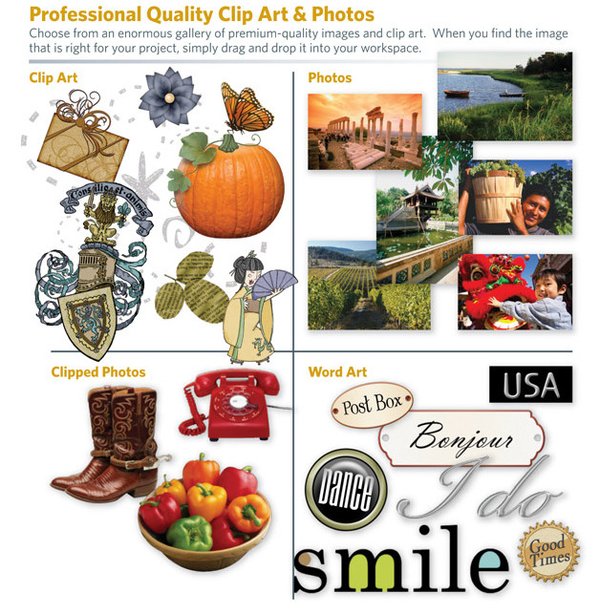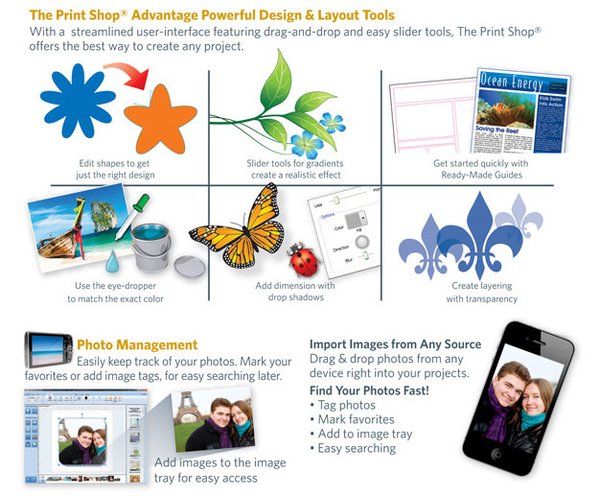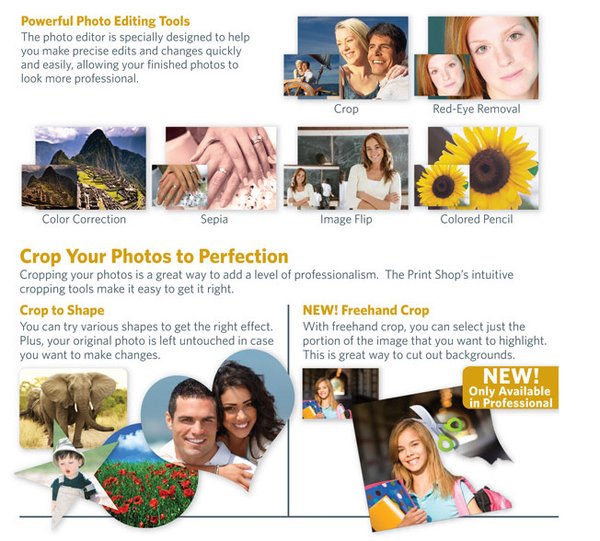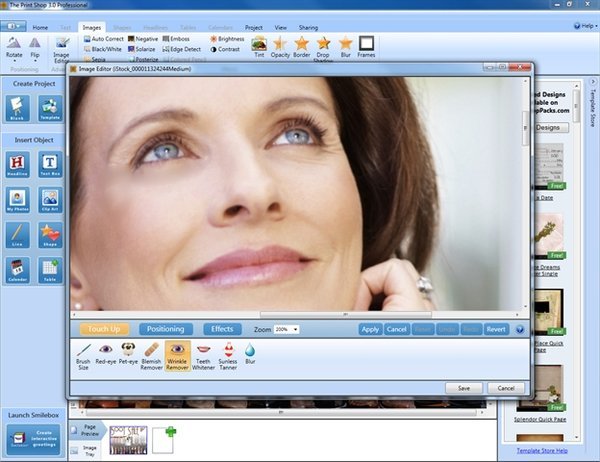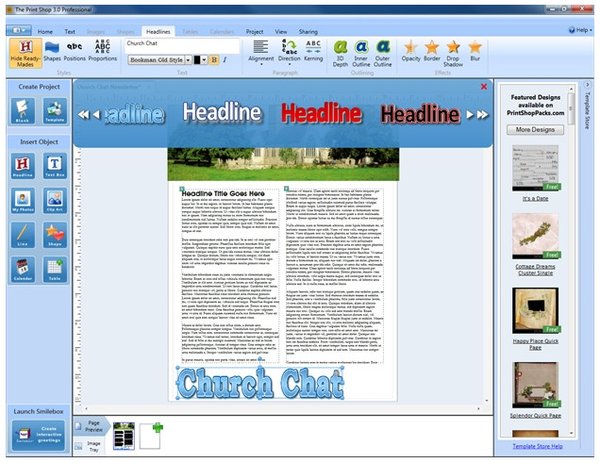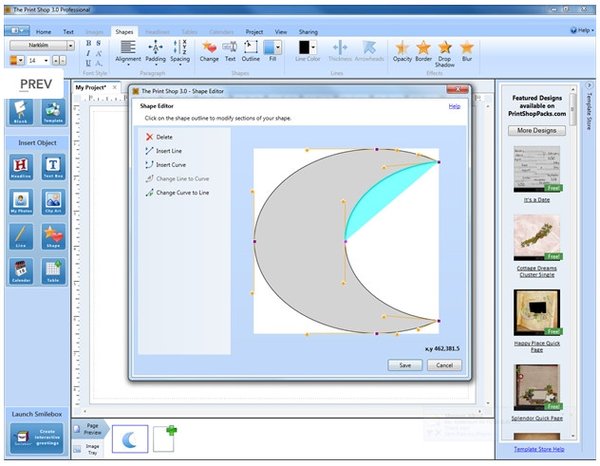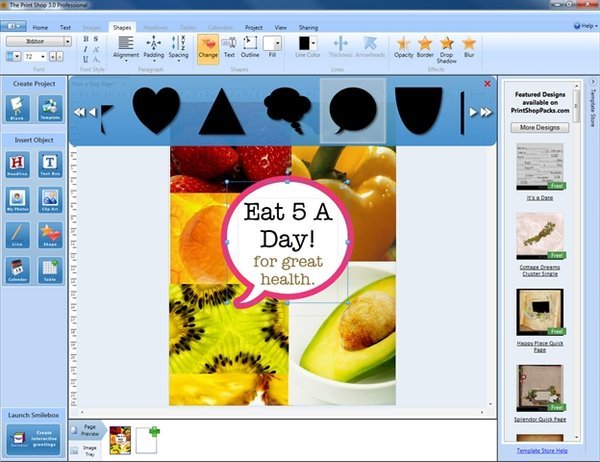 ======================================

下载链接来自sharevirus,
未经过安装测试与安全检测,使用者后果自负与本论坛无关
软体版权归原作者及其公司所有,如果你喜欢,请购买正版

======================================


Redesigned Workspace
The Print Shop 3.0 Professional will not only give you the best tools available, it is easy to use! Version 3.0 features a redesigned workspace with easily accessible buttons for adding new elements to your design, and intuitive ribbon control for managing your creations.

Calendars
Making your own calendars just got easier. Customize a calendar and make it your own with your photos, add holidays for both the US and Canada, and add your events. Then just print out at home or take to an offset printer for a professional result.

Ready Made Guides
Have a creative idea? Sometimes you just need a little help getting started. The Print Shop 3.0 Professional now offers ready-made guides. Ready-made guides allow you to easily create a layout for a wide variety of projects. Create your own guides or save them for later.

Tables
The Print Shop 3.0 Professional makes it easy to organize the information you display in your projects. Add tables, adjust the number of rows and columns. Drag to adjust the width and height.


Drop Shadow
With The Print Shop 3.0 Professional it is easy to add dimension to your projects. Layer objects by sending to front or back. Then use easy slider tools to adjust the color, distance and blur of your drop shadow.

Edit Shapes
Edit shapes to get just the right design. With The Print Shop 3.0 Professional you can adjust the width, height, color, and manipulate the lines that make up that shape.

Gradients
Use this intuitive tool to create easy gradients. Simply specify the number of gradient stops, then choose the colors and specify their location. A real-time preview lets you see what your gradient will look like as you work on it.

Transparency
This is a great tool when layering objects on top of one another, allowing the object on top to be transparent. Slider tools make it easy to adjust the opacity of any object.

Eye Dropper Tool
It's never been easier to match colors on a page! Get the exact color of an item in your project with the eye-dropper tool. Simply pick any color from your project and fill the selected object with that color.


Auto Correct
Make any photo perfect with The Print Shop 3.0 Professional. With this tool you can specify the type of correction you are looking for and use the easy slider tools to get the exact effect. You can even experiment with black & white and sepia.

Crop to Shape
Highlight the important moments in your photos! Now you can choose any shape for cropping.

Red Eye Removal
Don't let red eye get in the way of your project. Simply fix it! The Print Shop makes it easy to identify the problem area and take out all of the red.

Spot Photo Touchups
The Print Shop now offers spot touch up tools to give you even more control of your photos. Zap blemishes, remove wrinkles, fix pet eye and more.

Freehand Crop
Take the background out of any photo with freehand cropping. This is a great way to highlight an element of your photo on the background of your choosing.


Duplex Printing
Take the guess work out of printing with the duplex printing wizard. The Print Shop walks you through an easy step-by-step process to ensure that your projects print correctly every time.

Post to Facebook
Share your projects in just one click! Simply choose Post to Facebook and your project will be quickly saved and posted for your Facebook Friends to enjoy. This is a great way to get the word out about activities!

Address Book & Event Reminders
Stay ahead of important dates with event reminders. Keep track of your contacts, import from Gmail, Hotmail, Outlook, and even The Print Shop v23!

Save as HTML
Turn any project into a web page or email by saving as HTML. This is a great way to manage your business across all channels.

Share via Email
It's never been easier to share your projects. With Share via Email, your project is saved as a JPG and put into a format that can be easily emailed from your own account. It's really that simple.

MINIMUM SYSTEM REQUIREMENTS:
Windows® XP SP3 (Home & Pro), Windows Vista® SP2, Windows® 7¹, Pentium® IV 2.2GHz processor or faster, 1GB RAM (2GB RAM for Windows Vista® & Windows® 7),

Hard Drive Space: 3.5GB², DVD-ROM drive,
Display: 1024x768, 32-bit color,
Multimedia: DirectX® 9.0c or higher 32 MB video card, sound card, and speakers.
Software: Microsoft® .NET Framework v4.0(included on DVD),
Browser: Microsoft® Internet Explorer® 6.0 or higher, Windows® compatible printer (monochrome or color), Windows® compatible mouse & keyboard,
Internet access: 1.5Mbps broadband or faster and Internet Service Provider account required³.

¹Administrator privileges are required to properly install the program on Windows® XP, Windows Vista®, and Windows® 7.

²System Configuration: The amount of hard-disk space required can vary if you already have one or more required components installed on your system. Adjustments to your system configuration and/or updates to the hardware component drivers may be required. ³User is responsible for all Internet access fees and phone charges.



代码
▄▄▄▄▄▄▄▄▄▄▄▄▄▄▄▄▄▄▄▄▄▄▄▄▄▄▄▄▄▄▄▄▄▄▄ ▄▄▄▄▄▄▄▄▄▄▄▄▄▄▄▄▄▄▄▄▄▄▄▄▄▄▄▄▄▄▄▄▄▄▄
▐▓ ♣╔═╦╦╦═╦╦╦═╦╦╦═╦╦╦═╦╦╦═╦╦╦═╦╦╦═╗▀▀▀▀▀▀▀▀▀▀╔═╦╦╦═╦╦╦═╦╦╦═╦╦╦═╦╦╦═╦╦╦═╦╦╦═╗♣ ▓▌
█ ♣ ║♂╠░╣♂╠░╣♂╠░╣♂╠░╣♂╠░╣♂╠░╣♂╠░╣♂║♣ SoSISO ♣║♂╠░╣♂╠░╣♂╠░╣♂╠░╣♂╠░╣♂╠░╣♂╠░╣♂║ ♣ █
▐▓ ♣╚═╩╩╩═╩╩╩═╩╩╩═╩╩╩═╩╩╩═╩╩╩═╩╩╩═╝▄▄▄▄▄▄▄▄▄▄╚═╩╩╩═╩╩╩═╩╩╩═╩╩╩═╩╩╩═╩╩╩═╩╩╩═╝♣ ▓▌
█▓▄ ▀▀▀▀▀▀▀▀▀▀▀▀▀▀▀▀▀▀▀▀▀▀▀▀▀▀▀▀▀▀▀ ▄▄▄▄▄▄ ▀▀▀▀▀▀▀▀▀▀▀▀▀▀▀▀▀▀▀▀▀▀▀▀▀▀▀▀▀▀▀ ▄▓█
▀▓█ ▀▀▀▀▀▀▀▀▀▀▀▀▀▀▀▀▀▀▀▀▀▀▀▀▀▀▀▀▀▀▀▀ ▀▀▀▀▀▀▀▀▀▀▀▀▀▀▀▀▀▀▀▀▀▀▀▀▀▀▀▀▀▀▀▀ █▓▀
▐▌ ▄▄ ■ ▄ ▄█ ▄█▄ ▐▄▄▄▄▄▄▄▄ ▐▌
█ ▄█████▄▐ ▐█▌▌ ▄██ ▐████▌▐ ▐█████▄ ████▀▀██▐ █
▐▌ ▐██■ ▀██▌ ▐██ ▐█▌ ▄██▀▀██▄ ██▀ ▀██ ██▐ ▐▌
▄▓█ ██▐ █ ▐█▌ ▐█ ▐█▀ ▀█▌ ▀█▐ ▐█▌ ▀█▐ █▓▄
█▓▀ ▌ ██▌ ■ ▀█▌ ██▐ ▐█ ▐ █▌ ▌█▐ ▐█▌ ▌█▐ ▐ ▀▓█
▐▌ ▐▌ ██▌ ▌██▄ ▄██▐ ██▄▄▄▄██▐ ▌█▄▄▄▄██ ▌██▄▄▄▐ ▐▌ ▐▌
▐ ▄▓█ ████▄ ▌█▐████▐▌ ▌█████▌█▐ ▌██▀██▀ ▌██▀▀▀▐ █▓▄ ▌
█▓▀ ▌ ▀▀███ ▌██▀ ▀██▐ ▌█▀ ▀██▐ ▌█▐ ▐█▌▐ ▌██ ▐ ▀▓█
▐▌ ▐▌ ■ ■███ ▄█▌ ██▐ ▌█▐ ██ ▌█▐ ██ ▌█▐ ▐▌ ▐▌
▐ ▄▓█ █ ■██ ██▌ ██▄ ▌█▐ ██▐ ▌█▐ ▐█▌ ▄█▐ █▓▄ ▌
█▓▀ ▌ ▐██▄ ▐██▌ ▐█▌■ ▐▌█ ▐▌█▐ ██ ▌█▐ ▐██▐ ███▄▄▄▄▄▐ ▐ ▀▓█
▐▌ ▐▌ ▌▀█████▀ ██▌■ ▐▌█▌█▌█▌ ▐██▌ ▐██▌ ███ ███▀▀▀▀██ ▐▌ ▐▌
▐ ▄▓█ ▀ ▀▀▀ ▀▀ ▀▀ ▀▀▀▀ ▀▀▀▀ ▀▀▀ ▀▀▀ ▀ ▀ █▓▄ ▌
█▓▀ ▐▌▄▄ ▄▄██▄ ▄▄██▄▄ ▐▄▄▄▄▄▄ ▀▓█
▐▌ ▄██████ ██▀ ▀█ ██▀ ▀█▌ ██▀▀▀▀▐ ▐▌
█ ▌█▌ ▐█▌ ▌█ █▌ ▌█▐ █▌ ▌█▐ █
▐▌ ▌█ █▐ ▌██▄▄██ ▌█▐▄▄█▀ ▌█▌▄▄▐ ▐▌
█▓▄ ▌█ █▐ ▌█▐▀██ ▌█▐▀▀█▄ ▌█▌▀▀▐ ▄▓█
▀▓█ ▌█▌ ▐█▌ ▌█▐ ▌▐▌ ▌█▐ █▌ ▌█▐ █▓▀
▐▌ ▀██████ ▀██ ▐ █ ██▄▄▄▄█▌ ██▄▄▄▄▐ ▐▌
█ ▀▀▐▌ ▀▀▀ ▀▀▀▀ ▀▀▀▀▀▀ ▀▀▀▀▀▀ █
▐▌ ▄▄ ▄■ ▄ ▄█ ▄█▄ ▐▄▄▄▄▄▄▄▄ ▄▄▄▄ ▐▌
▄▓█ ▄█████▄▐ ▐█▌▌ ▄██ ▐████▌▐ ▐█████▄ ████▀▀██▐ ██▀▀██▌▌ █▓▄
█▓▀ ▌ ▐██■ ▀██▌ ▐██ ▐█▌ ▄██▀▀██▄ ██▀ ▀██ ██▐ ▌█▐ ▀██▄ ▐ ▀▓█
▐▌ ▐▌ ██▐ █ ▐█▌ ▐█ ▐█▀ ▀█▌ ▀█▐ ▐█▌ ▀█▐ ▌█▐ █▐ ▐▌ ▐▌
▐ ▄▓█ ██▌ ■ ▀█▌ ██▐ ▐█ ▐ █▌ ▌█▐ ▐█▌ ▌█▐ ▌█▐ ██▌ █▓▄ ▌
█▓▀ ▌ ██▌ ▌██▄ ▄██▐ ██▄▄▄▄██▐ ▌█▄▄▄▄██ ▌██▄▄▄▐ ▌█▐ ▌█▐ ▐ ▀▓█
▐▌ ▐▌ ████▄ ▌█▐████▐▌ ▌█████▌█▐ ▌██▀██▀ ▌██▀▀▀▐ ▌█▐ ▌█▐ ▐▌ ▐▌
▐ ▄▓█ ▀▀███ ▌██▀ ▀██▐ ▌█▀ ▀██▐ ▌█▐ ▐█▌▐ ▌██ ▌█▐ ▌█▐ █▓▄ ▌
█▓▀ ■ ■███ ▄█▌ ██▐ ▌█▐ ██ ▌█▐ ██ ▌█▐ ▌█▐ ██▌ ▐ ▀▓█
▐▌ ▐▌ █ ■██ ██▌ ██▄ ▌█▐ ██▐ ▌█▐ ▐█▌ ▄█▐ ▌█▐ ▄█▐ ▐▌ ▐▌
▐ ▄▓█ ▐██▄ ▐██▌ ▐█▌■ ▐▌█ ▐▌█▐ ██ ▌█▐ ▐██▐ ███▄▄▄▄▄▐ ▌█▐ ███▀ █▓▄ ▌
█▓▀ ▌ ▌▀█████▀ ██▌■ ▐▌█▌█▌█▌ ▐██▌ ▐██▌ ███ ██▀▀▀▀▀██ ██▄▄██▌▌ ▐ ▀▓█
▐▌ ▐▌ ▀ ▀▀▀ ▀▀ ▀▀ ▀▀▀▀ ▀▀▀▀ ▀▀▀ ▀▀▀ ▀ ▀ ▀▀▀▀▀ ▐▌ ▐▌
▐ ▄▓█ ▄▄▄▄▄▄▄▄▄▄▄▄▄▄▄▄▄▄▄▄ ▄▄▄▄▄▄▄▄▄▄▄▄▄▄▄▄▄▄▄▄ █▓▄ ▌
█▓▀ ▌ ▄▄▄▄▄▄▄▄▄▄▄▄▄▄▄▄▄▄▄ ▀▀▀▀▀▀▀▀▀▀▀▀▀▀▀▀▀▀▀▀▀▀▀▀▀▀ ▄▄▄▄▄▄▄▄▄▄▄▄▄▄▄▄▄▄▄ ▐ ▀▓█
▐▌ ▐▌ ╔═╦╦╦═╦╦╦═╦╦╦═╦╦╗ ▀▀▀▀▀▀▀▀▀▀▀▀▀▀▀▀▀▀▀▀▀▀▀▀▀▀▀▀▀▀ ╔╦╦═╦╦╦═╦╦╦═╦╦╦═╗ ▐▌ ▐▌
▐ ▄▓█ ║♂╠░╣♂╠░╣♂╠░╣♂╠░╣ Society of Sharing 1998-2012 ╠░╣♂╠░╣♂╠░╣♂╠░╣♂║ █▓▄ ▌
█▓▀ ▌ ╚═╩╩╩═╩╩╩═╩╩╩═╩╩╝ ▄▄▄▄▄▄▄▄▄▄▄▄▄▄▄▄▄▄▄▄▄▄▄▄▄▄▄▄▄▄ ╚╩╩═╩╩╩═╩╩╩═╩╩╩═╝ ▐ ▀▓█
▐▌ ▐▌ ▀▀▀▀▀▀▀▀▀▀▀▀▀▀▀▀▀▀ ▄▄▄▄▄▄▄▄▄▄▄▄▄▄▄▄▄▄▄▄▄▄▄▄▄▄ ▀▀▀▀▀▀▀▀▀▀▀▀▀▀▀▀▀▀ ▐▌ ▐▌
▐ ▄▓█ ▀▀▀▀▀▀▀▀▀▀▀▀▀▀▀▀▀▀▀ ▀▀▀▀▀▀▀▀▀▀▀▀▀▀▀▀▀▀▀ █▓▄ ▌
█▓▀ ♣ Presents ♣ ▀▓█
▐▌ ▐▌
█ Broderbund.The.Print.Shop.v3.0.Pro-SoSISO █
▐▌ ▐▌
█▓▄ ▄▓█
▀▓█ ▄▄▄▄▄▄▄▄▄▄▄▄▄▄▄▄▄▄▄▄ ▄▄▄▄▄▄▄▄▄▄▄▄▄▄▄▄▄▄▄▄ █▓▀
▐▌ ▄▄▄▄▄▄▄▄▄▄▄▄▄▄▄▄▄▄▄ █▄▄▄▄▄▄▄▄▄▄▄▄▄▄▄▄▄▄▄▄▄▄▄▄█ ▄▄▄▄▄▄▄▄▄▄▄▄▄▄▄▄▄▄▄ ▐▌
█ █▄▄▄▄▄▄▄▄▄▄▄▄▄▄▄▄▄▄▄▄▄▄▄▄▄▄▄▄█ █
▐▌ ▐▌
▄▓█ TYPE : . . . . . . . . . . . . Util █▓▄
█▓▀ ▌ ▐ ▀▓█
▐▌ ▐▌ DATE : . . . . . . . . .Jan 25,2012 ▐▌ ▐▌
▐ ▄▓█ █▓▄ ▌
█▓▀ ▌ FILES : . . . . . . . . . . 41x50MB ▐ ▀▓█
▐▌ ▐▌ ▐▌ ▐▌
▐ ▄▓█ ARCHIVE : . . . . . . . sos-ps3.rar █▓▄ ▌
█▓▀ ▌ ▐ ▀▓█
▐▌ ▐▌▄▄▄▄▄▄▄▄▄▄▄▄▄▄▄▄▄▄▄█▀▀▀▀▀▀▀▀▀▀▀▀▀▀▀▀▀▀▀▀▀▀▀▀▀▀▀▀█▄▄▄▄▄▄▄▄▄▄▄▄▄▄▄▄▄▄▄▐▌ ▐▌
▐ ▄▓█ ▌╔═╦╦╦═╦╦╦═╦╦╦═╦╦╦═╗ ╔════════════════════════╗ ╔═╦╦╦═╦╦╦═╦╦╦═╦╦╦═╗▐ █▓▄ ▌
█▓▀ ▌▌║♂╠░╣♂╠░╣♂╠░╣♂╠░╣♂║ ║♣ Release Information ♣║ ║♂╠░╣♂╠░╣♂╠░╣♂╠░╣♂║▐▐ ▀▓█
▐▌ ▐▌▌╚═╩╩╩═╩╩╩═╩╩╩═╩╩╩═╝ ╚════════════════════════╝ ╚═╩╩╩═╩╩╩═╩╩╩═╩╩╩═╝▐▐▌ ▐▌
▐ ▄▓█ ▀▀▀▀▀▀▀▀▀▀▀▀▀▀▀▀▀▀▀█▄▄▄▄▄▄▄▄▄▄▄▄▄▄▄▄▄▄▄▄▄▄▄▄▄▄▄▄█▀▀▀▀▀▀▀▀▀▀▀▀▀▀▀▀▀▀▀ █▓▄ ▌
█▓▀ ▀▓█
▐▌ ▐▌
▐ ▌
The Print Shop 3.0 Professional is like having your own creative agency
in house - with no training required! Packed with tons of easy text and
layout tools, clip art and templates, and photo editing tools, you have
everything you need to create professional-quality materials including
advertising, stationery, web pages and more in minutes.
Get started quickly by choosing from over 6,000+ professionally-designed
templates and over 220,000+ print-ready photos, clip art, frames,
borders and more. With a wide range of powerful tools at your
fingertips, it's easy to have control over your designs.
Find out why The Print Shop has been America's favorite desktop
publishing software for over 27 years!
http://www.broderbund.com/p-278-the-print-shop-30-professional.aspx
▐ ▌
▐▌ ▐▌
█▓▄ ▄▓█
▀▓█ █▓▀
▐▌▄▄▄▄▄▄▄▄▄▄▄▄▄▄▄▄▄▄▄█▀▀▀▀▀▀▀▀▀▀▀▀▀▀▀▀▀▀▀▀▀▀▀▀▀▀▀▀█▄▄▄▄▄▄▄▄▄▄▄▄▄▄▄▄▄▄▄▐▌
▓▌╔═╦╦╦═╦╦╦═╦╦╦═╦╦╦═╗ ╔════════════════════════╗ ╔═╦╦╦═╦╦╦═╦╦╦═╦╦╦═╗▐▓
▐▌▌║♂╠░╣♂╠░╣♂╠░╣♂╠░╣♂║ ║ ♣ Installation ♣ ║ ║♂╠░╣♂╠░╣♂╠░╣♂╠░╣♂║▐▐▌
▄▓█ ▌╚═╩╩╩═╩╩╩═╩╩╩═╩╩╩═╝ ╚════════════════════════╝ ╚═╩╩╩═╩╩╩═╩╩╩═╩╩╩═╝▐ █▓▄
█▓▀ ▀▀▀▀▀▀▀▀▀▀▀▀▀▀▀▀▀▀▀█▄▄▄▄▄▄▄▄▄▄▄▄▄▄▄▄▄▄▄▄▄▄▄▄▄▄▄▄█▀▀▀▀▀▀▀▀▀▀▀▀▀▀▀▀▀▀▀ ▀▓█
▐▌ ▐ ▌ ▐▌
▐ ▄▓█ █▓▄ ▌
█▓▀ ▀▓█
▐▌ Burn or Mount ▐▌
█ █
▐▌ ▐▌
█▓▄ ▄▓█
▀▓█ ▄▄▄▄▄▄▄▄▄▄▄▄▄▄▄▄▄▄▄█▀▀▀▀▀▀▀▀▀▀▀▀▀▀▀▀▀▀▀▀▀▀▀▀▀▀▀▀█▄▄▄▄▄▄▄▄▄▄▄▄▄▄▄▄▄▄▄ █▓▀
▐▌▌╔═╦╦╦═╦╦╦═╦╦╦═╦╦╦═╗ ╔════════════════════════╗ ╔═╦╦╦═╦╦╦═╦╦╦═╦╦╦═╗▐▐▌
▓▌║♂╠░╣♂╠░╣♂╠░╣♂╠░╣♂║ ║ ♣ About Us ♣ ║ ║♂╠░╣♂╠░╣♂╠░╣♂╠░╣♂║▐▓
▐▌▌╚═╩╩╩═╩╩╩═╩╩╩═╩╩╩═╝ ╚════════════════════════╝ ╚═╩╩╩═╩╩╩═╩╩╩═╩╩╩═╝▐▐▌
▄▓█ ▀▀▀▀▀▀▀▀▀▀▀▀▀▀▀▀▀▀▀█▄▄▄▄▄▄▄▄▄▄▄▄▄▄▄▄▄▄▄▄▄▄▄▄▄▄▄▄█▀▀▀▀▀▀▀▀▀▀▀▀▀▀▀▀▀▀▀ █▓▄
█▓▀ ▌ ▐ ▀▓█
▐▌ ▐▌ ▐▌ ▐▌
▐ ▄▓█ █▓▄ ▌
█▓▀ ▌ Founded in May 1998. The Society of Sharing is dedicated ▐ ▀▓█
▐▌ ▐▌ to sharing knowledge and resources, and doing whatever it ▐▌ ▐▌
▐ ▄▓█ takes to get them to the inexperienced and experts alike █▓▄ ▌
█▓▀ We earned our name, as we work strictly on a donation ▀▓█
▐▌ basis, and take pride in that fact. ▐▌
█ █
▐▌ SoS can be reached at shareorbeshared[at]gmail[dot]com ▐▌
█▓▄ ▄▓█
▀▓█ SoS DOES NOT SUPPLY MISSING FILES ! █▓▀
▐▌ ▐▌
█ █
▐▌ ▐▌
▄▓█ ▄▄▄▄▄▄▄▄▄▄▄▄▄▄▄▄▄▄▄█▀▀▀▀▀▀▀▀▀▀▀▀▀▀▀▀▀▀▀▀▀▀▀▀▀▀▀▀█▄▄▄▄▄▄▄▄▄▄▄▄▄▄▄▄▄▄▄ █▓▄
█▓▀ ▌▌╔═╦╦╦═╦╦╦═╦╦╦═╦╦╦═╗ ╔════════════════════════╗ ╔═╦╦╦═╦╦╦═╦╦╦═╦╦╦═╗▐▐ ▀▓█
▐▌ ▐▌▌║♂╠░╣♂╠░╣♂╠░╣♂╠░╣♂║ ║ ♣ Our Motto ♣ ║ ║♂╠░╣♂╠░╣♂╠░╣♂╠░╣♂║▐▐▌ ▐▌
▐ ▄▓█ ▌╚═╩╩╩═╩╩╩═╩╩╩═╩╩╩═╝ ╚════════════════════════╝ ╚═╩╩╩═╩╩╩═╩╩╩═╩╩╩═╝▐ █▓▄ ▌
█▓▀ ▌▀▀▀▀▀▀▀▀▀▀▀▀▀▀▀▀▀▀▀█▄▄▄▄▄▄▄▄▄▄▄▄▄▄▄▄▄▄▄▄▄▄▄▄▄▄▄▄█▀▀▀▀▀▀▀▀▀▀▀▀▀▀▀▀▀▀▀▐ ▀▓█
▐▌ ▐▌ ▐▌ ▐▌
▐ ▄▓█ █▓▄ ▌
█▓▀ ▌ SHARE OR BE SHARED ▐ ▀▓█
▐▌ ▐▌ IT'S NOT WHAT YOU GET,IT'S WHAT YOU GIVE ▐▌ ▐▌
▐ ▄▓█ █▓▄ ▌
█▓▀ S.O.S ▀▓█
▐▌ ▐▌
▐ ▌

Broderbund Print Shop Deluxe v23.1
http://www.VeryCD.com/topics/2908407/
这里是其它用户补充的资源(我也要补充):
暂无补充资源