专辑英文名: A Celtic Spectacular
专辑中文名: 爱尔兰民俗音乐极品发烧盘
音乐风格: 民谣
资源格式: APE
发行时间: 2002年04月30日
简介: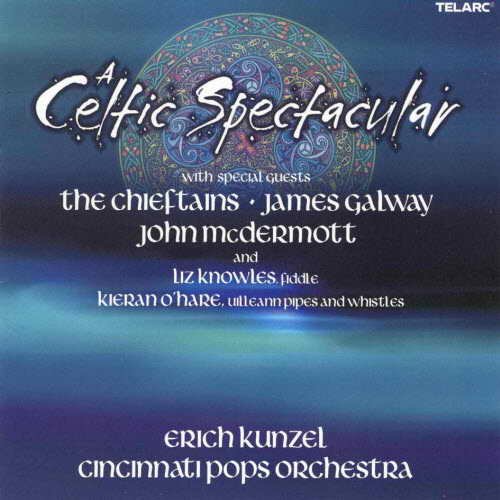 专辑介绍:

随著「大河舞」、「火焰之舞」在台湾畅销热卖,许多人纷纷寻找有关克尔特音乐,而现在美国特丽公司特别收集了当代最受欢迎的曲子,其中当然包括了经典作品「舞王」中的《克尔特之梦》、《哭喊克尔特》在辛辛那提大眾管絃乐团演奏之下,保留了原本热闹的气氛,更增添了磅礡的气势,随著音符起伏,感受属於克尔特民族特有的自由奔放。
爱尔兰从克尔特、基督教、苏格兰、斯堪的纳维亚半岛和英国的影响之中传承了非常丰富的文化遗产,因此也孕育出世界上最珍贵的音乐宝藏。票房明星康泽尔和辛辛那提大眾管絃乐团在灌录诸多娱乐巨作之后,这次选录最受喜爱的爱尔兰歌曲和舞曲,在「世界音乐」领域大放异彩。参与跨刀的艺人个个来头不小。担纲《真诚礼物》独奏的高威是家喻户晓的长笛大师;积极展现爱尔兰传统音乐丰富面貌的首领合唱团,曾经赢得六次葛莱美奖;主唱《小小天堂》、《爱尔兰摇篮曲》和《丹尼男孩》等名歌的爱尔兰男歌星约翰.麦克德莫特,先前所出的九张专辑有三张获颁白金唱片,五张获得加拿大朱诺唱片大奖提名;民俗小提琴高手李兹.诺尔斯,曾是轰动全球「大河舞乐」歌舞秀的重要班底。在所有克尔特音乐专辑之中,本片卡司最豪华,录音最发烧。

专辑名称 : Celtic Spectacular 克尔特华丽庆典 曲目
专辑编号 : SACD60571
音乐类别 : 长笛
专辑特色 : 爱尔兰民俗音乐极品发烧盘
唱片公司 : Telarc
演奏(唱)者 : 艾瑞克.康泽尔 指挥 辛辛那提大眾管弦乐团/首领合唱团/詹姆斯.高威 长笛/约翰.麦克德莫特 男高音/李兹.诺尔斯 小提琴/凯兰.欧海尔 爱尔兰风笛

Review

by James Manheim

What you will get out of this indeed spectacular hour of Celtic music performed by the indefatigable Cincinnati Pops, its conductor Erich Kunzel, and a bevy of guest stars depends entirely on what you bring to it in the first place. If your experience of Celtic music consists of playing it in a pub, with no amplification beyond what your own lungs or motor skills can bring, it's going to be an hour in one of the inner circles of hell. If you like simple arrangements of Irish and Scottish tunes for the instruments of the classical orchestra, it may be a bit much -- the arrangements here are SUV-sized, with the able percussionists of the Cincinnati Pops getting quite a workout. If you're intrigued by the idea of Celtic music itself and its persistence in American culture (does the concept even exist in the British Isles in anything like its American form?), you're going to enjoy the range of music and treatments here, as well as the surprisingly detailed booklet notes exploring the careers of such forgotten figures as Chauncey Olcott, the Buffalo-born (and non-Irish) performer who did as much as anyone else to popularize the "Irish" song. And if you are a fan of Riverdance, Lord of the Dance, and the smaller similar theatrical spectacles that have taken hold in the big old theaters of American downtowns, you're going to love this album. And, one might add, if you're looking for a workout for your top-dollar stereo equipment, this album (as the name Telarc usually signifies) represents a good investment. Kunzel offers music ranging from traditional tunes to full-blown Hollywood spectaculars. The orchestra backs off to give the guests space, as for example on the Chieftains' Chasing the Fox medley (track 8), typically coming back in full force later in the track after the tune has been introduced. The inclusion of Simple Gifts, featuring James Galway (he drops the "Sir" in this context), is interesting; it is indeed an American tune, but one patterned on Celtic melodies, and it has now made the leap back across the pond. There are several vocal tracks, including the ever-present Danny Boy, sung with a nice, circumspectly clear measure of conventional sentiment by tenor John McDermott. In all, an unusually ambitious effort from the group that is arguably America's premier pops orchestra.


引用
This is a Hybrid Super Audio CD playable on both regular and Super Audio CD players.

The pungent wailing of uillean pipes and the plaintive sighs of a pennywhistle had become frequently overused Hollywood clichés by the time this album of Irish-themed symphonic "pops" came out -- and naturally, you'll find plenty of those sounds here. Though the CD opens in a manner most unlike an Erich Kunzel/Cincinnati Pops album -- with a Carlos Santana-like guitar solo from Ted Karas on "Celtic Dream" from Lord of the Dance -- soon everyone gets down to business with a selection of native tunes and Irish-flavored film and show music cushioned with symphonic upholstery. On one track apiece, the specialty instruments have celebrity performers. Sir James Galway mans the pennywhistle (and also his flute) on a mist-shrouded, elaborate arrangement of "Simple Gifts" -- which he stoically overdubbed in New York City on the day of the 9/11 attacks. On "Chasing the Fox," the team is the Irish superstar band the Chieftains (also recorded separately, in Dublin), combining with the Pops in a muddled din of a track. However, uileann pipes/whistleplayer Kieran O'Hare, fiddler Liz Knowles, and the Celtic band Silver Arm take care of most of the folk sounds with equal expertise -- and the advantage of recording with the orchestra in the same place. There is also one bona fide Irish tenor (actually he's from Canada, but no matter), John McDermott, performing "A Little Bit of Heaven," "Too-Ra-Loo-Ra-Loo-Ra/Galway Bay," and, of course, "Danny Boy." Intriguingly and gratifyingly, the album ends with a flashback as to how earlier generations experienced Irish nights at the "pops" -- two sumptuously played movements from Leroy Anderson's "Irish Suite," expertly crafted with dignity and humor. But why just two? There is more than enough room left on the SACD and CD for the rest of the suite. ~ Richard S. Ginell

Ted Karas (guitar); Timothy Lees (violin); Liz Knowles (fiddle); James Galway (flute, whistle); Kieran O'Hare (whistle, Uilleann pipes); James Bunte (saxophone); Cincinnati Pops Orchestra; The Chieftains; Silver Arm Celtic Band.

All tracks have been digitally remastered.

Recorded at Music Hall, Cincinnati, Ohio; Windmill Lane, Dublin, Ireland; Right Track, New York, New York; and Manta Eastern Sound Studios, Toronto, Canada between March and October 2001. Includes liner notes by Richard E. Rodda.

Producers include: Robert Woods, Paddy Moloney, Michael Bishop.

Engineers include: Michael Bishop, Brian Masterson, Gary Gray.

Personnel includes: Erich Kunzel (conductor); John McDermott (vocals);

Sacd

引用
5.0 out of 5 stars One of the best SACD's I've bought!, August 26, 2008
By
Mr. Lee "M L" (Hawaii) - See all my reviews
Amazon Verified Purchase(What's this?)
This review is from: Celtic Spectacular (Audio CD)
First off, the music is just what the title implies. "Spectacular"
The sonics, depth and overall sound stage is just awesome. Right from the beginning you're pulled into the sound. It's mastered beautifully. There's so much going on with the music, I actually felt I was sitting right in front of each performance. This would be an excellent disc to show off your system/speakers. A perfect example of what SACD is capable of.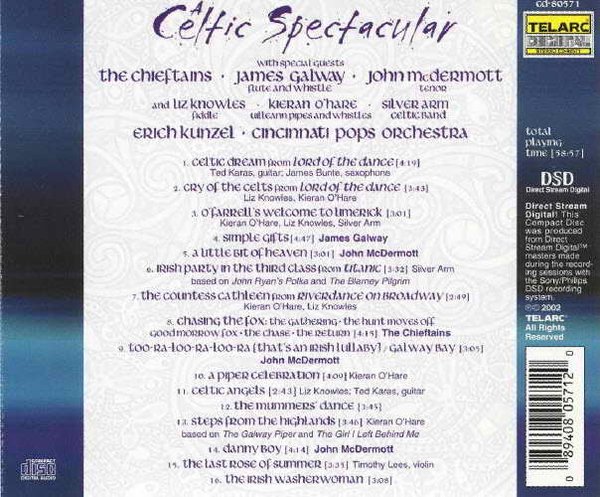 专辑曲目:
01. The Lord of the Dance (Hardiman, Ronan) 4:23
02. The Lord of the Dance (Hardiman, Ronan) 3:47
03. O'Farrell's Welcome to Limerick, jig (Traditional, Irish) 3:04
04. Simple Gifts, for flute & orchestra (Price, Joseph D.) 4:51
05. A Little Bit of Heaven (from "The Heart of Paddy Whack") (Ball, Ernest R.) 3:37
06. Return To Titanic (Horner, James) 3:09
07. Riverdance On Broadway, musical (Whelan, Bill) 2:49
08. Off To The Hunt (Recorded Sound) 0:48
09. Chasing the Fox: The Gathering; The Hunt Moves Off; Good Morrow Fox; The Chase; The Return (Moloney, Paddy) 4:20
10. Medley: Too-ra-loo-ra-loo-ra (J. R. Shannon) / Galway Bay (A. Coleman) (Various Composers) 3:04
11. A Piper Celebration (Reineke, Steven / Everly, Jack) 4:12
12. Celtic Angels (Duncan, Robert) 2:46
13. The Mummer's Dance (McKennitt, Loreena) 3:49
14. Steps From The Highlands (Reineke, Steven / Everly, Jack) 3:49
15. Danny Boy (Londonderry Air) (Harty, Hamilton) 4:19
16. Irish Suite (6), for orchestra (Anderson, Leroy) 3:39
17. Irish Suite (6), for orchestra (Anderson, Leroy) 3:07
这里是其它用户补充的资源(我也要补充):
暂无补充资源