专辑英文名: Essential Beethoven
专辑中文名: 贝多芬精华名作
古典类型: 全集作品
资源格式: MP3
版本: [2 CD Set]
发行时间: 2001年06月12日
简介: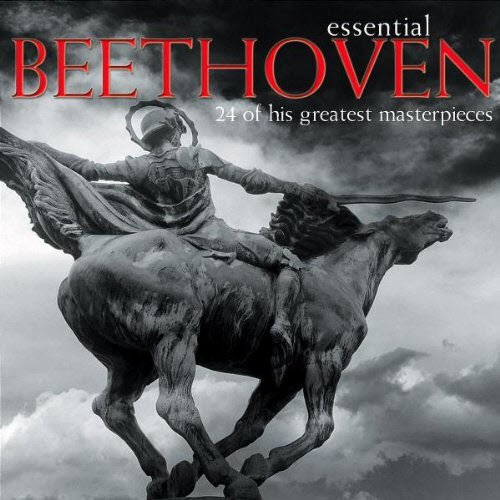 压缩码率: 210Kbps (VBR)

专辑介绍:

贝多芬为乐史上举足轻重之人物,创作质量俱佳,更因其高贵的人格特质,而被尊为「乐圣」。本集囊括了贝多芬各类型作品:交响曲、协奏曲、序曲、奏鸣曲、室内乐、独奏钢琴曲等,共24首,每一首都是最知名且最受欢迎的古典名曲,并自DECCA与Philops两大名厂的录音宝库中挑选最顶尖音乐家演奏的优质版本。在超过两个半小时的录音中,贝多芬作品高贵的艺术气质,令爱乐者神迷不已。收录乐曲包括:命运、月光、给爱丽丝、艾格蒙、皇帝、田园、小提琴协奏曲、小步舞曲、合唱、悲愴、春、费黛里奥、短歌、钢琴协奏曲、浪漫曲等24首杰作。

Performer: Berlin Philharmonic Octet, Quartetto Italiano, Marilyn Horne
Orchestra: Academy of St. Martin-in-the-Fields, Chicago Symphony Orchestra, Cleveland Orchestra, Dresden Staatskapelle, Israel Philharmonic Orchestra
Conductor: Alceo Galliera, Antal Dorati, Bernard Haitink, Colin Davis, Georg Solti, et al.
Composer: Ludwig van Beethoven
Audio CD (June 12, 2001)


引用
4.0 out of 5 stars Storms, March 8, 2005
By
Christopher "chrysaetos" (Wengen-en-esprit) - See all my reviews
This review is from: Essential Beethoven (Audio CD)
Classical music compilations are extremely difficult to review. You are always fighting with someone else's opinion of what is "Best of" material. And why should we buy selections when we could buy the entire pieces and hear them played as the composers intended?

A quick answer would be simple: we simply cannot afford to purchase every single piece by every single composer we love. And if the buyer is familiar with the music, he or she would perhaps only want the famous selections everyone knows. In my case, I am particularly picky with recordings and don't have the time to meddle with libraries or going to stores that offer listening stations. Recordings vary greatly and so does playing ability. So why did I go with Essential Beethoven?

It is released with Decca, one of the finest classical music companies out there. You are guaranteed no gimmick or inexpensively recorded tracks on this compilation. Essential B. also has a wider selection than other compilations I looked at. For once, there isn't a movement to be found from the Fifth Symphony. If that's all you want to buy, look elsewhere. Essential B. has pieces I was not familiar with, so here I am listening to it.

Regrettably, there are three distinct issues with this recording, and I want to get them out of the way. 1. Für Elise is atrociously boring to listen to. As a pianist, it is fun to play and almost required learning for the beginner. It should've been dropped. 2. Piano Concerto No. 5 is missing the third movement. It is common to drop the first movement here, but the second and third movements are programmatically tied, providing some of the most emotionally charged music ever put down on lined paper. Also, this rendition of the concerto is less than inspiring and I regret that it is the famous Ashkenazy playing this version. There is almost no life in the playing. 3. The remastering could've been better. The listener will enjoy the loud and boisterous pieces, but the quieter parts, and even the soft piano solos, will have him straining his ears to the point of exasperation. Because of this, I recommend listening on headphones or in a place where you can turn the volume up a little more than usual.

That aside, the rest of the tracks are well recorded, extremely well played, and varied enough to quench even the most learned ears. Decca has included pieces conducted by Sir Georg Solti, one of the greatest conducters in my opinion. (Another "collection" solely conducted by Solti is the "Immortal Beloved" soundtrack.) The orchestral pieces are lush and the range is dynamic. (A little too dynamic, like I stated above, in some areas.) The inclusion of movement IV from Symphony no. 8 pleases me, as I feel this is the least appreciated symphony, overshadowed by Symphony no. 9

The piano pieces are some of the best renditions I've heard. I own all of Ashkenazy's sonatas, so it was nice to hear a movement from "The Tempest" played by Stephen Kovacevich, who plays with fierce determination. Selections from B's piano concertos are fantastic and have prompted me to delve further into listening to more concertos from him. The Rondo from Piano Concerto No. 2, played by Radu Lupu, is one of the most upbeat and wonderfully played pieces here.

To round things off nicely is a movement from the Violin Sonata No. 5, played by the one and only Itzhak Perlman! The piano is caressed by Mr. Ashkenazy himself, and he does so lovingly. You will also find pieces from a string quartet, a violin Romance (and orchestra), and one overture: the "Egmont." I'm not a huge fan of this rendition either, but that's probably because I've heard the Egmont a thousand times.

A huge bonus with this collection are the three choral selections at the end, two of which are from "Fidelio," an opera I've yet to hear in its entirety. The Prisoners' Chorus is beautiful. The introduction sounds very much like a major contribution to Charles Ives's 1906 piece "The Unanswered Question." The compilation ends with Symphony No. 9's finale, but unfortunately, it is a horribly edited excerpt, and mixed extremely hot. I have to turn my volume down everytime this comes on.

I would like to make a little note about the art design, however. Credit here is given to Mark Millington, who did a fine job blending black & white photos of storm clouds, an inspiring sculpture, and blackletter-styled fonts. The CDs themselves are a contrasting bright orange. As a sucker for marketing, I would've plunked money down for this compilation just for the art!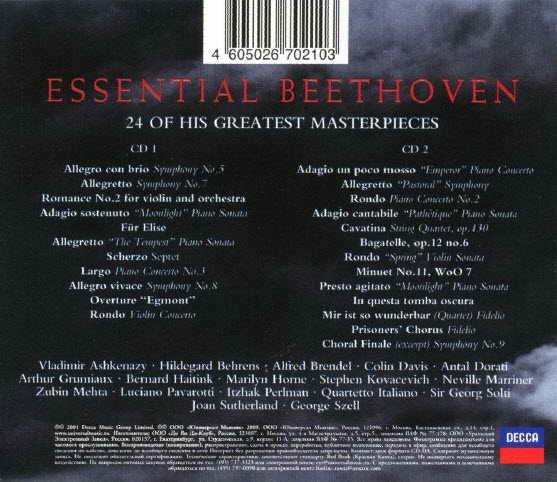 专辑曲目:
Disc 1:

01. Symphony No. 5 in C minor ('Fate'), Op. 67: Allegro con brio
02. Symphony No. 7 in A major, Op. 92: Allegretto
03. Romance for violin orchestra No. 2 in F major, Op. 50
04. Piano Sonata No. 14 in C sharp minor ('Moonlight'), Op. 27/2: No. 1, Adagio sostenuto
05. Bagatelle for piano in A minor ('Für Elise'), WoO 59
06. Piano Sonata No. 17 in D minor ('Tempest'), Op. 31/2: No. 3, Allegretto
07. Septet for strings woodwinds in E flat major, Op. 20: No. 5, Scherzo: Allegro molto
08. Piano Concerto No. 3 in C minor, Op. 37: No. 2, Largo
09. Symphony No. 8 in F major, Op. 93: No. 4, Allegro vivace
10. Egmont, incidental music, Op. 84: Overture
11. Violin Concerto in D major, Op. 61: No. 3, Rondo: Allegro

Disc 2:

01. Piano Concerto No. 5 in E flat major ('Emperor'), Op. 73: No. 2, Adagio un poco mosso
02. Symphony No. 6 in F major ('Pastoral'), Op. 68: No. 5, Allegretto
03. Piano Concerto No. 2 in B flat major, Op. 19: No. 3, Rondo: Molto Allegro
04. Piano Sonata No. 8 in C minor ('Pathétique'), Op. 13: No. 2, Adagio cantabile
05. String Quartet No. 13 in B flat major, Op. 130: No. 5, Cavatina: Adagio molto espressivo
06. Bagatelle for piano in E flat major, Op. 126/6
07. Sonata for violin piano No. 5 in F major ('Spring'), Op. 24: No. 4, Rondo: Allegro ma non troppo
08. Minuets (12) for orchestra, WoO 7: No. 11
09. Piano Sonata No. 14 in C sharp minor ('Moonlight'), Op. 27/2: No. 3, Presto agitato
10. In questa tomba oscura, arietta for voice and piano (or orchestra), WoO 133
11. Fidelio, opera, Op. 72: Mir ist so wunderbar (Quartet)
12. Fidelio, opera, Op. 72: O welche Lust (Prisoners' Chorus)
13. Symphony No. 9 in D minor ('Choral'), Op. 125: Choral Finale (excerpt)
这里是其它用户补充的资源(我也要补充):
暂无补充资源