专辑英文名: A Ship Called Love
专辑中文名: 爱之船
音乐风格: 爵士
资源格式: FLAC
发行时间: 2005年09月27日
简介: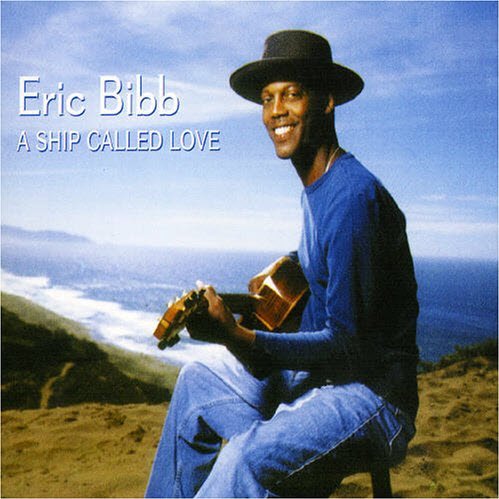 专辑介绍:

西元1951年次的艾瑞克.毕比出生在一个音乐家庭里,他的父亲是六零年代纽约重要的民谣歌手Leon Bibb,他的教父Paul Robeson同样也是位歌手。在这样的背景下,艾瑞克.毕比小时后有许多机会可以与Bob Dylan、Pete Seeger等大明星相处,这当然对他成为一位乐手有著莫大的影响力。

然而艾瑞克.毕比的音乐生涯却是在欧洲开展的,这让他直到九零年代中期才在美国发行了个人第一张专辑。不过艾瑞克.毕比的音乐实力很快被听眾认可,随后录音邀约便如雪片般飞来,其中当代蓝调中生代天王Taj Mahal就与他有过多次合作的经验。《A Ship Called Love》是毕比第九张个人专辑,我们可以从里头的音乐去感受他结合了蓝调、福音诗歌与民谣风的吉他演奏与感性低沉的歌喉。专辑中最引人喜爱的当属《Turning World》一曲,倒不是音乐上有任何惊世骇俗之举,只是艾瑞克.毕比的小女儿Matilda和老爸合唱,童稚歌声与轻快节奏听来可爱极了。

Eric Bibb has been generally categorized as an acoustic blues player, but like Keb' Mo', the contemporary artist he most resembles, Bibb actually only uses blues forms on occasion, and it no doubt helps to get the listener in the door, but what is really on display here is a smooth-as-velvet singer/songwriter. It's curious that he dedicates A Ship Called Love to the great Curtis Mayfield, because Bibb is really much closer to Mayfield in tone and approach than he is to a Blind Lemon Jefferson, say, and the title cut here, which leads off the album, owes more than a little to Mayfield's faux gospel classic "People Get Ready." It also gets things underway nicely here, but as love song after gentle love song rolls by, all meticulously arranged, recorded, and sung with perfectly nuanced emotional presence, A Ship Called Love begins to drift from shore in its own studied smoothness. Not that there aren't high points, like the autobiographical "Troubadour," a fine duet with Ruthie Foster that arrives at about midpoint in the set, and the engaging, gentle reggae lilt of "Turning World," but by the time Bibb gets around to actually playing a blues, the micro-analytic "More o' That," it seems downright radical after so much gentle elegance. The closer, "Praise 'n' Thanksgiving," flirts with folk-gospel, and is so grateful and reverent that it is impossible to resist, even as one wishes that a little of that reverence had been replaced with pure, wild joy. That, in the end, is what this album needs to make it more than a pleasant rumination on the sea of love. It needs a touch of wildness to temper the calm surface of these songs, because love, more so than all the other emotions, benefits from occasional changes in wind direction. ~ Steve Leggett

Photographer: Anne Hamersky.

Personnel: Eric Bibb (vocals, guitar, acoustic guitar, electric guitar, 12-string guitar, nylon-string guitar, background vocals); Eric Bibb; Ruthie Foster (vocals, background vocals); Ira Tucker, The Dixie Hummingbirds (vocals); Glen Scott (various instruments, electric guitar, melodica, piano, celesta, electric piano, Wurlitzer organ, keyboards, vibraphone, snare drum, congas, cymbals, shaker, tambourine, percussion, bells, background vocals); Desmond Foster (guitar, keyboards, percussion, programming, background vocals); Danny Flowers, B.J. Cole (guitar); Figge Boström (electric guitar, programming, background vocals); Amar Sundy (electric guitar); Paul Waller (dobro); Corrina Hewat (electric harp); Jonas Sjöblom (flute, tabla, bells, wind chime); Gary Compton (harmonica); Janne Petersson (Fender Rhodes piano); Jim Pugh (Wurlitzer organ, keyboards); Brian Shiels (upright bass); Gordon Cyrus (percussion programming); Chuck Anthony (guitar, electric guitar); Levi B. Saunders (banjo); Larry Crockett (drums, congas); Rev. Brady Blade (drums, tambourine, hand claps); Nevada Cato (background vocals).

Audio Mixers: Eric Bibb; Glen Scott; Levi B. Saunders; Rev. Brady Blade; Gordon Cyrus.

Dirty Linen (p.85) - "The title track of balladeer Eric Bibb's latest recording invites listeners to get on board for a journey to peace and love and unity in the spirit of Curtis Mayfield..."
Mojo (Publisher) (p.119) - 4 stars out of 5 -- "[P]roducer Glen Scott keeps the arrangements simple, putting Bibb's mellow, husky voice and acoustic guitar centre-stage."


引用
"Dear friends,
Inspiration from many wonderful music-makers, past and present, has contributed to the creation of these songs. Ithank them all.
In that spirit of deep gratitude, this album is dedicatedto the late great Curtis Mayfield - a masterful troubadour - whose songs will keep on being sung - Bon voyage."
Eric Bibb.
引用
5.0 out of 5 stars Fantastic!, March 9, 2006
By
New Fan (Arnold, CA) - See all my reviews
This review is from: A Ship Called Love (Audio CD)
I just discovered Eric Bibb while listening to the Music Choice Blues channel on Comcast Cable TV. Wow! I'm no expert but know what I like. After buying this CD, I bought four more. I loved them all and can't stop playing them. Somehow, the songs speak to my soul and at 60 years old it's a good thing!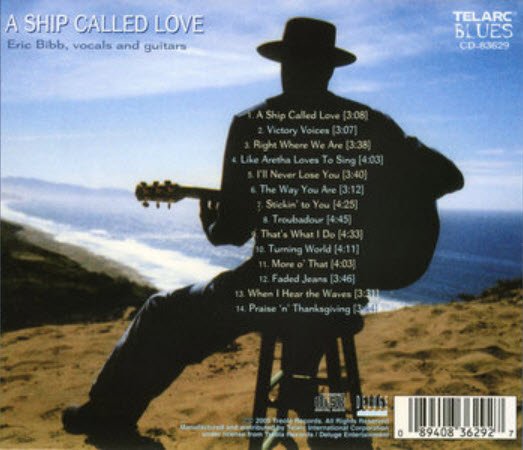 专辑曲目:
01. A Ship Called Love 3:08
02. Victory Voices 3:06
03. Right Where We Are 3:38
04. Like Aretha Loves to Sing 4:02
05. I'll Never Lose You 3:40
06. The Way You Are 3:11
07. Stickin' to You 4:24
08. Troubadour 4:44
09. That's What I Do 4:33
10. Turning World 4:11
11. More o' That 4:02
12. Faded Jeans 3:46
13. When I Hear the Waves 3:31
14. Praise 'n' Thanksgiving 3:43
这里是其它用户补充的资源(我也要补充):
暂无补充资源