专辑英文名: Essential Carols
专辑中文名: 圣诞合唱精华名作
古典类型: 合唱
资源格式: FLAC
版本: [2 CD Set]
发行时间: 2005年11月11日
简介: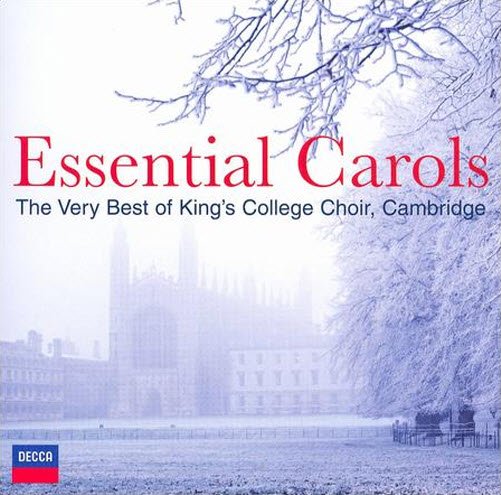 专辑介绍:

国王学院合唱团

在欧洲的教会国家中,英国的教会诗班保留了最悠久的演唱历史,而且几乎从玛丽皇后的十六世纪一直到近代都一直延用这个传统,也就是几乎天主教廷的梵帝冈都已失传的演唱型式,像是以男童音和假声男高音演唱女声部的传统,都还保留在英国教会诗班中。正因为这样,几乎到过英国教会参观过的欧洲作曲家都会对其悠久而完整的演唱传统感到讚叹不已。而在英国所有传统教会诗班中,由英王亨利六世成立於五百五十年前的剑桥国王学院合唱团是历史最悠久(从未间断)、也最富盛名、地位最高的一个。而且从五百五十年前成立以来,该诗班就固定招收十六位童声男高音和十四位成年男性歌唱家作为他们固定的演唱班底。这些歌唱家日后则都因为优异的训练而成为英国和欧洲顶尖的歌唱家或指挥家,历来国王学院毕业的歌手像其中目前最有名的就是伊恩博斯崔吉(男高音)。而自古以来更训练出许多一流的圣乐作曲家,像十六、七世纪的吉本斯、克里斯多福.泰伊、当代古乐指挥家劳伊古德曼小时更是专门负责演唱最高C音。

Essential Carols: The Very Best of King's College Choir, Cambridge

Performer Choir of King's College, Cambridge
Composer Various Composers
Conductor David Willcocks

Essential Carols is a two-CD set featuring the very best of the King's College Choir of Cambridge under the direction of David Willcocks. They are accompanied by Simon Preston and Andrew Davis on organ. The world-famous choir is one of today's most accomplished and renowned representatives of the great British choral tradition. It was created by King Henry VI, who founded the College in 1441, to provide daily singing in his glorious Chapel, which remains the main task of the choir to this day. The choir is made up of 16 male choristers who are educated at the King's College School. Among the many concerts and services they provide, the choir broadcasts worldwide to millions on Christmas Eve making Christmastime a big part of the King's College year, as well as their history.

The album presents a classic English choral Christmas including such standards as "Sussex Carol," "Ding Dong! Merrily on High," "Once in Royal David's City" and "Coventry Carol" as well as songs and carols that are rarely, if ever, heard in the U.S., such as "Rejoice and Be Merry," "The Cherry Tree" and "While Shepherds Watched." There are also the Welsh carols "Balulalow," "Myn Lyking" and "Adam Lay Ybounden," songs from a part of the English Isle famous for its singing. It is interesting to note that "O Little Town of Bethlehem," "Away in the Manger" and "In the Bleak Mid-winter" use the English melody to these classic standards while the carol "Shepherds in the Field Abiding" uses the familiar melody from "Angels We Have Heard on High" as its basis.

To American ears, these will be a different take on these well-known treasures. The album is completed with offerings from German, Basque and French traditional songs and, in keeping with the English precedent, the album ends with the Fantasia on Christmas Carols by the esteemed English composer Ralph Vaughan Williams. The choir is first-rate and choral music at Christmas time is a time-honored tradition loved by everyone.

Essential Christmas is just that and should be an essential part of your Christmas music collection. Highly recommended, it is a definitive collection of 39 holiday and yuletide classics.

Terence London


引用
Editorial Reviews

Some albums are tailor-made for Christmas Eve listening, the cozy musical equivalent of a roaring fire, a mug of eggnog, and the bright lights on the tree. The morning of Christmas Day requires something else entirely, and that's when this set of Essential Carols from the Choir of King's College, Cambridge, will fit the bill, with the angelically pure voices of young British choristers blending to the strains of traditional carols both familiar and little-known. This is Christmas music sung the old-fashioned way, its simplicity and spiritual warmth not compromised by big operatic voices or pop personalities. Recorded under the direction of David Willcocks between 1959 and '65, these performances sound truly timeless today, and no matter how knowledgeable you are about Christmas music, you'll find some surprises among these 38 carols. Scott Paulin, Barnes & Noble


I have loved Christmas carols for 70 years, ever since I was a tyke in school. I thought I have heard and been enthralled by them all, until I heard this wonderful collection. Sung largely ac cappella, the disciplined melodies of King's College ring true, fresh and memorable. I've heard no better rendition of familiar songs, like Sussex Carol, or Coventry Carol. But there is no more lovely nor pleasing excursion than the Vaughan Williams Fantasia On Christmas. I listen to it every day during holiday season.

And then there were the discoveries that opened my eyes to much more Christmas than I imagined. Like the plaintive "The Three Kings," with a finely rewarding tenor lead. And "Past Three O'Clock," what a hidden little treasure.

Though the choir is all male, the skillful blending of boy sopranos with the full range to bass is by turns powerful, sweet, and richly harmonious.

Listening to this collection is a wonderful two hours that makes the Christmas season special for me.
专辑曲目:
CD 1

01. Hark! The Herald Angels Sing - Felix Mendelssohn (1809-1847)/Charles Wesley (-1788)
02. The first Nowell - Anonymous arr. Sir David Willcocks (1919-)
03. While Watched(Este Psalter, 1952) - Anonymous / Nahum Tate (1652-1715)
04. I Saw Three Ships - Anonymous arr. Sir David Willcocks
05. Traditional: Ding Dong Merrily on High - George Ratcliffe Woodward (1848-1934)/ Trad. Arr. Charles Wood (1866-1934)
06. King Jesus Hath a Garden - Anonymous/George Ratcliffe Woodward (1848-1934) arr. Charles Wood (1866-1926)
07. In dulci jubilo - Anonymous arr. Robert Lucas de Pearsall (1795-1856)
08. Unto Us Is Born A Son - Anonymous/George Ratcliffe Woodward (1848-1934) arr. Sir David Willcocks (1919-)
09. Adeste Fideles (O come, all ye faithful) - John Francis Wade (1711-1786) / Frederick Oakley (1802-1880)
10. Away in a Manger - William James Kirkpatrick (1838-1921) arr. Sir David Willcocks (1919-)
11. O Little Town of Bethlehem - Anonymous arr. Ralph Vaughan Williams (1872-1958)
12. The Holly and the Ivy - Anonymous arr. Henry Walford Davies (1869-1941)
13. God rest ye merry, gentlemen - Anonymous arr. Sir David Willcocks (1919-)
14. See amid the winter's snow - Sir John Goss (1800-1880) / Edward caswall (1814 – 1878) arr. Sir David Willcocks (1919-)
15. Past Three o'Clock - Anonymous/George Ratcliffe Woodward (1848-1934) arr. Sir Charles Wood (1866-1926)
16. Invitatory (from J.S. Bach's Christmas Oratorio)
17. Adam lay ybounden
18. Gabriel's Message - Arr. Willcocks

CD 2

01. Once in Royal David's City - Henry John Gauntlett (1805-1876) / Cecil Frances Alexander (1823-1895) / arr. Arthur Henry Mann (-1929)
02. The Sussex Carol - Anonymous arr. Sir David Willcocks (1919-)
03. Rocking Carol: Little Jesu Sweetly Sleep - Anonymous / Percy Deamer arr. Sir David Willcocks
04. Rejoice And Be Merry - Anonymous
05. The Cherry Tree Carol (Joseph was and old man) - Trad arr. Martin Edward Fallas Shaw (1875-1958)
06. The Three Kings - Peter Cornelius (1824-1874) / H. N. Bate (translation) arr. Ivor Atkins (1869-1953)
07. As with gladness men of old - Anonymous / William Chatterton Dix (1837-1898) arr. Sir David Willcocks (1919-)
08. A Great and Mighty Wonder - Michael Praetorius (1571-1621) / St. Germanus
09. The Infant King - Anonymous / Sabine Baring-Gould (1834-1924) arr. Edgar Pettman (1866-1943)
10. Balulalow - Peter Warlock (1894-1930) / John Wedderburn
11. The Crown of Roses - P.I. Tchaikovsky (1840-1893) / A. N. Pleshchev (1825-1893) arr. Geoffrey Deamer
12. Christ was born on Christmas Day - Trad. Arr. George Ratcliffe Woodward (1848-1934)
13. Blessed be that maid Mary - Anonymous / George Ratcliffe Woodward (1848-1934) arr. Sir David Willcocks (1919-)
14. Lute-book lullaby - Anonymous / author and arr. Geoffrey Shaw (1879-1943
15. Myn Lyking - Anonymous arr. Richard R. Terry (1865-1938)
16. Personent Hodie - Anonymous Arr. Gustav Holst (1874-1934)
17. In the bleak mid- winter - H. E. Darke (1888-1976) / C. G. Rossetti (1830-1894)
18. Coventry Carol
Anonymous arr. M. E. F. Shaw (1875-1958)
19. Shepherds in the Field Abiding - Trad. G. R. Woodward (1848-1934) arr. Charles Wood (1866-1926)
20. Torches - J. P. H. Joubert (1927-)
21. Fantasia on Christmas Carols - R. Vaughan Willians (1872-1958)
这里是其它用户补充的资源(我也要补充):
暂无补充资源