专辑英文名: Santana - Greatest Hits
专辑中文名: Santana 精选专辑
音乐风格: 摇滚
版本: [DVD-A]
发行时间: 2011年
简介: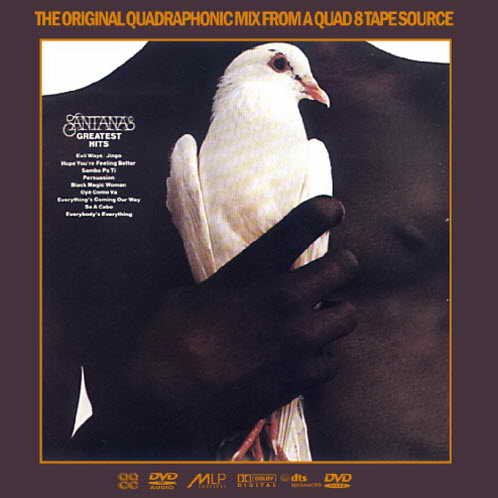 专辑介绍:

  Santana的前三张专辑公认为该团的重要经典,其最大原因是因为人和,那是Carlos从66年带出来的人,长时间一起打拼,默契早已养成。1972年Santana重新改组,推出《Caravanserai》专辑,风格又偏向于爵士,新的键盘手Tom Coster取代了Gregg Rolie,成为Carlos得意助手,原鼓手Mike Shrieve此次与Carlos挑起大梁共同录制La Fuente Del Ritmo,由于曲风带有爵士,因此在编曲上钢琴的份量增加不少。
  Carlos除了忙于推出Santana的专辑外,自己也不忘发行个人的专辑,他之所以会想要有自己的专辑,纯是为了个人的兴趣,而且与同好一起玩玩,第一张是与Buddy Miles合作《Live Carlos Santana & Buddy Miles》,而1973年《Love Devotion Surrender》则是全新的创作,这是与John McLaughlin两人联手吉他,一起玩JAZZ-FUSSION,实验意味浓厚。同年底,Santana第五张专辑《Welcome》上市,专辑中所挑出的对口唱Love Devotion & Surrender,与之前Carlos Santana个人专辑标题是一样的,或许歌词是Carlos写的,主观上较偏爱这个标题吧!1974年Carlos第三张个人专辑《Illuminations》则是与竖琴手Alice Coltrane共同演奏其亡夫John的遗作。

The DTS CD of Abraxas was a transfer from the quad master to the Tascam DA-88 digital tape format - with the DTS required Center Channel and LFE added along with some major NoNoise tape noise reduction processing - too much noise reduction, I think and what sounds like massive equalization tweaks, which completely changes the 'feel' of the overall mix (the hiss I hear as individual instruments come in and out of the mix on Abraxas, even on the SQ LP version, says to me that Dolby A noise reduction was not used by Santana/CBS for their studio recording sessions at all.)

Anyway, after doing lots of back-to-back listening, the mix on the DTS CD of Abraxas is 'slightly' different than the open reel discrete mix on the DVD-A Romanotrax did - the open reel discrete is also the same quad mix used to encode the SQ LP. So I think it's more than probable that there are 2 (or more) quad mixes of the various Santana tracks - it was all new then and other albums have multiple quad mixes - some are so close to each other that I feel the only changes were to improve SQ encoding or decoding performance, or perhaps stereo compatibility, since CBS really never intended these to be heard discretely.

BTW, I've mentioned this elsewhere, but for those that don't know, the Center Channel and LFE that DTS required Brad Miller to add to the original quad mixes of titles released on DTS CD's (DTS said they HAD to be 5.1) are a simple L+R summing for the center and a 80Hz low pass for the LFE. Both are recorded at low level so they don't affect the soundstage width in any way and the main channels were NOT modified - no bass was rolled off from the main channels and re-directed to the sub, nor was the Center removed from Left and Right front. So you can turn down or mute the Center Front and LFE channel feeds completely to 'restore' the original quad mixes.
23 November 2011 20:31


引用
13 comments:
duilawyr said...
Hello OD. Any relation to ODB? Anyway, does this have the original Black Magic Marker, or the one from the dts disc? TIA
14 October 2011 04:24
OxfordDickie said...
ODB? The mixes are the original Quad one, the DTS version was done many years later
14 October 2011 08:09
The Bright Side said...
Oh boy oh boy oh boy! Great stuff right here! :-) And it even includes the full versions of some of the songs, while the CD version only had the edited single mixes (e.g. Black Magic Woman).
14 October 2011 21:19
teamster said...
Exciting! Thank you Romanotrax and OxfordDickie!
15 October 2011 02:35
duilawyr said...
Great. I thought the dts version was lifted right off the original 4 track quad? Guess not. The original Black Ma W has such a haunting and beautiful introduction, as it sneaks in under the radar. The dts version (I have it) is clunky and feels "flown in". Hoping for that wet sounding B3 playing "beginning Piano 1" AB AB AB AB
15 October 2011 20:18
duilawyr said...
ERRGH!! was thinking of Abraxas, there is no dts GH. Sorry. So this would be the FIRST real quad BMW (since 1975?). Gotto go listen.
15 October 2011 20:21
duilawyr said...
follow up: This is the REAL DEAL. BMW is the one we know and love, although mixed differently, drier opening organ part. Swirls around the room which dts does not. Thanks Romano and OD.
16 October 2011 16:47
Don Richie said...
Nice! Thank you very much.
16 October 2011 17:11
duilawyr said...
I looked for a more appropriate spot for this question, you have debunked myths that certain LPS were actually in quad, that are not. What about Lotus by Santana? Supposedly there was an SQ version LP, but the quad version was also used as the master for the stereo LP?
16 October 2011 17:32
OxfordDickie said...
duilawyr:
I DON'T debunk anything, what i state is FACT!!!!! If you care to read what i say, i'm sure all will be explained
Also, if you care to look further into this blog, you'll find that "Lotus" is available here, although i'm planning to re-do it.
It was one of the Japanese single inventory releases, it was only available in the SQ version, there would appear to be no bog standard stereo mix done. So, any release of this album, be it the 3 x lp set or the 2 x cd set are SQ
16 October 2011 22:46
duilawyr said...
Sorry if i hit a nerve. "Debunk" is a COMPLIMENT here, in my United States book.
We mean you "have disproven a commonly held fallacy."
But sometimes as words cross the great pond..
But I was asking if you had put false info to rest. So ny release is SQ, got it.
Even the CD (if one exists)?
16 October 2011 23:29
OxfordDickie said...
Both the LP and CD releases of 'Lotus' were SQ encoded. There was an earlier decoded release a couple of years ago (i believe) of the CD version, but i was asked to do a release based on the LP version.
A case of "two country's separated by a common lanquage"
16 October 2011 23:42
Disclord said...
<<Duilawyr said...
Great. I thought the dts version was lifted right off the original 4 track quad?<<
http://the-quad-blog.blogspot.com/2011/10/...its.html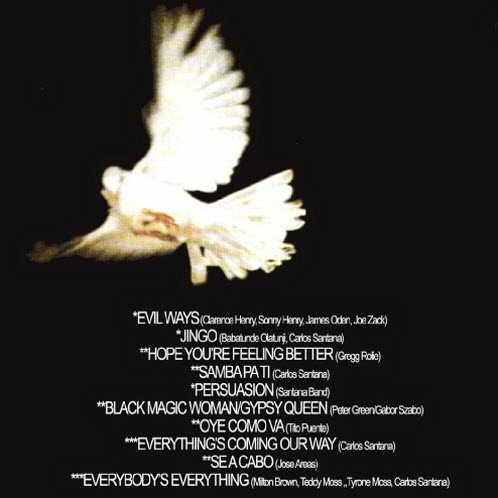 专辑曲目:
01. Evil Ways - 04:04
02. Jingo - 04:19
03. Hope You're Feeling Better - 04:09
04. Samba Pa Ti - 04:47
05. Persuasion - 02:37
06. Black Magic Woman - 05:26
07. Oye Como Va - 04:19
08. Everything's Coming Our Way - 03:20
09. Se a Cabó - 02:51
10. Everybody's Everything - 03:33
这里是其它用户补充的资源(我也要补充):
暂无补充资源