中文名: 网络流量监测软件
英文名: OnlineEye pro
资源格式: 压缩包
版本: v2.3.0
发行时间: 2010年
简介:



软件类型:软件>网络软件
软件性质:免费破解软件
操作系统:Windows
应用平台:Win95,Win98,WinME,WinNT 4.x,WinXP,Windows2000
问题反馈:http://www.pmasoft.net/
网站链接:http://www.pmasoft.net/englisch/onlineeye_prof.htm
软件简介:

专业的网络流量监测软件,Onlineeye可以优化网络性能,实时图形化的测量分析上传下载速度和时间,可以打印24小时的图形化历史记录,监控计算机上的网络活动.

Have you ever wondered just how fast your network connection is? Not just how fast the modem is connected at, but how much data you can actually get? Does your internet connection sometimes seem slower than normal? Forget hacking the registry or using counter-intuitive tools to get the information you want – enter the world of Onlineeye! Onlineeye is a small, easy to use TCP/IP protocol monitor which can be used to see your exact throughput on both incoming and outgoing data – whether youre using a modem, cable modem, DSL, or even local network! Onlineeye doesnt just stop there, it lets you see how quickly your data goes from your computer to another computer on the internet it even will tell you how many other computers your data must go through to get there!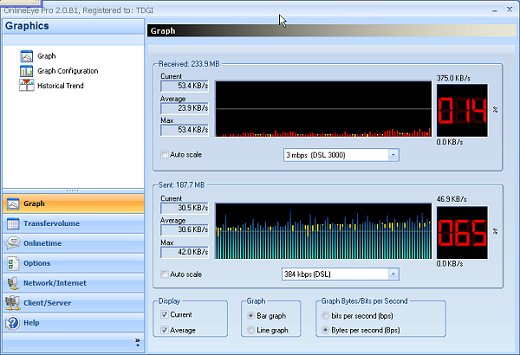 代码
  
²²   
 ² ²
²   
²²   
² ² ²²²  
² ²  ²²   
² ²  ²² ²  ²² ²
 ²²  ° ² ± ²² ²²
² ²²  ² ²² ² ±± ²  
²²  ²° ²² °° ² 
²  ²   °° ²² 
²  ²²   ² ²
²   ²²² ²  ²  ²
²²   ±²²²²²² ° ²²
 ²²  ²²²²²²
 ²²  ²² ²
 ²   ²²² ²°²
   ²²²
   
   TE 2010 PRESENTS   
  ² ²  
     
   ANOTHER FINE RELEASE   
 

Release: OnlineEye Pro v2.3.0 (c) 2010 pmaSoft

Date: 01/02/2010

Cracked By: Twisted EndZ

Release Type:
[X] Registration/Serial Crack
[ ] Activation Crack
[ ] Trial Crack
[X] Server Check Crack
[ ] Serial
[ ] Hidden/Added Features Enabler
[ ] Other

[ ] Loader Patcher [ ] Patch [X] Precracked [ ] RegFile
[ ] Keygen

 
² ² ² ²
²²     ²²
²²  RELEASE NOTES  ²²
²     ²
 ²   ² 
²² ²²
 

Have you ever wondered just how fast your network connection is?
Not just how fast the modem is connected at, but how much data
you can actually get? Does your internet connection sometimes
seem slower than normal? Forget hacking the registry or using
counter-intuitive tools to get the information you want - enter
the world of Onlineeye! Onlineeye is a small, easy to use TCP/IP
protocol monitor which can be used to see your exact throughput
on both incoming and outgoing data - whether you're using a
modem, cable modem, DSL, or even local network! Onlineeye doesn't
just stop there, it lets you see how quickly your data goes from
your computer to another computer on the internet; it even will
tell you how many other computers your data must go through to
get there! But wait - there's more!

A zoomable and printable graph shows time and speed history,
allowing you to see what Internet activity took place when you
were away from the computer.

The active taskbar icon graphs the current speed. A
networkmonitor shows every internetactivity of your DSL
connection and let you unmask all spys !

· Onlineeye lets you surf the Web faster and safer.

· Onlineeye for time and volume recording.

· Onlineeye the realtime internet speed checker.

· Onlineeye recieved 5 Stars from TuCows, CDNet.


· NEW: Router and Windows Server/Workstation Monitoring
· NEW: Monitor and remote control small home networks or large
server farms



For a full listing of OnlineEye Pro's Features visit:
http://www.pmasoft.net/englisch/onlineeye_prof.htm



TE Release Filename: toep230x.zip

 
² ² ² ²
²²     ²²
²²  INSTALLATION NOTES  ²²
²     ²
 ²   ² 
²² ²²
 

Install onlineeye.exe. After installation copy contents of the
Crack folder into the installed folder OnlineEye Pro. Launch
OnlineEye Pro and use any Name and License code for registration.
You now have a fully registered version of OnlineEye Pro!

IMPORTANT:

Do NOT reboot if ever asked after updating OnlineEye Pro UNTIL
you copy the precracked vcheck.exe over first! This is to
prevent your IP, as well as your User Name and PC Name from being
logged as using this software illegally, using a keygen STILL
logs your info, your safe using the patched files as it does not
send registration info. If you plan to keep using this software,
do buy it.

Thats it! Enjoy.

²²   ²²
 ²² ²² ²  ²² ²² 
²²  ²² ²²  ²²
²²² ²² ² T E 2 0 1 0 ² ²² ²²²
²² ± ²²²²²   ²²²²² ± ²²
°² ° ² ²² ²² ² ° ²°
² ²² ²² ascii ²² ²² ²
²²²² °°±±²²²² by mx ²²²²±±°° ²²²²
   ± ±   
²  °  °  ²
 Don't Hate The Hacker, Hate The Code °
²   ²
 ²
° 
下载链接来自STF
未经过安装测试与安全检测,使用者后果自负与本论坛无关
软体版权归原作者及其公司所有,如果你喜欢,请购买正版
这里是其它用户补充的资源(我也要补充):
暂无补充资源