Lara St. John -《韦瓦第:四季、皮耶佐拉:布宜诺思艾利斯的四季》(Vivaldi: The Four Seasons, Piazzolla: The Four Seasons of Buenos Aires)[SACD-R ISO]

专辑英文名: Vivaldi: The Four Seasons, Piazzolla: The Four Seasons of Buenos Aires
专辑中文名: 韦瓦第:四季、皮耶佐拉:布宜诺思艾利斯的四季
古典类型: 协奏曲
版本: [SACD-R ISO]
发行时间: 2009年04月14日
简介: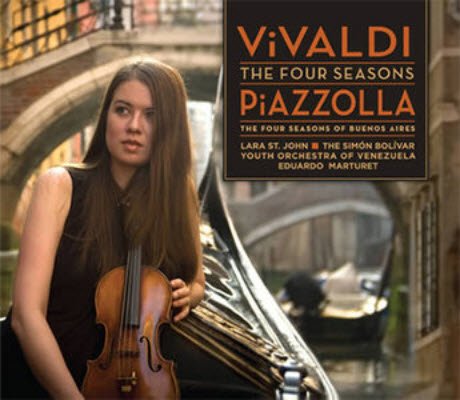 专辑介绍:

出生於加拿大,使用1779年制的「莎拉布」瓜奈里名琴,堪称现代最性感的女小提琴手菈菈圣蔷,曾於主流厂牌新力旗下发表过一张专辑,随后便以自己的宠物蜥为名建立起个人唱片品牌Ancalagon。此回挑战古典乐小提琴家的标準曲韦瓦第:「四季」,同时颇具巧思的加入探戈之父皮耶佐拉:「布宜诺思艾利斯的四季」,合奏出绝美的八季景色。并请来曾与洁西诺曼、阿劳、赛门拉图、马利纳等多位古典乐大师合作过的Martha de Francisco担任专辑制作人。专辑中菈菈圣蔷简洁却眩目神迷的运弓技法搭配起SACD 5声道的发烧级录音规格,就连权威音乐网站AMG在整张专辑的表现与声音水準上也只能臣服送出4星半超高评价,而知名发烧音乐网站Audiophile Audition与American record Guide等专业音乐传媒都给予极高正面评价。

by James Leonard

Joining together Vivaldi's Four Seasons and Piazzolla's The Four Seasons of Buenos Aires on a single disc was an excellent idea. Providing the musicians with lush sound and beautiful productions values was likewise an excellent idea. Unfortunately, the actual performances are less than excellent. Indeed, they might be most positively characterized as superficial and mediocre. Lara St. John, the charismatic Canadian violinist, has the technique to play Vivaldi's four violin concertos -- not much of an achievement since these are not particularly challenging works -- but despite her hyper-expressive phrasing, St. John's interpretations are nothing special. Her "Spring" is more dutiful than joyful, her "Summer" more soporific than sultry, her "Autumn" tart more than sweet, and her

"Winter" chilly to the point of coldness. Worse yet, St. John does not quite have the technique to play Piazzolla's much more demanding music, and her accounts are scrappy and sloppy. What's more, she seems to have less feel for Piazzolla than for Vivaldi, and her interpretations lack understanding of the Argentine composer's feel for rhythm or melody. Accompanied with much spirit but less polish by the Youth Orchestra of Venezuela under the direction of Eduardo Marturet, St. John's performances here will mostly likely be of interest only to her fans.

演出者: Lara St. John
乐团: The Simon Bolivar Youth Orchestra of Venezuela
作曲家: Vivaldi & Piazzolla
指挥家: Eduardo Marturet


引用
Lara St. John, The Simon Bolivar Youth Orchestra of Venezuela, Eduardo Marturet: Vivaldi: The Four Seasons / Piazzolla: The Four Seasons of Buenos Aires (2009)

Violinist Lara St. John also serves as chief executive of her own Ancalagon label, and she takes an interest in unusual and challenging couplings. It seems every violin player has to come to terms with Antonio Vivaldi's "The Four Seasons" at one time or another, but rather than mate it with other Vivaldi concertos or similar Baroque fare, here she combines Vivaldi's oft-recorded cycle with Astor Piazzolla's "The Four Seasons of Buenos Aires" in a shimmering arrangement for violin and strings by Leonid Desyatnikov. She is not the first to do so -- that may have been I Solisti Italiani back in the 1990s -- but it remains a striking combination in the face of the usual fare that comes along for the ride with most issues of "The Four Seasons." Rather than recording this disc at Skywalker Sound as has been the norm in previous Ancalagon releases, this one was recorded on the road in Caracas with the Simón Bolívar Youth Orchestra of Venezuela under the direction of Eduardo Marturet. It is very well disciplined for a youth orchestra and plays with astonishing precision and professionalism for such a group.
The Piazzolla is certainly one of the best things St. John has ever recorded; she plays with unbridled passion and a kind of sexy ferociousness, and dips into interpretive effects more common to long ago violinists than they are in this post-Heifetz era; swooping portamento, a beautifully weighty projection of the melodic line, and a very high level of expressiveness, edge, and passion maintained throughout the performance. Her Vivaldi is very personal and intriguing; the trend since the 1990s has been toward individualization and extremes of effect in these works, whereas before the general approach was tied into an observance of a kind of received, semi-romantic tradition common to most Vivaldi interpretation, albeit one developed in the twentieth century. St. John's recording is an interesting blend of both; "La Primavera" and "L'estate" are respectful and reasonably conventional, but by no means complacent, interpretations, whereas "L'autunno" and "L'inverno" push the envelope. St. John has taken Vivaldi's Descriptive Sonnets to heart -- and they are printed with considerable prominence in the booklet -- and in the latter two concerti she portrays the music, much as would an actress, following Vivaldi's dramatic cues. Her turtledove and goldfish truly "sing," St. John's violin sounds nearly like the birds Vivaldi represents in both his music and written text, and it is astounding to think that there was a time when violinists played this cycle without ever having read Vivaldi's sonnets, or regarding them with no more than curiosity value.
With Ancalagon's Vivaldi: The Four Seasons, St. John will surely please her many admirers and those who regularly attend her concerts, but this disc also reaches out to the casual listener not well acquainted with her artistry in an effective way. As with all Ancalagon products, the production value of the CD's two booklets and outer jacket is extraordinarily high, the SACD sounds great, and even in tough times St. John's product is of such quality that it can be regarded as a keepsake, an object of precious and true value. While her Ancalagon releases seldom, if ever, disappoint, this one is particularly outstanding. (Uncle Dave Lewis)

引用
This is not for any faint of heart original instrument or PIP purists - I will begin with that! But it is an edifying and to me, thoroughly satisfying account of the famous Four Seasons with a bonus, "The Four Seasons of Buenos Aires" by Piazolla arranged for solo violin by Desyatnikov, whose Russian Seasons, Gidon Kremer recorded for Naxos several years ago.

St. John does unexpected things with the Vivaldi. The recording at least makes the orchestra appear larger at times than what the lavish booklet indicates is the "continuo" group. Maybe that is a hint! There is a lush quality to some of the string playing that bespeaks a large body of strings, but these occur only infrequently at strategic points in each movement. Similarly there is a power in the bass that sometimes startles, where bass viols double with harpsichord. Purists will quail at such devices I am sure. I loved it!...

... Notable is St. Johns frequent and extended absence of vibrato, with some notes beginning absent vibrato, but ending with it. Others are simply played absent vibrato. There is in some passages, again strategically chosen for effect, a marked portamento, with extraordinary ornamentation.
This is not what you normally expect when you put on a recording of the Four Seasons, or go to hear it in the concert hall. Season before last, I heard Joshua Bell and the Academy of St Martin in the Fields play this music in the Troy Music Hall. This recording is infinitely more stimulating, more interesting.
The reason I say that this is not for "faint of heart PIP purists, or purists of any sort, is that, again, for effect, St. John employs "pitch bending" at some very strategic locations. For me the effect was startling, then magical. This is an artist with a very original and creative voice. She is not afraid to defy convention to get her artistic views across. But her phrasing is exquisite throughout the entire work. Vivaldi's music has never been so descriptive! I applaud her heartily for what she has done here. This is Vivaldi for the 21st Century!
The Piazolla is entertaining if not "great" music. I enjoyed it enormously. It is an excellent companion piece to the Vivaldi...
专辑曲目:
01. A. Vivaldi "The Four Seasons": "Spring" - Allegro 03:18
02. A. Vivaldi "The Four Seasons": "Spring" - Largo 02:37
03. A. Vivaldi "The Four Seasons": "Spring" - Allegro 03:50
04. A. Vivaldi "The Four Seasons": "Summer" - Allegro non molto - Allegro 05:16
05. A. Vivaldi "The Four Seasons": "Summer" - Adagio - Presto 01:50
06. A. Vivaldi "The Four Seasons": "Summer" - Presto 02:44
07. A. Vivaldi "The Four Seasons": "Autumn" - Allegro - Allegro Assai 05:12
08. A. Vivaldi "The Four Seasons": "Autumn" - Adagio molto 01:58
09. A. Vivaldi "The Four Seasons": "Autumn" - Allegro 03:19
10. A. Vivaldi "The Four Seasons": "Winter" - Allegro non molto 03:55
11. A. Vivaldi "The Four Seasons": "Winter" - Largo 01:39
12. A. Vivaldi "The Four Seasons": "Winter" - Allegro 03:23
13. A. Piazzolla "The Four Seasons of Buenos Aires" - 'Buenos Aires Autumn' 07:17
14. A. Piazzolla "The Four Seasons of Buenos Aires" - 'Buenos Aires Winter' 06:38
15. A. Piazzolla "The Four Seasons of Buenos Aires" - 'Buenos Aires Spring' 05:16
16. A. Piazzolla "The Four Seasons of Buenos Aires" - 'Buenos Aires Summer' 05:57
这里是其它用户补充的资源(我也要补充):
暂无补充资源