Lara St. John -《韦瓦第:四季、皮耶佐拉:布宜诺思艾利斯的四季 》(Vivaldi: The Four Seasons, Piazzolla: The Four Seasons of Buenos Aires)[FLAC]

专辑英文名: Vivaldi: The Four Seasons, Piazzolla: The Four Seasons of Buenos Aires
专辑中文名: 韦瓦第:四季、皮耶佐拉:布宜诺思艾利斯的四季
古典类型: 协奏曲
资源格式: FLAC
发行时间: 2009年04月14日
简介: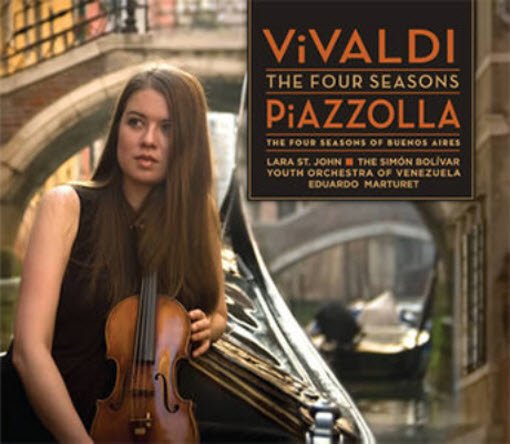 专辑介绍:

出生於加拿大,使用1779年制的「莎拉布」瓜奈里名琴,堪称现代最性感的女小提琴手菈菈圣蔷,曾於主流厂牌新力旗下发表过一张专辑,随后便以自己的宠物蜥为名建立起个人唱片品牌Ancalagon。此回挑战古典乐小提琴家的标準曲韦瓦第:「四季」,同时颇具巧思的加入探戈之父皮耶佐拉:「布宜诺思艾利斯的四季」,合奏出绝美的八季景色。并请来曾与洁西诺曼、阿劳、赛门拉图、马利纳等多位古典乐大师合作过的Martha de Francisco担任专辑制作人。专辑中菈菈圣蔷简洁却眩目神迷的运弓技法搭配起SACD 5声道的发烧级录音规格,就连权威音乐网站AMG在整张专辑的表现与声音水準上也只能臣服送出4星半超高评价,而知名发烧音乐网站Audiophile Audition与American record Guide等专业音乐传媒都给予极高正面评价。

by James Leonard

Joining together Vivaldi's Four Seasons and Piazzolla's The Four Seasons of Buenos Aires on a single disc was an excellent idea. Providing the musicians with lush sound and beautiful productions values was likewise an excellent idea. Unfortunately, the actual performances are less than excellent. Indeed, they might be most positively characterized as superficial and mediocre. Lara St. John, the charismatic Canadian violinist, has the technique to play Vivaldi's four violin concertos -- not much of an achievement since these are not particularly challenging works -- but despite her hyper-expressive phrasing, St. John's interpretations are nothing special. Her "Spring" is more dutiful than joyful, her "Summer" more soporific than sultry, her "Autumn" tart more than sweet, and her

"Winter" chilly to the point of coldness. Worse yet, St. John does not quite have the technique to play Piazzolla's much more demanding music, and her accounts are scrappy and sloppy. What's more, she seems to have less feel for Piazzolla than for Vivaldi, and her interpretations lack understanding of the Argentine composer's feel for rhythm or melody. Accompanied with much spirit but less polish by the Youth Orchestra of Venezuela under the direction of Eduardo Marturet, St. John's performances here will mostly likely be of interest only to her fans.

演出者: Lara St. John
乐团: The Simon Bolivar Youth Orchestra of Venezuela
作曲家: Vivaldi & Piazzolla
指挥家: Eduardo Marturet


引用
5.0 out of 5 stars Young, brash, refreshing --- and accomplshed, April 15, 2009
By
Jesse Kornbluth "Head Butler" (New York) - See all my reviews
(TOP 100 REVIEWER) (REAL NAME)
This review is from: Vivaldi: The Four Seasons; Piazzolla: The Four Seasons of Buenos Aires [Hybrid SACD] (Audio CD)
Is there a more frequently recorded piece of classical music than Vivaldi's Four Seasons? And talk about over-played --- I don't know if they still do this, but the Four Seasons Hotel in Beverly Hills used to pipe this music in to the reception area with such great commitment that I don't recall ever not hearing it. So why should we care if someone has added yet another recording of the Vivaldi chestnut to the pile?

Because, if you're like me, you've avoided this piece almost as diligently as you've avoided, say, the Pachelbel Canon. And if you've got to get reacquainted with this piece, why not hear it played by a young violinist who's got the brash sensibility of an impatient talent with a fresh approach?

Lara St. John may be an Internet sensation --- her Bach Concerto Album topped the iTunes Classical category and her recording of Bach's Six Sonatas and Partitas for Violin Solo was the best-selling double album on iTunes in 2007 --- but she eluded me until recently. That's hard to imagine, for, if nothing else, she's great at self-promotion. Consider:

-- On her debut CD, she posed nude, holding a violin across her chest. "I see no reason to hide who I am or what I look like," she said.

-- She plays a 1779 Guadagnini violin, valued at $1 million, "on loan from an anonymous donor".

-- She doesn't downplay the importance of emotion --- well, emotion on steroids --- in her playing. "What is classical music if not the epitome of sensuality, passion, and understated erotica that popular music, even with all of its energy and life, cannot even begin to touch?" she says.

All this would be off-putting if she were just a beauty with adequate technique. But the thing is, Lara St. John really is a virtuoso. Born in Canada, she began playing the violin at two years old. She first performed in concert at four and in Europe at 10. She's ambitious and fearless.

And clever. Her recording of The Four Seasons by Vivaldi is followed by a version written by Astor Piazzolla, the great tango master. It's a novel bookend --- and musically valid.

Be warning: If you let "The Four Seasons" into your head again, it may lodge there. Especially if you listen to Lara St. John's animated --- okay: passionate --- recording.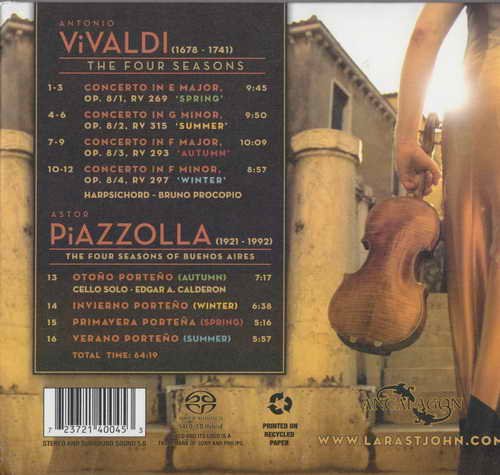 专辑曲目:
Antonio Vivaldi (1678 - 1741)

The Four Seasons
Concerto No. 1 in E major, RV 269 "Spring".
[1] Allegro
[2] Largo
[3] Allegro

Concerto No. 2 in G minor, RV 315 "Summer"
[4] Allegro non molto - Allegro
[5] Adagio - Presto
[6] Presto

Concerto No. 3 in F major, RV 293 "Autumn"
[7] Allegro - Allegro Assai
[8] Adagio molto
[9] Allegro

Concerto No. 4 in F minor, RV 297 "Winter"
[10] Allegro non molto
[11] Largo
[12] Allegro - Lento - Allegro

Astor Piazzolla: The Four Seasons of Buenos Aires
[13] Otoño Porteño 'Autumn'
[14] Invierno Porteño 'Winter'
[15] Primavera Porteña 'Spring'
[16] Verano Porteño 'Summer'
这里是其它用户补充的资源(我也要补充):
暂无补充资源