专辑英文名: Mozart - Night Music
专辑中文名: 莫札特:夜曲
古典类型: 全集作品
版本: [SACD-R ISO]
发行时间: 2003年09月09日
简介:


专辑介绍:

一般而言,古典乐派时期的夜间音乐,都以户外演奏为目的,来取悦亲朋好友,向意中人求爱,或者諂媚赞助者,不过偶尔也会用来呈现生命的阴影面。本片意在探索莫札特灵魂里的夜间音乐。《夜晚小夜曲,K.239》1776年写於萨尔兹堡,由弦乐团搭配定音鼓演出,莫氏从小编制开展出最丰富多样的色彩。1787年的《音乐玩笑,K.522》,虽然对约定俗成的写曲规则做出嘲弄,其实却是一首相当精巧、美丽的作品。1783年的《C小调缓板与赋格,K.546》,则是莫札特所写过最严肃、强烈与个人化的器乐合奏曲。《小步舞曲与中段音乐,K.485a》,以宫廷舞曲化身来展现卡农艺术。耳熟能详的《小夜曲,K.525》乃莫氏最晚期之作,全曲在鲜明旋律与完美比例之下,潜藏著更为复杂、私密的灵魂。巴洛克小提琴权威安德鲁.曼泽曾两度赢得英国Gramophone、法国坎城和荷兰爱迪生唱片大奖。他2003年接替皮诺克出任英国音乐会合奏团的音乐总监,本片乃此组合之首张CD。配合最新学术考证,整体演奏可谓剥开多层传统,展现无比新鲜的惊嘆。

The title of this exceptional disc, "Night Music", should not be taken to mean that the performances are in any way dark, mysterious, droopy, sluggish, or otherwise conventionally "nocturnal". Rather, the term evokes its 18th century musical meaning: a time for fun, relaxation, parties, entertainment both indoors and out, and of course, romance. Indeed, "Romantic" is perhaps the best way to describe these virtuosic, impulsive, and extravagantly expressive performances by the inimitable Andrew Manze and his team of crack "authentic-instrument" players.

Eine kleine Nachtmusik kicks off the evening in zesty style, with slashing attacks and a powerful sense of forward impetus: no effete mincing here. Manze's subtle tempo modifications (listen to the opening movement's very first piano phrase for an excellent example) and underlining of phrases bespeaks great care and preparation, but he never veers over the top into mannerism. The richly expressive Romance, lively minuet, and dazzlingly swift finale offer a fresh take on music that you've probably heard a million times--and thoroughly justifies listening to performance number one million and one. The same holds true for the Serenata notturna, where the addition of timpani gives the music grandeur as well as charm. The finale, with its "Hallelujah" Chorus interjections, makes a particularly bold and unforgettable impression in this performance.

Coming last, Manze and team offer what strikes me as the finest performance of A Musical Joke ever recorded. Certainly, the work makes its points if you play it "straight", but Manze takes the lunacy to a whole new level. First of all, he understands that in this work the two horns are the musical equivalent of dangerous weapons. In the second half of the minuet's "A" section, for example, he has the horns play correct harmony, only switching to Mozart's foul original at the repeat, where everyone slows down in disbelief at the atrocious results and the ensemble begins to fall apart in shock. It's hilarious and entirely in keeping with the spirit of the piece. Similarly, his solo turns in the same movement's trio and his psychotic take on the slow movement's cadenza offer laughs that never turn crude but remain perfectly believable examples of incompetent excess. The finale flies by at a frantic pace--and goes completely insane at the end. It's an absolutely brilliant performance in every respect.

Adding to the attractions of the major work is a remarkably intense performance of the grim Adagio and Fugue in C minor K. 546, featuring a gratifyingly firm bottom to the string orchestra, while the tiny Menuet and Trio in C K. 485a serves as a palate-cleaning interlude between the former piece and the Serenata. Whether you listen in SACD surround or conventional stereo, you will be rewarded with supremely natural, tactile, and warmly focused recorded sound. Excellent internal balances, rich bass, and an open but never shrill top project the music so that nothing comes between you and a visceral experience of the music itself. Certainly this is one of the most memorable Mozart discs to appear in many years. Essential!
--David Hurwitz, ClassicsToday.com

唱片公司:harmonia mundi 作曲家:莫札特指挥:曼泽乐团:英国合奏团 音乐类型:古典音乐 唱片编号:SAHMU807280 高价版 / SACD / 1 片装 / 67分14秒
专辑名称 : Mozart: Night Music/ The English Concert / Andrew Manze 莫札特:夜间音乐 曲目
专辑编号 : HMX2967280
专辑特色 : 莫札特诞辰250週年庆所推出《莫札特豪华CD书》,古典乐派的极品神韵
唱片公司 : Harmonia Mundi
演奏(唱)者 : 安德鲁.曼泽指挥英国音乐会合奏团

Mozart: Night Music / Andrew Manze, English Concert
Release Date: 09/09/2003
Label: Harmonia Mundi Catalog #: 907280 Spars Code: n/a
Composer: Wolfgang Amadeus Mozart
Conductor: Andrew Manze
Orchestra/Ensemble: English Concert
Number of Discs: 1
Recorded in: Stereo
Length: 1 Hours 7 Mins.


引用
W.A. MOZART

Night Music

Eine kleine Nachtmusik K525, Ein musikalischer Spaß K522 (A Musical Joke),
Adagio & Fugue in C minor K546,
Serenade in D major K239 Serenata Notturna, Menuet in C major K485a

The English Concert / Andrew Manze
"I don't know of any [performances] that can match these for freshness, exhilaration and sheer fun." Richard Wigmore, BBC Music Magazine, September 2003 Benchmark, 5 stars "It is quite an achievement to make a performance of Eine Kleine Nachtmusik gripping and revelatory, but in his first recording as director of the English Concert, Andrew Manze manages it." The Guardian, 29 August 2003


Fresh Mozart that won't put you to sleep, 4 Mar 2004
By C. Razzell "dsdreamer" - Published on Amazon U.S.
This review is from: Mozart - Night Music (Audio CD)
This recording restores freshness, vitality and excitement to the experience of listening to Mozart.

Eine kleine Nachtmusik starts the disc off, and you immediately sense that Andrew Manze has something new to say. There is plenty of attack and drive, but never to the point of becoming affected. The rich sonority from the period instruments is well captured by the sound engineering and is even more pronounced if your equipment allows you to enjoy the high resolution SACD layer.

The powerful, driving Adagio and Fugue in C minor is given an intense and relentless performance. This is enhanced by the prominence of the base strings in the recording mix, which adds to the impression of strength.

While this performance is not quite "punk Mozart" it does provide a very unpretentious, fresh and vital approach the music that will keep you coming back for more.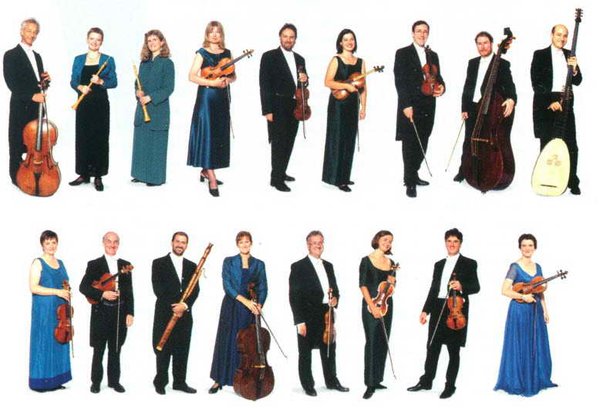 专辑曲目:
01. Serenade in G major, K.525, Eine kleine NachtmusikЎGI. Allegro
02. Serenade in G major, K.525, Eine kleine NachtmusikЎGII. RomanceЎGAndante
03. Serenade in G major, K.525, Eine kleine NachtmusikЎGIII. Menuetto & Trio
04. Serenade in G major, K.525, Eine kleine NachtmusikЎGIV. RondoЎGAllegro
05. Adagio & Fugue in C minor, K.546ЎGI. Adagio
06. Adagio & Fugue in C minor, K.546ЎGII. Fugue
07. Menuet in C major, K.584aЎGMenuet & Trio
08. Serenade in D major, K.239, Serenata NotturnaЎGI. MarciaЎGMaestoso
09. Serenade in D major, K.239, Serenata NotturnaЎGII. Menuetto & Trio
10. Serenade in D major, K.239, Serenata NotturnaЎGIII. RondeauЎGAllegretto
11. Ein musikalischer SpasB, K.522ЎGI. Allegro
12. Ein musikalischer SpasB, K.522ЎGII. Menuetto (Maestoso) & Trio
13. Ein musikalischer SpasB, K.522ЎGIII. Adagio cantabile
14. Ein musikalischer SpasB, K.522ЎGIV. Presto
这里是其它用户补充的资源(我也要补充):
暂无补充资源