专辑中文名: Amadeus
专辑英文名: 莫扎特传
版本: [2 CD Set] [Flac + SACD-R]
发行时间: 2004年06月11日
简介: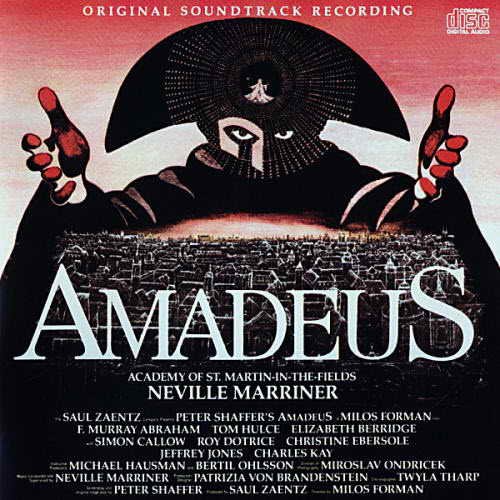 专辑介绍:

All Music Guide ★★★★(★)极高评价

荣获奥斯卡金像奖八项大奖的电影《阿玛迪斯》,不仅是史上最经典的音乐电影之一,配乐更被誉为经典中的经典!原声带历年来销售超过百万张的白金唱片纪录,亦夺得葛莱美奖的「最佳古典专辑」大奖,素以「忠於莫札特原曲风格」著称的指挥名家马利纳与圣马丁学院管絃乐团的绝佳詮释是最大功臣。马利纳精嫺莫札特的音乐,於是当年雀屏中选,为《阿玛迪斯》一片担纲音乐演出。

电影原声带 / 阿玛迪斯 O.S.T. / Amadeus

唱片公司:Fantasy
作曲家:莫札特指挥:马利纳
乐团:圣马丁室内乐团
音乐类型:电影配乐
唱片编号:FSACD24-29
发行日期:2004年06月11日

Artist:The Academy of St. Martin In The Fields
Composer:Mozart
Conductor:Sir Neville Marriner

A masterpiece of movie-making that won eight academy awards, Amadeus is one of the few films about music that presents it with absolute fidelity to its maker's intentions. When producer Saul Zaentz, director Milos Forman, and writer Peter Shaffer asked Sir Neville Marriner to conduct for the 1984 film, he told them yes. Critics were as enthusiastic about the motion picture as were audiences. The soundtrack recording--a generous sampling of Mozart's genius--stood on its own because of the brilliance of Marriner's conducting and the performance of the Academy of St. Martin-in-the-Fields. Now, in the glory of sound made possible by Super Audio Compact Disc (SACD) technology, Mozart's music reaches new generations of listeners.


引用
Wolfgang Amadeus Mozart has been one of my favorite composers for years, especially after I watched Milos Foreman's brilliant film Amadeus, a wonderful adaptation of Peter Shaffer's stage play.

While the story and the performances by F. Murray Abraham (Antonio Salieri) and Tom Hulce (W. A. Mozart) were enthralling, the true star of the movie was, of course, Mozart's beautiful and timeless music, and no wonder, for the music supervisor (and conductor) for Amadeus was none other than one of the best interpreters of Mozart's compositions, Sir Neville Marriner.

In this wonderful two-disc set of the original soundtrack, Marriner leads the acclaimed Academy of St. Martin-in-the-Fields orchestra in 20 excerpts from various symphonies, piano concertos, operas, and Mozart's final opus, the Requiem.

Disc One begins with the first movement of Mozart's Symphony No. 25 in G minor, K 183, a very dramatic and energetic work which foreshadows the emotionally charged compositions of Beethoven (who was a student of Mozart's) and other composers of the Romantic era. Composed when Mozart was only 17 years old, it is the first symphony he wrote in a minor key. Sweeping and almost stormy at times, it is an apt accompaniment to the film's "I killed Mozart!" opening sequence.

Among the other eight tracks on this first disc are excerpts from Giovanni Pergolesi's "Stabat Mater," early 18th Century Gypsy music played on instruments of the period, and more Mozart works ranging from opera (the Turkish Finale from The Abduction from the Seraglio) to the first movement from Symphonie Concertante, K 364.

Disc Two contains 11 tracks, including the beautiful third movement of the Piano Concerto in E flat, masterfully played by pianist Ivan Moravec and the Academy of St. Martin-in-the-Fields. Opera and fans of Mozart's works for voice and orchestra will enjoy this second disc, for not only are there excerpts from The Marriage of Figaro (Ecco la Marcia, Ah Tutti Contenti) and Don Giovanni (the famous Commendatore scene from Act II), but also the "Ruhe Stanft" aria from Zaide (featuring the lovely voice of soprano Felicity Lott). Rounding out the bulk of this mostly vocal-works half are five selections from Mozart's Requiem, K 626, a work into which the composer poured his creativity and energies but was unfinished at the time of his death in 1791. Aptly, the final track is the "Romanza" or second movement of the Piano Concerto in D minor, K 466. As played by Imogen Cooper and the orchestra, it reflects various emotions that are normally associated with music from the Romantic era rather than the more sedate and "logical" Classical period in which Wolfgang Amadeus Mozart lived during his brief 36-year sojourn on Earth.

The two-disc set also comes with a handy booklet with program notes, divided into "The Story" on one side of the page and "The Music" on the other, helping the listener identify which cue goes with what scene, while at the same time giving brief music appreciation notes to put the works into historical and artistic context.

Alex Diaz-Granados

专辑曲目:
DISC 1:

01. Symphony No. 25 in G minor, K. 183 (K. 173dB): 1st movement - (with Academy of St. Martin-in-the-Fields/Neville Marriner)
02. Stabat mater, for soprano, alto, strings & organ in F major: Quando Corpus Morietur and Amen - (with Choir of Westminster Abbey/Simon Preston)
03. Bubak and Hungaricus
04. Serenade No. 10 for winds in B flat major ("Gran Partita"), K. 361 (K. 370a): 3rd movement - (with Academy of St. Martin-in-the-Fields/Neville Marriner)
05. Die Entführung aus dem Serail (The Abduction from the Seraglio), opera, K. 384: Turkish Finale - (with Ambrosian Singers Of London/John McCarthy/Suzanne Murphy/Academy of St. Martin-in-the-Fields/Neville Marriner)
06. Symphony No. 29 in A major, K. 201 (K. 186a): 1st movement. Allegro moderato - (with Academy of St. Martin-in-the-Fields/Neville Marriner)
07. Concerto for 2 pianos & orchestra in E flat major ("Concerto No. 10"), K. 365 (K. 316a): 3rd movement - (with Academy of St. Martin-in-the-Fields/Neville Marriner/Anne Queffélec)
08. Mass No. 17 for soloists, chorus & orchestra in C minor (fragment, "Great Mass"), K. 427 (K. 417a): Kyrie - (with Laszlo Heltay/Academy of St. Martin-in-the-Fields/Felicity Lott/Neville Marriner)
09. Sinfonia concertante for violin, viola & orchestra in E flat major, K. 364 (K. 320d): 1st movement - (with Levon Chilingirian/Academy of St. Martin-in-the-Fields/Neville Marriner)

DISC 2:

01. Piano Concerto No. 22 in E flat major, K. 482: 3rd movement - (with Neville Marriner)
02. nozze di Figaro, Le (The Marriage of Figaro), opera, K. 492: Act 3. Ecco la Marcia - (with Academy of St. Martin-in-the-Fields/Felicity Lott/Neville Marriner/Samuel Ramey)
03. nozze di Figaro, Le (The Marriage of Figaro), opera, K. 492: Act 4. Ah Tutti Contenti - (with Felicity Lott/Neville Marriner/Samuel Ramey)
04. Don Giovanni, opera, K. 527: Act 2. Commendatore scene - (with John McCarthy/Academy of St. Martin-in-the-Fields/Neville Marriner)
05. Zaide, opera, K. 344 (K. 336b): Aria, Ruhe Sanft - (with Academy of St. Martin-in-the-Fields/Felicity Lott/Neville Marriner)
06. Requiem for soloists, chorus, and orchestra, K. 626: Introitus (Eternal rest give to them, O Lord) - (with Laszlo Heltay/Academy of St. Martin-in-the-Fields/Neville Marriner)
07. Requiem for soloists, chorus, and orchestra, K. 626: Dies Irae (Day of wrath) - (with Laszlo Heltay/Academy of St. Martin-in-the-Fields/Neville Marriner)
08. Requiem for soloists, chorus, and orchestra, K. 626: Rex Tremendae Majestatis (Awe-inspiring King) - (with Laszlo Heltay/Academy of St. Martin-in-the-Fields/Neville Marriner)
09. Requiem for soloists, chorus, and orchestra, K. 626: Confutatis (When those cursed enter flames) - (with Laszlo Heltay/Academy of St. Martin-in-the-Fields/Neville Marriner)
10. Requiem for soloists, chorus, and orchestra, K. 626: Lacrimosa (Mournful day) - (with Laszlo Heltay/Academy of St. Martin-in-the-Fields/Neville Marriner)
11. Piano Concerto No. 20 in D minor, K. 466: 2nd movement: Romanza - (with Imogen Cooper/Academy of St. Martin-in-the-Fields/Neville Marriner)
这里是其它用户补充的资源(我也要补充):
暂无补充资源