专辑英文名: Albinoni's Adagios
专辑中文名: 阿比诺尼:慢板
古典类型: 全集作品
资源格式: FLAC
发行时间: 1999年08月24日
简介: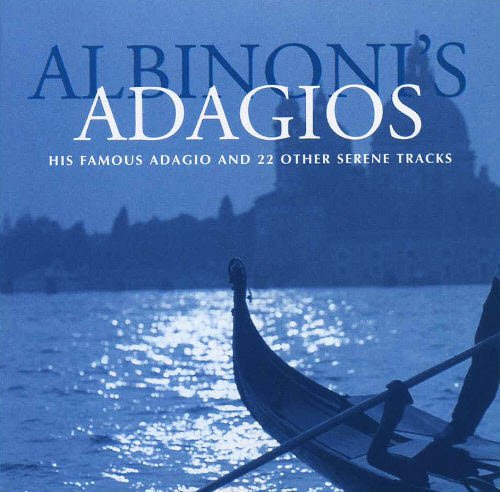 专辑介绍:

托马索·乔瓦尼·阿尔比诺尼(意大利语:Tomaso Giovanni Albinoni,1671年6月8日威尼斯 - 1750年1月17日威尼斯),意大利巴洛克作曲家,代表作《G小调柔板(Adagio in G minor)》。

托马索·齐奥凡尼·阿尔比诺尼1671年出生於意大利威尼斯,是一个富裕的造纸商的长子。少年时当过歌手,而作为小提琴手他当时更出名,后来从事歌剧和乐器作曲。因为父子关系不和,1709年其父亲去世前在遗嘱中免除了他的财产继承权(按意大利人的惯例,家庭财产应由长子继承)。从此他专心致誌地为自己的爱好而作曲,并办了一所相当成功的专门培养歌唱家的艺校。他妻子就是一位歌剧演员。阿尔比诺尼一生在威尼斯度过,但去过许多地方,并得到当地名流的款待。他创作过81部歌剧,但大多数未出版,以后手稿遗失。其乐器作曲较为幸运,出版过10集,当时深受欢迎,并多次印刷,可惜他所有的音乐手稿和印刷品在第二次世界大战的轰炸中几乎毁於一殆。1945年,莱莫·齐亚左托,米兰的一位音乐理论家,为了完成阿尔比诺尼的传记和作曲总表,来到原来保存阿尔比诺尼手稿的、但已被炸成废墟的图书馆。在废墟中,齐亚左托只发现了一些手稿的碎片,从中齐亚左托整理出惊人之作的《G小调柔板》,这也是能使人们想起阿尔比诺尼的唯一一首曲子。不过在很多情况下,人们会把阿尔比诺尼和齐亚左托联系在一起,通常会在《G小调柔板》后面写上:阿尔比诺尼作曲,齐亚左托整理。

作曲家中很少有象托马索·齐奥凡尼·阿尔比诺尼那样,仅以一首曲子而闻名於世。这张专辑也许会给你带来惊喜。这个版本中的弦乐柔和而饱满,古钢琴的音色亮丽而古朴,仿佛泛舟威尼斯的水上,感受波光粼粼的荡漾。

Albinoni's Adagios(Claudio Scimone) album:

Stephen_Murray's Full Review: Albinoni's Adagios / Claudio Scimone, I Solisti Ve... Tomaso Giovanni Albinoni (1671-1751) is in our age something of a "one-hit wonder," that hit being the Adagio in G Minor for organ and strings. I've never seen it or anything else by Albinoni programmed for symphony concerts, but the organ and strings Adagio is on every "Baroque greatest hits" compilation. I first heard it in Alain Resnais's opaque art-film puzzle "Last Year at Marienbad" (1961). It haunted a much larger audience in the 1981 movie "Gallipoli."

Albinoni wrote fifty or so operas and at least 72 concerti (probably many more), none of which were in the repertory in the years after World War II when LP records made baroque music widely available. Many Albinoni manuscripts were in the Dresden State Library and destroyed when the UK and US firebombed Dresden in 1944 (see Slaughterhouse Five--and the movie adaptation of it, which used Bach music).

Among the collateral damage of the incineration of Dresden was the trio sonata from which the G minor adagio derived. The prototype Albinoni piece was arranged by Remo Giazotto and only published in 1958. Adagios in general are languorous, but this one lasts much longer than any of the 22 other Albinoni adagios and larghettos on the Erato disc performed by I Solisti Veneti, conducted by Claudio Scimone. It has a quite achingly beautiful final violin figure.

My other favorite is the second-longest one, one of many taken from oboe concertos, in this instance in D major. There is music from the soundtrack for "Brideshead Revisited" that seems to me inspired by this, with a very slow oboe "vibrato" above a faster-moving repeated four rising notes in the strings.

There are four more adagios from oboe concerti. Most of the rest are from violin concerti, and don't sound very different from each other. 73 minutes of slow movements makes for seeming repetition (as in the only somewhat exaggerated claim that Vivaldi wrote the same violin concerto 600 times).

All this poignant lyricism is fine background music for self-pity or post-coital reverie (drifting in a gondola in Venice's Grand Canal--which no one now does with motorized launches and even those riding gondolas for the sake of having ridden a gondola going someplace). Severed from the context of any concerto architecture and mostly running two minutes, plus or minus half a minute, the disc has very beautiful music, sublime even. There are different melodies, beautifully played and recorded, all aestheticizing sorrows--at least to my post-romantic ears. One that comes close to suggesting hope (though still falling away at the end) is the adagio from the Concerto for Oboe in B flat major. How Venetians three centuries ago heard and interpreted them, I'm not sure, but am sure they noticed the beauty of the music.


引用
Albinoni, Tomaso While famous in his day as an opera composer, he is mainly remembered today for. Albinoni, Tomaso Concerto No.4 in G, Op.7, for strings and continuo (12 Concerti a cinque,Berlin Chamber Orchestra) Tomaso Albinoni (1671 - 1751) - Find A Grave Memorial Birth: Jun. Tomaso Albinoni: his life and work in Venice. Albinoni was a prolific composer, although little of his music has. Tomaso Albinoni (Composer) - Short Biography Tomaso Albinoni (Composer) Born: June 8, 1671 - Venice, Republic of Venice, Italy Died: January 17, 1751 - Venice, Republic of Venice, Italy: Tomaso Giovanni Albinoni was a. While famous in his day as an opera. Tomaso Albinoni: his life in Venice, oboe concertos. composer. Tomaso Albinoni - Pandora Internet Radio Information about Tomaso Albinoni at Pandora.com. Pandora is the Internet radio service that helps you find new music based on your old and current favorites. The son of a wealthy Venice merchant, he had the means to devote himself exclusively to music. Watch videos & listen to Tomaso Giovanni Albinoni: Adagio, Adagio in G minor & more, plus 5 pictures. 17, 1751: Composer. Tomaso Albinoni - IMDb Soundtrack: Show Me Love (1998) Flashdance (1983) Gallipoli (1981) Casanova (2005). 14, 1671: Death: Jan. Music sample. Tomaso Albinoni: Facts, Discussion Forum, and Encyclopedia Article Tomaso Giovanni Albinoni (8 June 1671 17 January 1751) was a Venetian Baroque

This compilation is a perfect work/study/contemplation CD, when you want to reduce the hum and din of modern life. It's wonderfully played, and has 23 tracks for a total of 72:45 minutes of melodic, serene music.

The famous Adagio in G minor, so often heard in films, etc., is here given a lovely rendition. Played a little faster than most other versions, with the individual instruments (especially the harpsichord) being heard clearly. It's not as lush and smooth as some recordings, but crisper, and to my ears, absolutely delightful.

It's hard to pick favorites among the other selections...each piece is a baroque beauty that flows well from one track to the next. I'm sure this CD will please most people who like 18th century music.
The recordings were done in 1970, '74, and '81, the sound is very good, and it's a great addition to my "quiet time" CDs.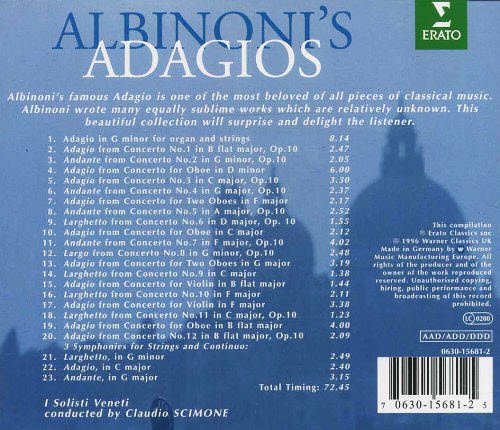 专辑曲目:
01. Adagio in G minor for organ and strings
02. Concerto Op.10 No.1: Adagio
03. Concerto Op.10 No.2: Andante
04. Oboe Concerto in D minor: Adagio
05. Concerto Op.10 No.3: Adagio
06. Concerto Op.10 No.4: Andante
07. Concerto for two oboes in F: Adagio
08. Concerto Op.10 No.5: Andante
09. Concerto Op. 10 No.6: Larghetto
10. Oboe Concerto in C: Adagio
11. Concerto Op.10 No.7: Andante
12. Concerto Op.10 No.8: Largo
13. Concerto for two oboes in G: Adagio
14. Cocnerto Op.10 No.9: Larghetto
15. Violin Concerto in B flat: Adagio
16. Concerto Op.10 No.10: Larghetto
17. Violin concerto in F: Adagio
18. Cocnerto Op.10 No.11: Larghetto
19. Oboe Concerto in B flat: Adagio
20. Concerto Op.10 No.12: Adagio
21. Sinfonia in G minor: Larghetto
22. Sinfonia in C: Adagio
23. Sinfonia in G: Andante
这里是其它用户补充的资源(我也要补充):
暂无补充资源