专辑英文名: Baroque Favourites
专辑中文名: 巴洛克珍爱作品集
古典类型: 全集作品
资源格式: FLAC
发行时间: 2001年10月23日
简介: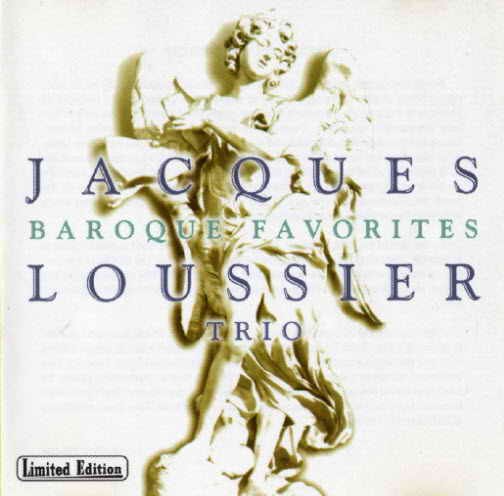 专辑介绍:

Jacques Loussier 1934年10月,出生於法国西北方的一个小镇昂热(Angers)。十岁时正式接触音乐,开始学习钢琴。十六岁时,进入法国国家音乐学院(Concervatoire Nationale de Musique)接受正式的音乐训练,在音乐学院学习期间,对他影响最大的是指导老师Yves Nat。Yves Nat是一位有著非常深造诣的音乐家,在作曲及钢琴技巧方面都有很不错的成绩,曾受到包括佛瑞、圣桑、德彪西在内等等许多著名音乐家的讚许,而Jacques Loussier可说是他的得意门生。

虽然接受正统的古典音乐洗礼,但是Jacques Loussier对爵士音乐的兴趣却非常浓厚。1959年的秋天,Jacques Loussier在参加朋友的聚会时一时兴起半真半假的以爵士乐风格弹奏了一曲巴赫的《前奏曲与赋格》,没想到受到朋友们的热烈欢迎,让他们直呼过癮。由此他产生了一个突破性的想法:把他喜爱的作曲家巴赫的所有作品,以爵士音乐的方式,重新介绍给喜爱音乐的人们。於是他组成了Jacques Loussier Trio,开始将巴赫的音乐重新编曲,并在各种场合中演出,其中也包括他们尝试和皇家爱乐管絃乐团的合作演出。

虽然有许多的演出机会,然而Jacques Loussier却於1978年决定解散乐团。已厌倦了到各地巡迴演出的Jacques Loussier,选择定居法国东南部的普罗旺斯,并决定不再演出巴赫的作品。不过,1985年巴赫诞辰三百週年纪念,Jacques Loussier在眾人的劝说下,又决定重新灌录他最受欢迎的双CD专辑作品《The Best of Play Bach》。为此他邀请了打击乐手Andre Arpino和贝司手Vincent Charbonnier加入演出,重新成立Jacques Loussier Trio。三人携手合作的作品销售量再次攀登了另一个巔峰。

Jacques Loussier has spent most of his career blending jazz and classical styles into a lightly swinging and highly melodic hybrid. He is most well-known for tackling Bach, but here he covers a range of Baroque composers. Loussier, bassist Benoit Dunoyer De Segonzac, and drummer Andre Arpino play pieces by Handel, Pachabel, Scarlatti, Marcello, Albinoni, and Marias. Loussier has a very light touch and the trio is laid-back, never distracting from the melodies. You can hear the influence of Dave Brubeck in Loussier's playing (especially on Marais' "La Sonnerie de Sainte-Geneviève du Mont"), and much like Brubeck's best work, there is a strong sense of warmth and intelligence on Baroque Favorites. The only complaint one might have is that the brevity of some of the songs breaks up the flow of the record. Nevertheless, Baroque Favorites is a very nice album. ~ Tim Sendra

8 Classics By Handel,Pachelbel Albinoni,Scarlatti,Marais,Marc

Recorded at Studio Grande Armee, Paris, France between June 4 & 21, 2001.

Jacques Loussier Trio: Jacques Loussier (piano); Benoit Dunoyer De Segonzac (bass); Andre Arpino (drums).

Personnel: Jacques Loussier (piano); André Arpino (drums, cymbals).

Recording information: Studio Grande Armee, Palais des Congres, Paris, France (06/04/2001-06/21/2001).

Arranger: Jacques Loussier.


引用
Pianist/composer Jacques Loussier has been swinging the classics for more than four decades now—ever since he formed the Play Bach Trio in the late '50s, when the union of his classical background with his interest in jazz created a remarkable success story. The trio toured extensively, selling over six million albums in fifteen years, and then disbanded.

In 1985, the Bach tercentenary prompted Loussier to reform his trio with two new members and return to his jazzy spin on the classics. For Telarc, his first two recordings were reinterpretations of baroque music: Jacques Loussier Plays Bach (CD-83411); and Vivaldi: The Four Seasons (CD-83417). He then expanded the trio's musical language with recordings of music by the French composers Satie, Ravel, and Debussy.

For his latest Telarc project, Baroque Favorites (CD-83516), Loussier and his talented partners—bassist Benoit Dunoyer de Segonzac and drummer Andre Arpino—have tackled some of today's most widely heard and popular Baroque classics. And therein, according to Loussier, lay the challenge—to maintain the essence of the music and still bring something new to his arrangements. "These pieces are so well known, and several of them are very simple," he says, referring especially to the enormously popular Canon in D by Pachelbel and the Adagio for Strings by Albinoni. "The spirit of each piece had to be kept. For every piece, one must find an idea and a solution. I may have lots of choices—lots of ideas—but only one will be the right one, the one that will be in good taste, and maintain the integrity of the original score."

Many of these works were originally scored for strings, and translating the sound of a small string orchestra to piano, bass and drums presented real hurdles. "The sound of the piano is shorter and more percussive than the strings," says Loussier. "I had to find ways to work around that in these pieces." The repetitive structure of the Pachelbel allows Loussier and his virtuosic bass player, de Segonzac, to trade the melody and bass lines in a delicious interplay of sounds and ideas. In the Albinoni, similarly constructed with a repetitive harmonic framework, Arpino provides a lively beat in the central section that tempts Loussier to some sassy improvisation.

The disc opens and closes with sparkling works by George Frideric Handel. Loussier admits that the opening work, the Sarabande from Suite No. 11, is one of his favorites, where the format of theme and four variations allows him plenty of scope for invention. After a simple statement of the theme, Loussier takes full advantage of the form, employing a mixture of gentle swing, walking bass lines, syncopated piano chords, and a persuasive Latin beat from drummer Arpino to bring the variations to life.

For the relatively unfamiliar second selection on the disc, "La sonnerie de Sainte Genevieve du Mont," by Marin Marais, Loussier found a brilliant "solution." "I was looking at the score, and I was really wondering what to do with it," says Loussier. "It was too simple in one way; too complicated in another. Then I thought, 'How would it be in 5/4?'" The result is a spontaneous and witty simulation of Dave Brubeck's "Take 5"—such a simple and natural marriage of ideas that it almost seems as though the piece was meant to be performed that way.

Two delightfully contrasting sonatas by Domenico Scarlatti are included on this disc. In the first, the lyrical Sonata No. 33 in B minor, Loussier keeps his arrangement simple, in a slow, cool swing. He shows off his classical "chops" in the typically rapid scale passages that open and close Sonata No. 32 in F-sharp minor, surrounding a central section with the bass and drums playing a fast Latin beat.

Parts of Marcello's three-movement Concerto in D Minor for Oboe and Orchestra also display a distinctly South American flavor. The first movement, after a straightforward opening with a walking bass line, breaks into a lively bossa nova. In the Adagio, Loussier and de Segonzac once again trade melody and bass lines. The final movement calls for virtuoso playing from all three members of the trio, with fast scale passages for the piano, and bass and drum solos in the middle of the movement.

Two other Handel works round out the disc: the popular "Largo" from Xerxes, and the Concerto in F Major for Organ, in five movements. Loussier takes center stage in the first movement of the concerto with a solo piano improvisation. In the middle of the second movement Allegro, Arpino lays out an extended percussion solo over a distinctive Latin rhythm in the piano and bass. In the fourth movement Larghetto, de Segonzac's solo lines are imbued with an almost Eastern flavor. The final Allegro is fast-paced but easy, and is a showcase for Loussier's improvisatory skills in a solo piano "cadenza."
专辑曲目:
01. Handel: Sarabande and Variations from Suite No. 11: Theme and Variation No. 1 2:16
02. Handel: Sarabande and Variations from Suite No. 11: Variation No. 2 1:36
03. Handel: Sarabande and Variations from Suite No. 11: Variation No. 3 1:33
04. Handel: Sarabande and Variations from Suite No. 11: Variation No. 4
05. Marais: La sonnerie de Sainte-Genevieve du Mont 5:36
06. Scarlatti: Sonata No. 33 in B minor 4:54
07. Scarlatti: Sonata No. 32 in F-sharp minor 1:29
08. Handel: Largo (from Xerxes) 3:19
09. Pachelbel: Canon in D major 3:37
10. Marcello: Concerto in D Minor for Oboe: I. Andante spiccato 2:31
11. Marcello: Concerto in D Minor for Oboe: II. Adagio 2:22
12. Marcello: Concerto in D Minor for Oboe: III. Presto 3:08
13. Albinoni: Adagio 4:31
14. Handel: Concerto in F Major for Organ: I. Larghetto 4:06
15. Handel: Concerto in F Major for Organ: II. Allegro 5:14
16. Handel: Concerto in F Major for Organ: III. Andante 2:37
17. Handel: Concerto in F Major for Organ: IV. Larghetto 4:24
18. Handel: Concerto in F Major for Organ: V. Allegro 3:49
这里是其它用户补充的资源(我也要补充):
暂无补充资源