中文名: PS特效滤镜
英文名: Filter Forge
资源格式: 压缩包
版本: v3.006 Professional Edition
发行时间: 2011年
简介: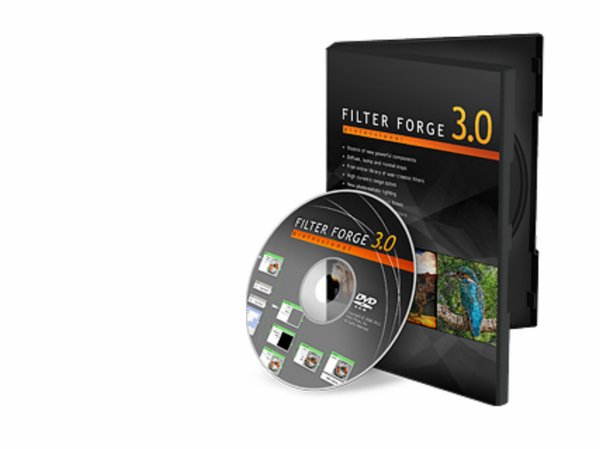 Filter Forge是一个允许用户使用基于节点的视觉化编辑器制作属于自己的滤镜的Photoshop插件。所有的滤镜都是可调节和可编辑的,并且无缝平铺、独立分辨率和支持HDRI照明。滤镜还可以自动生成漫反射、镜面高光、凹凸和法线贴图。

filter forge是一个多功能的2d程序纹理生成工具,它既可以作为一个独立的应用程序,也可以作为photoshop插件来使用,能够让你生成与分辨率无关的无缝纹理,用以作为凹凸、漫反射和法线贴图。分辨率可高达65000x65000像素。Filter Forge不仅是一款Photoshop插件。还是生成组织结构,创建视觉效果,加强图像,处理影像的一组滤镜的打包。该软件已自动生成分辨率独立碰撞,窥镜,漫反射和标准地图,并支持HDRI、 32 位工作流和如同OpenEXR的浮点文件格式。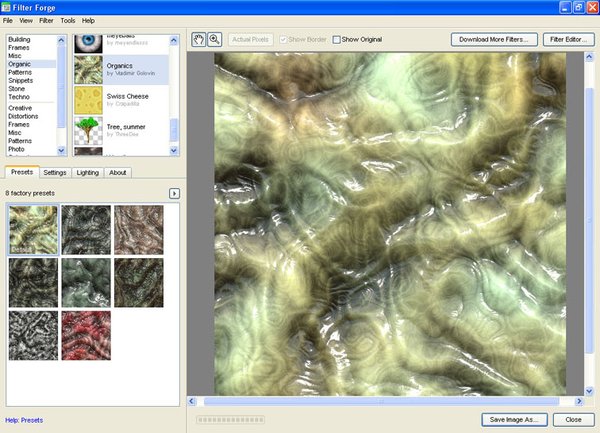 On the surface, Filter Forge is just a Photoshop plugin, a pack of filters that generate textures, create visual effects, enhance photos, process images. However, there are 3 things that make Filter Forge unique:

1. You can create your own filters. Filter Forge comes with a visual node-based editor allowing you to create your own filters – textures, effects, distortions, backgrounds, frames, you name it. All filters automatically support 16- and 32-bit modes in Photoshop, real-world HDRI lighting, bump and normal maps, huge resolutions, and most filters can be seamlessly tiled.

2. You get free access to 8513 user-created filters. Anyone can contribute their textures and effects to the online filter collection so it grows with every submitted filter. This means the more people use Filter Forge, the better it gets.

3. Contributors get Filter Forge for free. You submit filters, they get popular with the users, we send you a free copy of Filter Forge. Sounds simple but don't expect a giveaway, you will have to earn it.

The long-awaited third version of Filter Forge is out! Explore the horizons of the new powerful Filter Forge with support for multiple source images, revamped user interface, improved preview interactivity, new amazing filters, and much more.

Support for Multiple Source Images

In Filter Forge 1.0 and 2.0, one could only use a single source image or a Photoshop layer at a time. Starting with version 3.0, Filter Forge allows you to use multiple source images simultaneously. This is implemented by allowing you to load images into Color Controls and the newly introduced Grayscale Controls via the filter interface.

Progressive Previews

The idea behind progressive previews is to give you a rough, low-resolution preview of the rendered image as fast as possible, then gradually refine it in subsequent rendering passes until the image reaches the final level of quality. By default, the first rendering pass of the progressive preview is up to 16 times faster than the original preview method!

More Preview Images

If you are a longtime Filter Forge user, you're probably sick and tired of the default lifesaver image that Filter Forge uses to preview rendered results – and so are we! Filter Forge 3.0 comes with 6 new preview images so you can choose the one that you like best. Each of these images comes with an alpha channel allowing you to preview your filters on images with transparent areas.

Flexible UI with Resizable Panels

The most prominent innovation in the final beta stage is the flexible user interface with draggable separators. Owners of widescreen monitors will benefit from this most.

Interactive Before/After Wipe

Filter Forge 3.0 improves interactivity when applying effect filters. We've implemented an interactive slider allowing users to see the original image and the applied effect at a time.

Bézier Curves

Bézier curves are commonly used for creating tone curves, bevel profiles and other shapes. With Filter Forge 3.0, you can draw Bézier curves within the new Bézier Curve component that features a powerful curve editor.

Edge Detector Component

The new Edge Detector component performs edge detection, similar to certain existing filters in the filter library but faster and in a single shot. The component is highly adjustable and can output HDR colors.

Script API for Noise and Blending Modes

Filter Forge 3.0 offers expanded scripting API that adds support for Perlin and uniform noise functions and allows access to the blending modes in scripts.

Other Improvements

Filter Forge 3.0 includes several other improvements, which include hexadecimal color values in the Color Picker, HDR and alpha channel support for filter controls, high-precision Color Inspector, the ability to load recently-used images, a unified Bomber component and more.


代码
▄███████████████████▄
███████████████████████▄
▄███░▒▒▒▒▒▒▒▒▒▒▒▒▒▒▒▒▒▒▒███ ▄████████████▄
▄██▓▓▓▒▓▓▓▓▓▓▓▓▓▓▓▓▓▓▓▓▓▓▓▓▓██▒ ███▓░░ ░█████▄
▄██████████░▒███████▓▓▒▒▒▒▒▒▒▒▒▒▒▒▒▒▒▒▒░░▒▒▓████▓ ▓██▄
▄███ ░███▒▒▒▓▒▒▒▓█████▒▓▓▓▓▓▓▓▓▓▓▓███▓▒▒▒▒██ █████████▓ ▒██
██ ░▓███░ ░█▓▒▓▓▒▓█████▓▒▒▒▒▒▒▒▒▒▒▒▒▓█████▓▒▒█ ██████████████▓ ██
█▓ ▒█████████▒ █▓▒▒▓███▒░░▒▒▓▓███████▓▓▓▒▓▒███▓█ ████░ ▒█▓▒██ ░ ▓█
█░ ████▓ ▒████░ █▓███▓▒▓██▓▓▓▓▓▓▒▒▒▓▓▒▒▒▒▒▒▓▓██░▓██▒ ░████▒ █▒▒██ ▒░ █
█▒ ░████ ███ ░█▓█ ████▓▓▓███████▒▒▓▓▒▒███████████▓▓█ ████████████▒██ ░░ █
█ ░ █░█ █████████░█ ░ ██░▓████▓ ▓███▓▒████▓ ▓███▓████▒ ░██░▒▒██ ▄█
█ ▒ █▒█ █▓█ ▓████ ░ ▒████▓ ▓██▓█▓ ▓█▓▓▒▓█ ████▒ ██████
█ ▒ ██ █░█ ░▒░ ░▓ ░░ ██▓ █▓▓ ███▄ ███████░░░ ▓█▓▓██▀
█ ░▒ ███░▓█ ░▒▒▒░ █▓ ▄███ ▓█▓█▓ ▀███ █ ▒█▓█▓ ▓██▓▓███
██ ░░ ░▓███░░ ▓███ ▒█▓ ███▀ ▓████████▓ █░ ░█████▒▓███▀
█▒ ░▓█▓ ▒█████▓█▓ ▓██▓ ████ ░▓▓█████ ▓██ ▒███▒▓████▀
█████████████▓▓███▒ ░░ ███░ ██▒ ████████▓█████▓░▒▓▒▒▓▓ ▀█████▀
▀███▓▒▒▒▒▓████░ █ ░▒▒▒░ ▒████ ████▓▓▓▓▓▓▓▓▓▓▓█▓████████▒ ██▀
▀███████▓▀ █ ▒▒▒▒▒▒░░ █▓▓██▓▓▓▓▓▓▓▓▓▓▓▓▓▓█▓▒▓▓▓▓▓▓▓██ ▀██▄
██ ▒▒▒▒▒▒▒▒▒▒ █▓██▓▓▓▓▓▓▓▓▓▓▓▓▓▓▓█▓▒▓▓▓▓▓▓▓▓▓██ ▀██
█ ░▒▒▒▒▒▒▒▒▒▒ ▒██▓▓▓▓▓▓▓▓▓▓▓▓▓▓▓██▒▓▓▓▓▓▓▓▓▓▓▓██░ ██▄
█▓ ▒▒▒▒▒▒▒▒▒▒▒░ ▒███▓▓▓▓▓▓▓▓▓▓▓███▓▒▓▓▓▓▓▓▓▓▓▓▓▒▓██ ▀██
██ ░▒▒▒▒▒▒▒▒▒▒▒▒░ ░█████▓▓▓██████▓▒▒▓▓▓▓▓▓▓▓▓▓▓▓▓▓▒██░ ▀█▄
██ ░▒▒▒▒▒▒▒▒▒▒▒▒▒▒░ ▓███████▓▓▒▒▒▓▓▓▓▓▓▓▓▓▓▓▓▓▓▓▓▓▒▓██ ██
█░ ▒▒▒▒▒▒▒▒▒▒▒▒▒▒▒▒▒░ ░▒▒▒▒▒▒▒▒▒▒▒▒▒▒▒▒▒▒▓▓▓▓▓▓▓██▓ ▀█
█▒ ░▒▒▒▒▒▒▒▒▒▒░░ ░▒▓▓▓▓▓█████▓▓▓▓▓▓▓▓▒▒▒▒▒▒▒▒▓██ ▀█
█ ░▒▒▒▒▒░░ ░▒███████████████████████████████████▓▓▓▒▓██ ▀█
█▓ ▒░░ ░░▓████████████▓▓▓▓▓█████████▓▓▓▓▓▓▓▓▓▓▓▓▓▓▓████▒▓█▓ ██
▒█ ░░ ▒▓██████████▓▓▓▓▓▓▓███████▓▓▒▒▒░░█▓▓▓▓▓▓▓▓▓▓▓▓▓▓████ ░▓█ ██
█▒ ▒ ███████▓▓▓▓▓▓▓▓▓▓▓▓▓▓▓▒▒▒▒▒▒▒▒▒▓▓▒▓█▓▓▓▓▓▓▓▓▓▓▓▓████░ ▒█▓█ ██
▓█ ░▒ ▒█████▓▓▓▓▓▓▓▓▓▓▓▓▓▓▓█▒▒▒▓▓▓█████▓█▓▓▓▓▓▓▓▓▓▓█████░ ██▒███▀
█▓ ▒▒░ ▓██████▓▓▓▓▓▓▓▓▓▓▓▓██▒▓██▓░▒▒▒██▓▓▓▓▓▓██████▓ ▒██▒███
██ ░▒▒▒░ ▒████████▓▓▓▓▓▓▓▓███▒▒▒▒▒▒██▓█████████░ ▓██▓▓██▀
██ ░▒▒▒▒░ ▒████████████████████████████▓░ ▓███▓▒███▀
▀██▄ ▒▒▒▒▒▒▒▒▓▒▀▀ ▄▄▄ ▀███████████████▓▓▓▓▀▀▀▀▀▀▀▀▀▀ ▄██▀▀
▀██▄▄ ▄▄▄███████ ▓▓▓▓▓▓▓▓▓▓▓▓▓▓▓▓▓▀ ▄█████████▄▄ <LNK/CPS>
▀ ▄▄▄████▒▒▒▒▒▒▒██ ▓▒▒▒▒▒▒▒▒▒▒▒▒▒▒▀▄▄███▓▓▒▒▒▒▒▒▒██ ▄ ▄▄▄▄
▄▄▄████▒▒▒▒▒▒░░░░░░▒▒█ ▓▓▓▓▓▓▓▓▓▓██▀ ▄███▓▓▒▒▒▒▒▒▒▒░▒▒█ ▓ ▄█▓▓█▄
▀██▓▓▒▒▒▒░░░░▒▒▒░░░░░▒▒██ ▀███████▀ ▄███▓▓▒▒▒██████▓▓▒▒██ ▓██▓▓▒▒██
██▓▓▒▒░░▒▒▒███▓▓▒▒▒▒▒▒██ ▓▓▓▓▓▓▓ ██▓▓▒▒░▒██▀ ▄ ▀█▓▓▒▒█ ▓██▓▓▒▒░▒█
▓ █▓▓▒▒▒▒███▀ ▀█▓▓▓▓▓▓███ ▀▀▓▓▓▓ ██▓▓▒▒▒████▄ ▓▒ ██▓▓██ ▓█▓▓▒▒░▒█ ▓
██▓▓▒▒▒█ ▒▒ ▀████▀▀▄▄▄███▄▄▄ ▓ ██▓▓▒▒░▒▒███▄ ▀▀▀▀ ▓▓ █▓▓▓▓██▒▄
▓ █▓▓▒▒▒██ ▀▒▄▄ ▄█▓▓▒▒▒▒▒▒▒█▄ ▀███▓▓▒▒░▒▒███▄ ▓▓▓▓▓▓▓ ▀▀▀▀▀ ██▒ ▓
▓ ██▓▓▒▒▒███▄▄▄ ▒ █▓▓▒▒░▒▒▒▒░░▒▒█ ▓ ▀███▓▓▒▒░▒▒██▄ ▀▀▓▓ ▄▄▄▄ ▀▀███
█▓▓▒▒░▒▒▒▒▒▒█ █▓▓▒▒░▒███▓▓▒░▒▒█ █ ▀███▓▓▒▒░▒▒██ ▀ ██▓▓▒██ ▓███ ▓
▓▓ ▓ █▓▓▒▒░░▒▒▒▒█ █▓▓▒▒░▒█▀ ▀█▓▓▒░▒▒█ ██▄ ▓ ▀███▓▓▒▒░▒▒██ █▓▓▒░▒█ ██░█▓
▓▓▓ ▓ ██▓▓▒▒▒██▀▀ █▓▓▒▒▒█ ▒▒▒ █▓▓▒▒▒█ ▓▒▒█ ▓▓ ▀█▓▓▒▒░▒▒█ █▓▓▒░▒█ █▀ ▓▓▓
▓▓▓ ▓▓▓▓ █▓▓▒▒▒▒█ ▓▓ █▓▓▒▒░▒█▄ ▄█▓▓▒░▒▒█ ▓▒▒▒█▄ ▄██▓▓▒▒░▒▒█ █▓▓▒░▒█ █ ▓▓▓▓▓
▓▓▓▓ ▓▓▓ █▓▓▒▒▒▒█ ▓▒▓ █▓▓▒▒░▒███▓▓▒░▒▒█ ▓▓▒▒▒▒███▓▓▒▒░░▒▒█ ██▓▓▒░▒██ ▓▓▓▓▓
▓▓▓▓▓▓▄ ▓ █▓▓▒▒▒▒██ ▒▒▒ █▓▓▒▒▒▒▒▒▒▒▒▒▒█ ██▓▓▒▒▒▒▒▒▒▒▒▒▒▒█▀ ▒ █▓▓▒▒░▒▒█ ▄▓▓▓
▓▓▓▓▓▓▓▄ ██▓▓▓▓▓▓▓█ ▒ ▄ ▀█▓▓▓▓▓▓▓▓▓█▀ ▄ █▓▓▓▓▓▓▓▓▓▓█▀▀ ▄ ██▓▓▓▓▓▒▒██ ▄▀▓▀
▀▓▓▓▓█▓▓▓ █▓▓▓▓██████▄ ▀██▄ ▀▀▀███▀▀▀ ▄██▀ ▀▀████▀▀▀▀ ▄██▀ ▀███▓▓▓▓▓██▄▀██▄
▀▓▓▓ ▄ ██▀▀▀▀ ▀▀▀██████▄
▄▓▄▄▀▀▀ F.O.S.I. - P R E S E N T S

Filter.Forge.v3.006.Professional.Edition-FOSI

▓██████░█▄ ▄█▒████████░
▒███▓████████ RLS DATE ..............: 01-Dec-2011 █████░
████▒ RLS SiZE ..............: 13 * 5,00 MB ▒███ ▒▓
███▓ ████ RLS NAME ..............: fo-ff3p.zip ███▓ ░█████▒
███▓███ ███░ ███ ░█ ██▓
▓██ ░███ ▒█ PROTECTiON ............: s/n ██ ▒███░ ████░
██████▓▓████▓ ▓██░ REQUiREMENTS ..........: Windows OS ░██▓ ▓███████▓▒███
███ ██████▒ ▓██ ██▒ ▒▒██▓ ██
██ ███ ██ ░██ ▓██▒ ██
██ ▓██░ ▒██ ██ ▒███ ██
░█ █████ ██ ██ █████ █
▓█ ▓███ ██ ░ ▒█░ █▓ █▒ ▓
░▄▓█▒▒███████▀ ▀ ▀ ▀ DESCRiPTiON N' iNSTALLATiON ▀ ▀ ▀ ▀████████ ██▄

Filter Forge is a versatile Photoshop plugin which lets both
novice and expert users create a wide variety of realistic and
abstract textures and effects. Users can take instant advantage of
over 8513 free community-created filters in the online filter
library, or create their own filters in the visual filter editor
by assembling them from components such as blurs, gradients, color
adjustments, noises, distortions, or blends Ц without writing a
single line of code.

Use the following when asked:
License name:
License key:

▓███████████▒ ░███████████▓
█████▒ ███ ▒██ NFO LAST UPDATED ▓██░ ▓██ ▒████
▒███ ▒▒ ██░ ██▒ 06-11-2004 ██▒ ██ ░██ ▓██
▓███ █████ ███ ----- ███ ████ ████▓
████ ▒██▒ ░▓███████░ <LNK/CPS> ░▓████████▓░ ░██ ████
▒████ ▒ ████████████████ ████████████████▒ ░███░
█████▓▓██████▒ ██████████▒ ▓██████████░ ▒███████████▓
████████▒ █████▒ ████▒ ▓███▓ ░█████ ▒██████
░████ ░ ▓███ ███▒ ░ ████▓
▒████ █▓ ███ ███ ▒█ ▒████
░▒ █████ ▒██ ▓███ ▓███ ▓██ █████▓ █▒
███████████ ███▓ ████ ████░ ▒███░ ▒██████████
░████▒ ▒█▒ ████████▓██ ██▒████████ ░█▓ ▒▓▒░
█▓ ░ ██▒ █ █ ██ ▒█
▒█ ██ ██ █▒
░ █▒ █▓
██ ▓█
░█ ██
█ ██
█ ▓█
█ █
▓ █
下载链接来自sharevirus
未经过安装测试与安全检测,使用者后果自负与本论坛无关
软体版权归原作者及其公司所有,如果你喜欢,请购买正版
这里是其它用户补充的资源(我也要补充):
暂无补充资源