中文名: Music Tech Magazine出品音乐教程:第102期
英文名: Musictech MTM : Vol 102 DVDR TUTORiAL
资源格式: 光盘镜像
发行日期: 2011年8月16日
简介: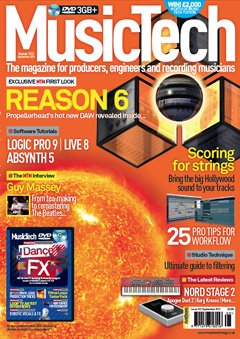 教程名称:Music Tech Magazine - Issue 102
官网链接:http://www.musictechmag.co.uk/mtm/magazine/issue-102


Music Tech Magazine音乐杂誌第102期,容量多达4G的音乐教学包含平日常用的音乐效果与更具创意的音乐创作指导,帮助你最大优化电脑和DAW(数位音频工作站)系统,集合Pro Tools、Cubase、Live、Reason和Logic等眾多的音乐创作录制软体或工作站平臺教学。



Reason 6 Preview, Scoring for Strings, Ultimate Guide to Filtering, Studio Icons: Atari 520ST, The MTM Interview: Guy Massey, Ten Minute Master Choosing the Right Mic. ON THE DVD - 4GB of Content!.

This Month's Workshops
25 Tips For… Workflow & Productivity
Keeping the creative juices flowing during a session is much easier if you're properly set up and ready to go. Liam O'Mullane explains how he keeps it happening in the studio…
Tools for a Live Performance
Live is simple to use, but due to its open format you have to plan ahead just how you intend to use it. We explore some performance options…
Sampler Instruments in Logic Pro
Creating your own sampler instruments can be an enjoyable and creatively rewarding experience. Mark Cousins gets in on the action.
Patch Design and Creative Effects in Absynth 5
The ease with which you can create evolving, organic textures in Absynth makes it a sound-designer's favourite tool. Hollin Jones explains all.

Reviews
New kit coming under the expert eyes of Music Tech's reviewers include the Nord Stage 2 HA76, Korg Kronos, Eventide Space, Josephson C715, Apogee Duet, UA The Rock, Monkey Banana Turbo 5, HEA Poetic Guitars, NI Vintage Compressors and more…

Dance FX (900MB)
No matter what style of music you're writing, it's vitally important to emphasise your arrangement with subtle – and not so subtle – use of FX, so the listener is led from section to section of your track. To help you on your way, we've got a massive collection of 390 all-new synth effects to spice up your productions. All of the sounds came from manually manipulating the filters and oscillators on a Roland SH-101, then feeding them through various effects in Logic (including several plug-ins from the SoundToys suite). The result is a high-quality collection of complex-sounding sweeps, lasers and hits in 16-bit and 24-bit WAV format.

Robotic Vocals & Effects (200MB)
From vocoders to ring modulators, pitch and formant shifters, there are many ways in which you can create robotic-sounding voices by manipulating a vocal recording. The good people at Equinox Sounds have put together a collection of 40 robot vocal samples using a number of techniques. You'll also find 60 mechanical whooshes, bleeps, clunks and drones to add a machine-like vibe to your tracks. Most samples are 16-bit WAVs, others are 32-bit.

Prime Loops Taster Pack (190MB)
The prolific team at Prime Loops has put together a tasty selection of cutting-edge samples taken from seven of the company's latest releases. First up, there's deep future garage synths and beats with the Dubstep Illusions pack (reviewed in this month's Mini Reviews). You'll also find heavily processed sweeps and impacts with Black SFX, big hip hop stabs and beats with Urban Hype, Urban Dance Freakz, and Dirty South Wars 2, deep ambiences with Phatmospheres, plus a selection of meaty beats from the Platinum Dubstep pack.

Logic Production Tips
Point Blank Online offers a range of four-week, internet-based courses covering production techniques in different dance music genres and focusing on Logic and Ableton Live. After the massive success of the Ableton Dubstep course, Point Blank now offers a Logic version, with particular focus on building classic dubstep sounds using Logic's built-in synths and effects. We've got seven videos packed with pro production tips including Flex-Time and Sculpture percussion tricks, adding foley sounds to your beats, creating bass sounds using the EFM synth and more. Download the files from the disc to view all seven videos in hi-res.

下载链接来自TLF
未经过安装测试与安全检测,使用者后果自负与本论坛无关
软体版权归原作者及其公司所有,如果你喜欢,请购买正版
目录:
Features
Reason 6 Preview
Propellerhead has taken everyone by surprise with the release of a new version of Reason – but examine it more closely and you'll see that it shares some DNA with its closest relative… Hollin Jones looks under the hood.

Scoring for Strings
Modern string libraries have ushered in astonishing levels of realism for computer-based orchestration. Mark Cousins unlocks the secrets of the virtual string section.

Ultimate Guide to Filtering
There are a variety of different filter types, so it's important to understand what each one does and when to use it. Liam O'Mullane walks you through each kind, explains their general application, and shows you how they can be used as creative effects.

Studio Icons: Atari 520ST
Now at the heart of practically every studio setup, the first computers assigned to the task of music-making were humble indeed, as Mike Willox recalls.

The MTM Interview: Guy Massey
With ten years at Abbey Road Studios and MPG Recording Engineer of the Year 2011 under his belt, Guy Massey has an enviable career. MTM learns more… PLUS: David Newman explains how he goes about scoring for film, and John 00 Fleming answers our questions on the Joof sound.

Ten Minute Master
Choosing the Right Mic
If you're looking for a new microphone or simply need to know which type is best-suited to a particular task, help is at hand. Grant Bridgeman has the lowdown.


代码
██▄
██░▀█▄
██▀░░░ █▄
████▀▀▀▀████ ▄▄▄▄ ██▀▒▒▓▒░██
█ ░ ░ ░ ▀██ ▄██████████ ██████▀▀ █ ▄███████ ██▓▓▓▓▒████
█░ ░░░░░░░ ░░▀██ ██▄▄█████ ▄██▀▀ ░█▄███▄ ▄██████████▄ ██▄▀██▓▓███▀
██░░░░████▒░░░█ ░ ░░ ░ ░ ████▀ ████▀ ░ ░░ ░░░██ ███ ▀▀█░ ░██ ▀████
██▒▒░▒████░▒▒░█░▒░▒█████░░░█░░ ░ ▀██░░░░ ░░░░░░███ ██░ ░░ ░ ░ ███░▒░█ ▀█
█▒▒▒░███▀░▒▒██▒░███████▒▒░█████░▒░▒░░██▒░▒░▒░▒░▒███ ░██▒░░████░░░▄████▒▒▓█
██▓▒▒▒▓▒▓▓▒▒▓▒██▒▓███▒▒▒▒▒██ ████▄░░░░▒██▒▒▒████████░ ░ ███▒░░███▀█▄██░▒▒░▓██
██▒▓▒▓█████▓▒▒▒██▓▒▒▒▓▓▒███▀ ▀█▄▒░▒▒██▓▒▒██░░░░░░░░ ░░██▒▒░█▀▒▒▀█▒▒▒▓▒███▀
█▀▓▒▒▒███▀██▓▒▓▓██▓▒▓▒▓▒▒▒██▄ ▀█▒▒▓▒██▒▓▒██▒▒░▒▒▓▒▒▒▒▓██▒▒▒▓▒▒▓▒▀█▒▓▓▓▒▓██▄
█▓▒▒▒▓██████▓▓▓▒██▒██▓▓▒▓▒▓▓███ █▒▓▓▓██▓▒▓██▓▒█████▒▓▒▓▓██▓▒▒▓▄▄███▓▒▒▓▓▓▒▓███
█▓▓▓▓▓▓▓▓▓▓▓▓▓▓███▓████▓▒▓▓▓▓▓██▄▄█▓▓▓██▓▓▓▓██▒███████▒▓▒▓██▓▓▒███▓▓████▒▓▓▓▓▓▓█
█▓▓▓▓▓▓▓▓▓▓▓▓▓███▓▓█████▓▓▓▓▓█▓▓▓▓▓▓▓███▓▓▓▓██▓███ █▓▓▓▓██▓▓▓▓█▓▓▓▓▓███▓▓▓▓▓█▀
▀███████████████▓▓███ ▀██▓▓██▓▓▓▓▓████▓▓▓▓▓▓█▓███ █▓▓▓▓▓██▓▓▓▓▓▓▓▓▓▓█▀██▓▓██
███▀ ▀█▀████░ ░░░░███████████▀████████▓███ ▀█▓▓▓▓██▓▓▓▓▓▓▓▓▓▓█ ▀██▀
██▀ ░ ░ █ ░ ░██░░▓░▒▒███ ▄████▓▓▓▓███ ▀█▓▓███████████████████Jˆ
██ ░ ░ ░░░ ▄██▄██████▒▓▓░▒██ ██ █████████ █████████▀▀▀▀▀██ ▀▀▀███████
█▓▒░░██████████▒█ ▀██▒▓▓▒████ ██ ░ ▀██ ███ ██ ██▀▀▀▀████░ ▒░ ░ ▀▀▀█
██▓▒▒▒░█████▀▒▒▒▓█▄ █▒▒▓▒▓████ █ ░ ░ ░ ██ ███ ██ ░ ██ █▒░░░▒░▒ ░░▒ ░███
████▓▒▒▓▒▓████▒▒▒██ ▀█▓▒▓▒██ ██ █░▒░░░░██ ██▄ ██ ░░░███ ░ █░▒░▒█████▒▒░░█████
███████▓▒▒▓▒██▓▒████▄██▓▓▓███ ██ ██▒░░▒███ ░ █▄█ ░░░▒██░░░ ░ ████████▒░░▒▒████
█████████▒▒▓▒▓▓▓█▓▓▒▓▒▓▓▓▓▓███░ ██ █▒▒▒▒██░░▒░▒░▀█▒▒▓▒▓██░█████░ █████▒▒▓░██████▄
██▒▒▓▒▒▓▓▓▓▒▒▒▓▓▓█▓▓▓▓▓▓▓▓████░▒░███ █▓▒▒███▒▒██▒▓▒▒▒▒▓▓▒██░███ █░▒▄█▒▒▓▒▒███ ░ ░██
█▒▓▓▓▓▒▒▓▒▓▓▓▓▓██████████████▒▓▓▒▒██ ▄█▓▓███▒▒▒███▓▓▓▒▓▓▓██▒▒███ █▒██▒▒▓▒▒██░▒░▒░ ▒█▄
█▓▓▓▓▓▓▓▓▓▓██████▀█████████▀█▓▓▓▓▓▓███▓▓████▒▓▓█████▓▓▓▓▓██▓▒███ ██▒▓▒▓▓▓▒▓▓▒▓▒▓▒▓▓██
███████████████ ▀██▓▓▓▓▓▓▓▓████▒▓▒▓██ ██▓▓▓███▒▓██████▓▓▓▓▓▓▓▓▓▓▒▓▓▓▒▓▒██
██████ ─BEAT YOUR HEART!─███████████▓▓▓▓▓▓██ ▀██▓██▓▓▓▒▓▓▓▓██████████▓▓▓▓▓▓▓▓██
██████ █▓▓▓▓▓▓██ ▀███▓▓▓▓▓▓▓▓▓▓▓█████████████████
▀███████▀ ▀██▓▓▓▓▓▓▓▓▓▓███ ▀▀▀
█████████████▀
PRESENTS:

Musictech.MTM.Vol.102.DVDR.TUTORiAL–BSOUNDZ
─ ────────────────────────────────────────────────────── ─
SUPPLiER: TEAM BSOUNDZ DATE......: 11–2011
PACKAGER: TEAM BSOUNDZ PROTECTION: N/A
CRACKER.: N/A FORMAT....: Magazine
RELEASE#: 377 FiLES.....: 3122.1M 66F

URL: http://www.musictechmag.co.uk/

┌░▒▓█┌ RELEASE NOTES ┐█▓▒░┐
└────┘ └────┘

Music Tech – Issue 102

Reason 6 Preview

Propellerhead has taken everyone by surprise with the release of a new version
of Reason û but examine it more closely and youÆll see that it shares some DNA
with its closest relativeà Hollin Jones looks under the hood.

Scoring for Strings

Modern string libraries have ushered in astonishing levels of realism for
computer–based orchestration. Mark Cousins unlocks the secrets of the virtual
string section.

Ultimate Guide to Filtering

There are a variety of different filter types, so itÆs important to understand
what each one does and when to use it. Liam OÆMullane walks you through each
kind, explains their general application, and shows you how they can be used as
creative effects.

Studio Icons: Atari 520ST

Now at the heart of practically every studio setup, the first computers assigned
to the task of music–making were humble indeed, as Mike Willox recalls.

The MTM Interview: Guy Massey

With ten years at Abbey Road Studios and MPG Recording Engineer of the Year 2011
under his belt, Guy Massey has an enviable career. MTM learns moreà PLUS: David
Newman explains how he goes about scoring for film, and John 00 Fleming answers
our questions on the Joof sound.

Ten Minute Master: Choosing the Right Mic

If youÆre looking for a new microphone or simply need to know which type is
best–suited to a particular task, help is at hand. Grant Bridgeman has the
lowdown.

"We believe in quality. Not quantity!"

┌░▒▓█┌ INSTALL NOTES ┐█▓▒░┐
└────┘ └────┘
1) UnRar.

2) Burn with your favorite program.

3) Have Fun! :)

┌░▒▓█┌ GROUP ┐█▓▒░┐
└────┘ └────┘

–+BROTHER'SOUNDZ+– is proud to be a group of dedicated individuals for
the aw scene. We'll share what we can give, that's all. Remember to
buy the stuff if you enjoy it.

┌░▒▓█┌ GREETS ┐█▓▒░┐
└────┘ └────┘

A big thanks for the TEAM BSOUNDZ suppliers, friends and fans. Especially
our brothers who make the scene cool.

AiR – AMPLiFY – SPiRiT – ROGUE
iNViSiON – EtHnO – PLZ – TDL – TZ7iSO

┌░▒▓█┌ NEWS ┐█▓▒░┐
└────┘ └────┘

We are always looking for:
– 100mbit+ Affils / HQ sites;
– Quality AUDIO apps, samples and education CD/DVD in store;
– Who can keygen/crack audio programs;

We never supply any info about :
– How / Where to get our releases

Brothers who wanna help will know how to find us;)

Ascii:Mr.J;) Update:27–05–07

RLS–Crc: 5342:8F7AE3F650741EA3


这里是其它用户补充的资源(我也要补充):
暂无补充资源