专辑英文名: Time After Time
专辑中文名: 时光飞逝
音乐风格: 爵士
资源格式: FLAC
发行时间: 2000年06月20日
简介: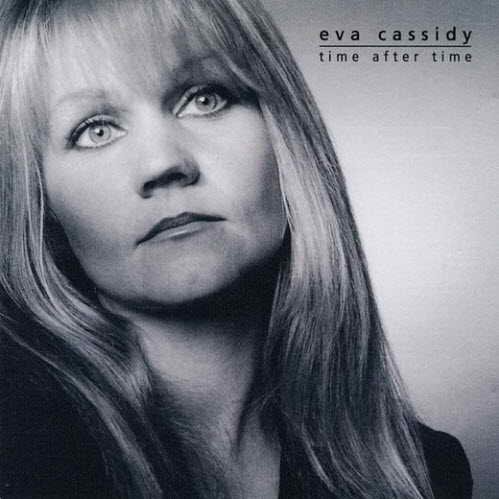 专辑介绍:

★歌声温婉情意真切,超水準顶级录音之作,发烧试音必备典范。

如果您喜爱丰富灵魂的音乐,那么您必定会爱上Eva Cassidy的声音。从按下Play键那一刻开始她的歌声足以满足发烧音响所梦想的人声效果,录音亦极优绝佳,专辑同名曲"Time After Time"更是Cindy Lauper膾炙人口的名曲重唱版,在Eva沈稳恬静娓娓道来下别有一种韵味,她毫无掩饰自然纯真的热情,或许是她的音乐如此真实动人的原因,而最顶尖的歌手拥有此种天赋力量,她是Eva Cassidy。

96年病逝的Eva Cassidy,数十年之后,她的歌声透过无数的海底缆线感动了远在地球另一端的我,晶莹剔透的歌声、以及宽广得令人难以置信的音域,充满想像力的断句技巧,惊人的美感,我确信,她是用她所有的情感来歌唱的。Katie Melua 也相当喜欢Eva,她受Eva的影响而写下"Faraway Voice"也是相当的动听。Time after time&True Colours是翻唱自辛蒂罗波Cyndi Lauper的经典歌曲,Over the Rainbow 则是电影「绿野仙踪」由Judy Garland(茱蒂嘉兰)原唱的歌曲,三首歌Eva都用吉他重新谱曲,再配上她真挚嗓音,低调而高亢。

Principally recorded at The Maryland Inn, Annapolis, Maryland. Includes liner notes by Kevin Howlett.

As is so often the case, the talents of singer Eva Cassidy did note come to public attention until after her death. Cassidy died at a mere 33 years of age in 1996, and up until then she'd only been known in the local music scene of Washington D.C. Subsequently, a word-of-mouth groundswell earned her posthumous popularity in England, which then wafted back over to the U.S. TIME AFTER TIME is a good introduction to Cassidy's work. More an interpreter than a writer, Cassidy completely inhabits everything from Simon & Garfunkel's folky ballad "Kathy's Song" to Joni Mitchell's hippie anthem "Woodstock" and Bill Withers's brooding R&B classic "Ain't No Sunshine." Throughout the album, her singing is consistently both strong and reserved, betraying emotion without resorting to showy indulgence. An apt comparison might be an updated, American Sandy Denny, with whom Cassidy shares a special kind of quiet soul.

12 Prev.Unrel.Tracks;9 Covers & 3 Originals

Eva Cassidy Band: Eva Cassidy (vocals, acoustic & electric guitars); Keith Grimes (electric guitar); Lenny Williams (piano); Chris Biondo (bass); Raice McLeod (drums).

Producers: Chris Biondo, Lenny Williams, Steve Digman, Bill Straw, Roger Henderson.

Engineers: Chris Biondo, Ned Judy.

Personnel: Eva Cassidy (acoustic guitar, electric guitar); Lenny Williams (piano); Raice McLeod (drums).

Audio Mixers: Chris Biondo; Eric Lemley; Geoff Gillette.

Liner Note Authors: Kevin Howlett; Keith Grimes.

Recording information: Blue Alley (01/03/1996); The Maryland Inn, Annapolis, MD (01/03/1996).

Photographer: Larry Melton.

Additional personnel: Roger Henderson, Andrew Hernandez, Alan Day, Steve Digman (guitar); Dan Cassidy (violin); Joanne Opegnorth, Uri Wassertzug, Mark Evans, Carole Evans, Edgardo Malaga Jr (strings); Michael Finnigan (Hammond B-3 organ); Jimmy Haslip (bass).Rolling Stone (8/30/01, p.125) - 3 stars out of 5 - "...She effortlessly shuffles styles and the song selections are astute...Cassidy comes across as a bluesier version of English folk singer Sandy Denny....she melts her personality into the fabric of each melody..."
Q (9/00, p.121) - 3 stars out of 5 - "...Her towering voice, capable of handling Paul Simon's 'Kathy's Song' with fragile dignity, belting out 'Easy Street Dream', and freshening up standards such as 'The Letter' and 'Ain't No Sunshine'..."
Mojo (Publisher) (8/00, p.102) - "...Anybody who loves to really sing would give an arm and a leg to come close to recording an album like this one."


引用
Eva Cassidy is probably the greatest voice never heard. But, happily, that is changing. Her voice cannot be described with just a few words because she does so much with it on such varied material. But if I had to choose one word, it would be soulful. Because when Eva sang... she meant it. It doesn't matter whether your first introduction comes from the Songbird CD or Time After Time. Anyone who appreciates a real God-given voice will love Eva. The title track, Time After Time, is an excellent example of how Eva can sing a song in a way that causes the listener to hear it differently. She makes it new again. Her interpretations bring new meaning and beauty to other songs on the CD like, Ain't No Sunshine and The Letter. I am usually a traditionalist and reluctant to like coversongs. But Eva is the absolute exception! As for the ballads and folk songs such as I Wandered by a Brookside, Anniversary Song and Woodstock... I dare anyone to get through the entire CD without being brought to tears. But Eva would not want it to end that way. So the CD ends with the gospel song Way Beyond The Blue. There are no instruments on this track except her rich and honest voice, which is no longer with us on earth. She is with God, way beyond the blue. Thank you Mr. and Mrs. Cassidy and Chris Biondi for carrying on and making it possible for us to enjoy Eva's music.

1 "Kathy's Song" (the lovely and wistful Paul Simon song, "...the only truth I know is you..." in a studio recording Eva made as a demo. In performance, she did sing all the verses, but this is a shorter version)

2 "Ain't No Sunshine" (recorded live at Blues Alley on the same night as the "Fields of Gold" that everyone loves so much)

3 "The Letter" (also from the Blues Alley session. "My baby wrote me a letter!") The band sounds particularly good on this one, I think)

4 "At Last" (best known from the recording by Etta James; just Eva and her guitar. A studio recording)

5 "Time After Time" (the Cyndi Lauper song, recorded live at the Maryland Inn in Annapolis, Maryland -- just Eva and her guitar, with some bass from Chris Biondo)

Roger Henderson and Chris Biondo at Chris's recording studio. Roger wrote the song "Penny to My Name." Singer Carey Colvin took this photo in 1988.
6 "Penny to My Name" (AKA "Gas Station Mountain Home," this is a Roger Henderson song, folk/country style, which Eva recorded as a demo tape for Roger, years ago. Roger plays guitar and Eva's brother Dan plays violin, with Chris Biondo on bass)

7 "I Wandered by a Brookside" (this is one that the Folk DJs will love. "The beating of my own heart was the only sound I heard...." Eileen White heard Eva's recording of this song while working on the graphic design for the album. She fell in love with it, and brought it to the attention of the record company, who loved it too. We think Eva first heard the song on a Fairport Convention album, or at one of their concerts)

Some of the songs on TIME AFTER TIME are from one-take recordings Eva made as demos for nightclubs where she hoped to play solo engagements.

8 "I Wish I Was a Single Girl Again" (Eva loved this song and sang it a bunch of different ways; this is a solo studio version. My mother learned this song from Eva's father in the 1950's, and I assume that's where Eva learned it also)

9 "Easy Street Dream" (by songwriter Steven Digman who wrote "Say Goodbye" on EVA BY HEART; this is a GREAT blues song)

10 "Anniversary Song" (also by Steven Digman, a beautiful ballad with Real Strings). See below to read about the recording session for the string ensemble, and click here for an article about Digman.

11 "Woodstock" (the Joni Mitchell song, recorded live at the Maryland Inn on the same night as "Time After Time"; very folkie)

12 "Way Beyond the Blue" (AKA the gospel song "Do, Lord" in Eva's own a cappella arrangement. This is by far the oldest recording on the album, from several years before THE OTHER SIDE). The album notes say that Ned Judy recorded the song, but I have since learned that it was actually recorded by Larry Melton.

Eva Cassidy:天堂太苍凉 召她去歌唱
NJ:李峙

  突然想收回自己节目中常说的一句话:好的声音,遇见的时间永远不嫌晚。因为这是纯粹从我们听者角度出发得出的结论。对於歌者呢?其实他们很怕晚。有的歌者,永远不知道若干年后的某一天,你的耳朵会遇见ta的声音。比如,Eva Cassidy。

  Eva Cassidy 1963年2月2日出生於美国马利兰州,在她的生活裏充满著艺术与音乐,而民歌与爵士是他们家族最热爱的音乐类型。自小父亲就曾经带领过Eva与哥哥一起组过乐团表演,不过因为Cassidy个性内向的关係,所以他们就越来越少演出了。Eva Cassidy 因为内向到几乎是一种麦克风恐惧症的情形,让她选择绘画为其志向(Eva Cassidy的绘画作品是她的另一项杰作),但她还是断断续续的帮一些乐团合音,终於在一次偶然机会之下遇到了制作人Chris Biondo,也开啟了她正式朝音乐发展的路途。

  由於Chris Biondo活耀在华盛顿地区,所以他帮助Eva在华盛顿地区找了许多知名音乐人合作,其后碰到歌手Chuck Brown找Eva Cassidy合出专辑《The Other Side》。这不仅帮助Eva打出了名声,也让她终於可以在眾人面前表演。只不过虽然许多唱片公司都对她有著高度兴趣,但却因为她的音乐太多元性而不被接受。因为在Eva Cassidy的音乐当中,元素从民谣、乡村、爵士、到流行与摇滚都有。不过,总算在1996年出了她的第一张专辑《Live At Blues Alley》。这是一张现场演唱的专辑,收录当时她在"Blue Alley"这傢俱乐部实况演出的作品。虽然她不是很满意自己的表现,但是这张专辑在华盛顿一带得到了很大的迴响。   

  可是,就在大家欢欣鼓舞地认为Eva Cassidy的音乐被肯定之时,她却遭受病魔的攻击。其实在之前她就在医院检查出她在颈部下方有恶性肿瘤。但已经切除,她就没有长期追踪。1996年11月2日,Eva Cassidy因皮肤癌逝世,年仅三十三岁。

  或许是上天补偿她吧!在她去世后不久,在华盛顿当地颇负盛名的"华盛顿地区音乐奖"中,Eva Cassidy获得"最佳女演唱人奖"、"年度最佳专辑奖",和"年度最佳艺人奖"。1997年她与制作人Chris Biondo一起制作的专辑《Eva By Heart》终於发行,也获得了更多讚美。   

  Eva Cassidy的声音魅力,也终於让她在1998年时,促使"Blix Street"唱片公司发行一张属於她的精选集《Songbird》,这张专辑裏除了挑选出之前Cassdy两张专辑的歌曲外,也收录了她最早与Chuck Brown合作的专辑中最经典的歌曲《Over the Rainbow》,1999年,Eva Cassidy演唱的《Over the Rainbow》让英国BBC的DJ Paul Walters为之惊艳,在电臺播出这首歌时,引起听眾热烈迴响。后来,搭配英国BBC的一个慈善节目,这才令世人真正发现了这颗沧海遗珠,所以《Songbird》这张专辑当时在英国大卖,还曾夺下过英国金榜的冠军。英国BBC民选统计的20世纪最伟大歌手名单中,Eva Cassidy名列第21位。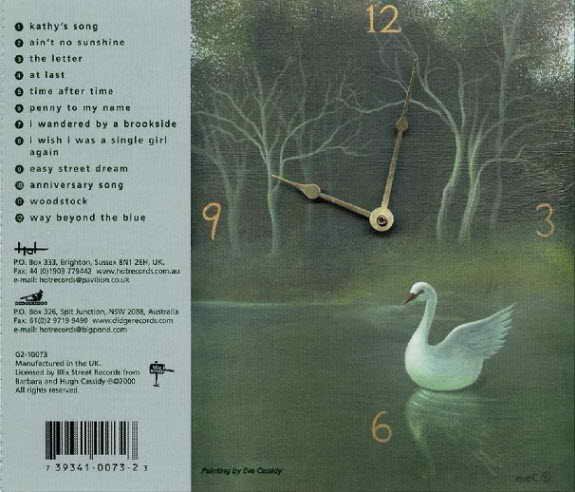 专辑曲目:
01. "Kathy's Song" (Paul Simon) – 2:47
02. "Ain't No Sunshine" (Bill Withers) – 3:26
03. "The Letter" (Wayne Carson Thompson) – 4:15
04. "At Last" (Mack Gordon, Harry Warren) – 2:58
05. "Time After Time" (Rob Hyman, Cyndi Lauper) – 4:00
06. "Penny to My Name" (Roger Henderson) – 3:41
07. "I Wandered by a Brookside" (Music: Barbara Berry/Words: Trad. from the Alfred Williams Collection, Swindon Library) – 3:31
08. "I Wish I Was a Single Girl Again" (Harlan Howard) – 2:29
09. "Easy Street Dream" (Steve Digman) – 3:20
10. "Anniversary Song" (Digman) – 2:54
11. "Woodstock" (Joni Mitchell) – 4:21
12. "Way Beyond the Blue" (Traditional) – 2:26
这里是其它用户补充的资源(我也要补充):
暂无补充资源