专辑英文名: Spreading The Disease
音乐风格: 摇滚
资源格式: FLAC
版本: [WV] +
发行时间: 1985年
简介: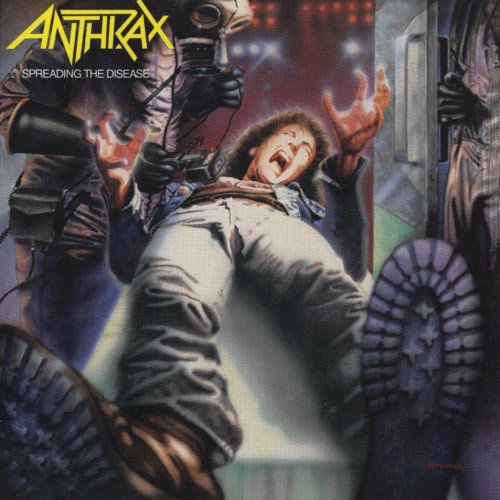 唱片简介:

1985年乐队为 Island 唱片公司录制了一张专辑《 Speading the Disease 》。该专辑使乐队步入主流,并实际上奠定了此后五年间的音乐基调。其中有些歌曲是金属音乐常用的题材,如核战争(Aftershock)、神话里的怪物(Medusa),而像《 Madhouse 》、《 Lone Justice 》这样的歌曲使乐队获得了大批歌迷。

Anthrax,中文名为 [炭疽乐队] 1981年6月成立于纽约。80年代的速度/鞭笞金属(Speed/Thrash Metal)。将硬核朋克的速度、狂暴与重金属的卓越的吉他技法和演唱结合在起,以其早期专辑参与创立了重金属音乐的一个分支。与METALLICA、MEGADETH不同的是,他们具有一种良好的意识,可以用幽默和现实义来调节常常过于严肃紧张的音乐。

乐队最初的成员是,主要作曲者斯科特 伊恩(Scott Ian,吉他手)、丹尼 斯皮茨(Danny Spitz,吉他手)、丹 利尔克(Dan Lilker,贝司手)、尼尔 特宾(Neil Turbin,主唱)和查利 贝南特(Charlie Benante,鼓手)。他们几人对滑板、连环画和纽约的核朋克音乐有共同的爱好,这使他们的早期作品受KISS乐队,Iron Maiden, Black Sabbath等影响。

Anthrax is a New York City-based heavy metal band that released its first full-length album in 1984. The band was one of the most popular of the 1980s thrash metal scene and is notable for being the first to combine heavy metal with rap music. The band is classified as one of the "big four" of thrash metal alongside Metallica, Megadeth, and Slayer.

The beginning of an era for Anthrax. Joey makes his debut on the mic, and I'd say he's very welcome. Metal Thrashing Mad was, in all honesty, a good record let down by a singer who made the band sound 30 years older than they were. Turbin sometimes reminds me of the singer from Kiss, with less talent, on that album. Sure, he could scream, but Joey brought a freshness to the band which would ultimately catapult them to stardom. This album also introduced the mighty Frank Bello on bass, launching him up there as one of the best metal bassists.

I don't think there's a song on this album that I don't like - I could happily sit through it all (and I frequently do), it really is that good. It kicks off with the almighty 'A.I.R.' which is undoubtably one of the greatest opening tracks off any thrash metal release (it's up there with 'Angel of Death' and 'Battery'). But unlike their Slayer and Metallica counterparts, you might notice something a little bit different. You can actually hear every instrument being played, rather than the lead guitar drowning out the bass as is common on some Slayer and Metallica songs. It's so fast and heavy, the perfect start. Next is 'Lone Justice' which gets some stick from fans but is one my favourite song on the album. The bass intro reminds me of Motorhead, that's before the electric guitars come in and you are crushed. This song is probably one of the most melodic Anthrax songs ever, and one of my favourite vocal preformances by Joey. You're also introduced to Scott Ian and Frank Bello's trademark growls in the 1st bridge, although they aren't quite as refined as they later will be.

Next is 'Madhouse', which is constantly hailed as the best Anthrax song ever, and I'm not going to disagree. It's a really good song with one of the most recognisable guitar riff and chorus ever put down on record. Funnily enough it isn't really all that fast, but it's still one of the heaviest song ever made. I'd recommend it as a sample of Anthrax for the metal noobs. 'S.C.C./Stand or Fall' fades in with a nice little acoustic-electric number with Mexican flavour to it. You might be thinking, hey, this ain't so heavy. But just you wait til 0:20. A blindingly fast guitar solo fires up from out of nowhere, and the song explodes. Similarly to 'Lone Justice', this song has a riff that reminds me of Motorhead, albeit speeded up and more melodic. It's not as amazing as the other songs but it moves so fast you're banging your head to it regardless!

'The Enemy' starts off with a sweet compressed drum intro, followed by a wild-westy sorta guitar tune. Production sorta lets the intro down as there's really hot guitar work that you can barely hear. But the main riff is great though, uniquely Anthrax. It's also got a very memorable chorus thanks to Scotty and Franky's growls. I think it's about the holocaust, or so I've read somewhere. Anyway, 'Aftershock' is the one song I'm not terribly fond of. The riffs aren't quite as interesting as what has gone before (and what comes after), but it's really fast and heavy and still streets ahead of a lot of thrash at this point in time. Thrash doesn't mean 8+ minute long songs where there's 3 minutes of goodness followed by 5+ minutes of lame-ass boredom (I'm looking at you Master of Puppets).

Taken from a previous EP and written by Neil Turbin and previous bassist Dan Lilker but sung by Joey (with bass played by new arrival Frank Bello), 'Armed and Dangerous' is the transition track between the two singers (and the two bassists). It also happens to be one of the highlights, with some of the hardest hitting riffs ever recorded. You can tell it was written by Turbin, there's more screams than usual for an Anthrax song. This song is totally stolen by Scott, Dan Spitz and Bello, working their asses off on the guitars. No, wait, the singing steals it. Or is it the sublime and relentless drumming? Heck, this song is pure Anthrax. After this, you've got a strange little number about the Gorgon Medusa, the aptly named 'Medusa'. The music and vocals are sublime and the chorus is haunting. But you have to admit, the lyrical topic is a bit weird. But like 'I Am The Law' on their next album, it's cartoonish fun disguised by some heavy-asskicking riffs.

The last song is another Turbin/Lilker one, 'Gung-Ho'. It is easily the fastest and meanest song on the album. A true thrash anthem. It's also full of sounds unique to Anthrax, for instance the sweet little Americal Civil War tune is played as a solo towards the end.

As with most of Joey-era Anthrax albums, the talent of every member is so clear, it's so unique. By the time this album came out, the Anthrax sound was set in stone and the band had already influenced countless bands. This truly pushed the boundaries of Thrash and Speed Metal.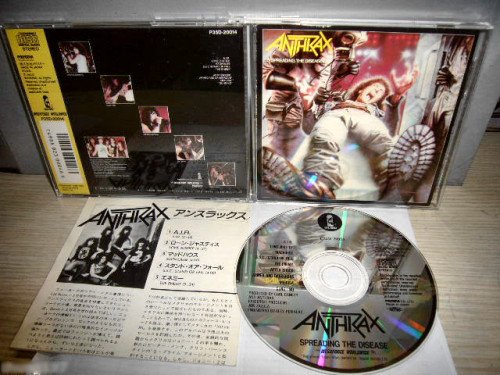 http://www.anthrax.com/
专辑曲目:
01.A.I.R.
02. Lone Justice
03. Madhouse
04.S.S.C./Stand Or Fall
05.The Enemy
06.Aftershock
07.Armed And Dangerous
08. Medusa
09.Gung-Ho
这里是其它用户补充的资源(我也要补充):
暂无补充资源