专辑英文名: BACH 6 Solo Sonatas & Partitas
专辑中文名: 无伴奏小提琴奏鸣曲与组曲全集
古典类型: 全集作品
资源格式: FLAC
版本: [2 CD Set]
发行时间: 2009年05月19日
简介: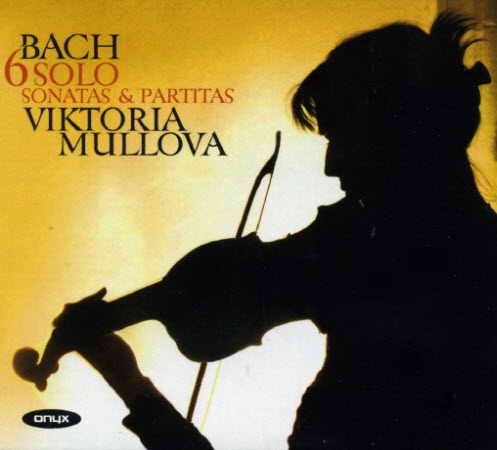 专辑介绍:

本辑是穆洛娃在英国ONYX公司的第五张录音,也是眾所期盼的巴哈无伴奏小提琴全集录音。1990年代在Philips时期,穆洛娃曾用现代小提琴录制过这个作品中的三首组曲,却从未录过奏鸣曲。在这套全新录音的巴哈无伴奏小提琴全集中,穆洛娃使用1750年制的Guadagnini琴配上肠弦,并用巴洛克弓来演奏。这样的搭配是她多年来研习巴洛克音乐,以及她和古乐大师如贾第纳、哈农库特、安东尼尼(Giovanni Antonini)与其「和谐花园合奏团」等合作之后的心得。穆洛娃纯粹无瑕的琴音与乾净俐落的技巧,赋予组曲中每个舞曲更鲜明的性格。三个赋格乐章中的声部清晰呈现,拉奏双弦与三弦时的自然与细腻表现,甚至在夏康这首最富戏剧性的音乐中,她始终如一的演奏方式,令人听到的就是她要告诉世人的巴哈音乐。她的生命力无处不在,隐藏在音符之后的情感值得爱乐者细细品尝。穆洛娃耐人寻味而独树一帜的演奏,巴哈音乐在詮释上的无限可能性再次得到证明。精闢的演奏、超完美的录音与美不胜收的提琴音色,本辑势必在巴哈音乐的录音史上留名!(Onyx)

曲目:
CD-1
1-4. g小调第一号奏鸣曲BWV1001
5-12. b小调第一号组曲BWV1002
13-16. a小调第二号奏鸣曲BWV1003

CD-2
1-5. d小调第二号组曲BWV1004
6-9. C大调第三号奏鸣曲BWV1005
10-16. E大调第三号组曲BWV1006
小提琴:穆洛娃Viktoria Mullova
使用乐器:1750 G.B.Guadagnini, Gut Strings, Baroque Bow W. Barbiero
录音:2007-2008年

Although Viktoria Mullova released a recording of Bach's three partitas for solo violin for Philips in 1994, she never had the opportunity with Philips to record their companion pieces, the three sonatas for solo violin, so this 2009 Onyx recording is Mullova's first complete recording of all six of these milestone works. In the intervening years, the Russian virtuoso has grown as a technician and as an interpreter. Mullova's tone is still large, but she has developed deeper subtlety. Her attack is less aggressive and more measured, her phrasing is as expressive but more objective, and her dynamic range is more controlled and more graduated. Mullova's dazzling technique, however, is always at the service of the music. In gigues, she sparkles and soars, while in sarabandes she plumbs depths with profound expressivity, and she illuminates the individual lines in fugues with unfailing lucidity. Mullova's approach may have become more reserved, and her current interpretation of the great Ciaconna from the "D minor Partita" is somewhat cooler and more intellectual than her earlier recording. Her intensity now, however, is concentrated on expressing the music rather than herself. The strength and integrity of Mullova's performances are extremely impressive, especially in Onyx's clear, direct but atmospheric digital recordings. (James Leonard)


引用

Five BRILLIANT Stars!! Award-winning violin virtuoso Viktoria Mullova gives one of the definitive versions of J. S. Bach's three solo violin sonatas and partitas. All were composed in 1720 and are presented here on 2 CDs in a manner which interleaves the sonatas and partitas. In the last two decades, Ms Mullova has shown a total fascination with and intensive study of Bach, especially significant since in Russia she was taught to play Bach in a different manner. Her self-study has brought Bach front and center in both her public and private life, bordering on the transcendental and a part of her relaxation at home. She has studied the baroque era with today's masterful groups and individuals, decisively moving from baroque recordings with modern classical violin setups to re-stringing her violins and using the baroque bow and style. It is hard to believe this CD contains her first recording of the 3 Bach sonatas, although she has previously recorded the solo partitas on Bach: Partita Nos.1-3. She uses the Baroque era setup on her 1750 Guadagnini violin with contemporary gut strings which are tuned down to A=415 Hertz and a Barbiero contemporary baroque bow. She favors this violin for baroque work lately, instead of her "Jules Falk" Stradivarius which she has also used. As for the Bach musical scores themselves, legend informs us they were almost accidentally destroyed. The sound of the violin is very vivid and intimate with a drawing-room ambiance that puts Ms Mullova right in the listener's room, with a slight echo that may be attributed to vibrato coming from her tightly controlled left hand dynamics. She has stated this achieves her objectives. This sustained sound is fitting for this performance. Throughout Mullova, bowing relentlessly with fire, velocity, stately elegance, and sensitivity where required, is superb finding new nuances.

The 'best of the best' begin with the amazing Fuga: Allegro movement with Mullova literally accompanying herself through the rounds courtesty of Bach, and the mesmerizing blazing bow work of the Presto movement of Sonata No. 1 in G Minor, BWV 1001. The searing rendering of the Double: Presto movement (the second of the four double movements) of Partita No. 1 In B Minor, BWV 1002 is awe-inspiring, as is the fourth Double: the eighth movement of Partita No. 1 In B Minor, BWV 1002. Her daughter loves the lyrical, double stop-affected Andante movement of Sonata No. 2 in A Minor, BWV 1003: III, humming it at home, so it is dedicated to her. And there is the superb, fleet phrasing of the Giga (fourth) movement leading up to the nearly 14-minute Ciaccona (Chaconne) movement of the Partita No. 2 In D Minor, BWV 1004. Mullova plays this legendary Ciaccona dance movement, adapted since Bach for other instruments, marvelously: investing it with lyricism, sadness, and loss, with just the right touch of virtuosity. Ms Mullova takes full advantage the baroque setup and her nimble bow mastery, doing things that cannot be done with the modern box. This is just an overview of the excellence awaiting the listener in these 6 beautifully complex, highly enjoyable solo violin sonatas and partitas. This is brilliant, always impressive, sometimes stunning and breathtaking music displaying the virtuosity of Mullova and the genius of Bach. My Highest Recommendation. Five RADIANT Stars!!
专辑曲目:
CD 1

Johann Sebastian Bach (1685 - 1750)

Sonata No. 1 in G minor BWV1001
01. I Adagio 3.34
02. II Fuga: Allegro 4.58
03. III Siciliana 2.42
04. IV Presto 3.31

Partita No. 1 in B minor BWV1002
05. I Allemanda – 4.30
06. II Double 4.03
07. III Corrente – 3.36
08. IV Double: Presto 3.26
09. V Sarabande – 3.21
10. VI Double 3.08
11. VII Tempo di Borea –3.21
12. VIII Double 3.33

Sonata No. 2 in A minor BWV1003
13. I Grave 3.34
14. II Fuga 7.07
15. III Andante 4.30
16. IV Allegro 5.44

CD 2

Partita No. 2 in D minor BWV1004
01. I Allemanda 4.20
02. II Corrente 2.37
03. III Sarabanda 3.59
04. IV Giga 3.54
05. V Ciaconna 13.33

Sonata No. 3 in C major BWV1005
06. I Adagio 3.42
07. II Fuga 9.18
08. III Largo 2.52
09. IV Allegro assai 4.54

Partita No. 3 in E major BWV1006
10. I Preludio 3.37
11. II Loure 3.39
12. III Gavotte en Rondeau 3.04
13. IV Menuet I 1.45
14. V Menuet II 2.44
15. VI Bourrée 1.35
16. VII Gigue 1.50
这里是其它用户补充的资源(我也要补充):
暂无补充资源