专辑英文名: Super Audio Surround Collection Vol 3
专辑中文名: 环绕王III
音乐风格: 流行
资源格式: FLAC
版本: [SACD 24bit/96KHz] + [SACD-r]
发行时间: 2007年10月15日
简介: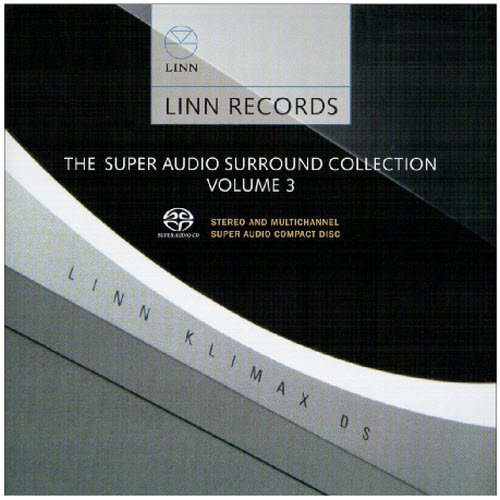 专辑介绍:

从爵士到古典,二十五年来的录音精华,Linn最高品质录音的示范。

除了在音响产品方面二十五年来卓然有成外,Linn在唱片制作方面也越来越成熟。成立於1983年的Linn唱片公司现在除了CD、SACD、黑胶唱片之外,更开始在自家网站上提供高解析度、无版权控制的音乐下载购买服务,可说是音乐界的先驱者之一。二十多年来出版专辑终於超过三百张,Linn对自己的唱片品质控制可说少有公司能与之相比。虽然每张专辑是由不同的制作人与录音师负责,但是最终的录制品质一定要能够符合Linn自己的高标準。Linn所专精的音乐领域包括古典、爵士与居尔特音乐等等,在多年来的发展下都卓然有成。在爵士乐方面,Linn可说是英国最成功的独立制片唱片公司之一。包括克莱玛婷、芭波杨格、卡萝姬等歌手在英国都有著极高的地位,近年又加入伊恩萧、茱蒂丝欧文等已经在歌坛有佳绩的歌手;另外,吉他手马丁泰勒也一直是英国最佳吉他演奏者之一。在古典音乐方面,杜丁合奏团的弥赛亚被英国许多媒体喻为这经典曲目的最佳版本。

Linn唱片公司的成立是为了提供自己音响产品最佳的测试软体,因此Linn的唱片有著优秀的录音品质是理所当然的。他们的SACD有多张入选美国发烧天书The Absolutesound创办人Harry Pearson的超级SACD榜单,相信大家可以从这张唱片中优秀的音效得知Linn对於录音品质的注重。从第一曲「He Never Mentioned Love」中钢琴清晰的触键、踏板声,音响迷们就能发现Linn的爵士乐除了内容之外,还有著绝佳的制作与录音品质;双钢琴的林姆斯基-高沙可夫「西班牙随想曲」里面两台钢琴制造出的丰富、震撼音响效果更是惊人无比;再听听第十二轨费里曼-阿特伍德的小号演奏,充满光辉的小号声破空而出,描绘出精彩的空间感;第十三轨的无伴奏合唱中各个声部的位置分布精确无比,带给音响迷们彷彿可以数人头般的快感。无论你音响系统使用的是一般CD唱盘或是多声道SACD唱盘,这张SACD都能带你最高的音效享受,可说是Linn自家高品质录音的一次精彩示范!

Encompassing classical and jazz music, "The Super Audio Surround Collection Volume 3" exemplifies Linn Records' commitment to quality, originality and diversity.

A stunning new collection of demonstration quality tracks that showcase our artists at their very best. "The Super Audio Surround Collection Volume 3" features stand-out tracks from Linn's 2006-07 releases.

Linn Records jazz catalogue is represented by the cream of UK talent, two of whom were recognised by the BBC Jazz Awards in 2007: Ian Shaw was named "Best Vocalist" for the second time while Martin Taylor was awarded the "Radio 2 Heart of Jazz" award.

Claire Martin's Shirley Horn tribute album proved a popular summer release reaching #13 in the UK Jazz & Blues Chart and remaining in the chart for 8 consecutive weeks. "He never mentioned love" was chosen as "Music Choice" and "Jazz CD of the Month" by BBC Music Magazine, was named "CD of the Week" by the Sunday Post.

Song-stylist Barb Jungr has enjoyed a successful year with sell-out live appearances across the UK, including the Queen Elizabeth Hall, 606 Club and Edinburgh Festival Fringe as well as dates in New York and an Australian tour.

Singer/songwriter Judith Owen contributes a beautiful track from her self-penned album "Happy This Way", which explores Owen's extraordinary talent for mixing Celtic, jazz and contemporary influences.

The legendary Carol Kidd completes the jazz line-up. Carol's reputation as a leading jazz singer of modern times has been cemented by several sell-out performances in 2007 and the release of her classic debut album on 180 gram vinyl.

Linn Records classical catalogue is represented by the Dunedin Consort's Dublin version of Handel's "Messiah" which has been nominated in the "Baroque Vocal" category at the 2007 Classic FM Gramophone Awards. James Gilchrist's album "On Wenlock Edge" was named CD of the Week by the Observer & Daily Telegraph, while William Carter's "La Guitarra Espanola" was named "Editor's Choice" in Gramophone.

Trumpeter Jonathan Freeman-Attwood has added to his series in which he re-works pieces for trumpet with "La Trompette Retrouvee" which attracted the attention of the audiophile press for its superior sound and performance.

Leading contemporary composer James MacMillan contributes a special excerpt from the recorded premiere of his work Missa Brevis performed by Scottish choral group Cappella Nova. Available exclusively on this sampler prior to its release in November.

Several new artists made their Linn Records debut: George-Emmanuel Lazaridis wowed critics with his album of Liszt; Maximiliano Martin shone in his first clarinet recital album; La Serenissima charmed listeners with their collection of Vivaldi cantatas and sonatas; and pianist Vita Panomariovaite partnered Linn veteran Artur Pizarro on their Duos album.

The Scottish Chamber Orchestra, whose long affiliation with Linn Records has produced several wonderful recordings, contribute a beautiful track from their recent "Mozart Serenades" album.


引用
This SACD exposes the listener to 16 selected short pieces from Linn Records' popular (6) and classical (10) catalog. In my opinion one must contemplate the possibility that those selections were placed ex professo in the order they were placed to elicit either positive or negative psychoacoustic responses from the listener. Once the listener becomes exposed to the musical samples he/she might unconsciously become a conscious consumer. How? I believe it goes more or less like this: the listener decodes the information (the music) and the order into which each work is placed and then acts upon it without being able to acknowledge that subtle communication stimulus.

One of music critics' best kept secrets is denial…that sample collections most likely than not are subtle attempts by the labels to promote their products; obviously the all important being reason the sale of their recordings. However, I don't consider myself a real music critic, just a humble music reviewer and as a natural consequence I have no secrets to keep. The present is in my own opinion a very well done sampling of representative recordings from this label just entering the global web's online music sale market. Just a quick research lead me to their web page and voilà, these recordings, besides the traditional SACD, can also be bought online (to be stored in your computer) in either of the following digital formats as well (not a bad thing for some I may add): FLAC 24/88.2, WMA 24/88.2, FLAC 16/44.1, WMA 16/44.1 and MP3.

I listened several times to each one of the recordings on this 3/2.1 SACD and online and took notes; from the notes I was able to characterize each track's sound as follows: excellent (sound just as warm and pleasant as my beloved LPs), reasonable (less than excellent high resolution, clinical, crisp and clear sound, however not too pleasant to my ears) and bad (exactly that…bad sound and not pleasant at all). This is my qualification sequence for all 16 tracks (from my notes): excellent – bad – excellent – excellent – reasonable - bad – excellent – excellent – excellent – excellent – reasonable – excellent – excellent – reasonable – excellent – excellent.

I know I am going out on a limb and taking a big risk, but there you have it, from a music reviewer, no more, no less. The general assumption is that one would run to download (for a price) the excellent and, as our beloved Borat would have said…subliminal…NOT!

However, on the other hand, what's wrong with getting to know you, Linn Records? How would I know about your recordings? In the final analysis I am not opposed to this form of communication between the producer and the consumer.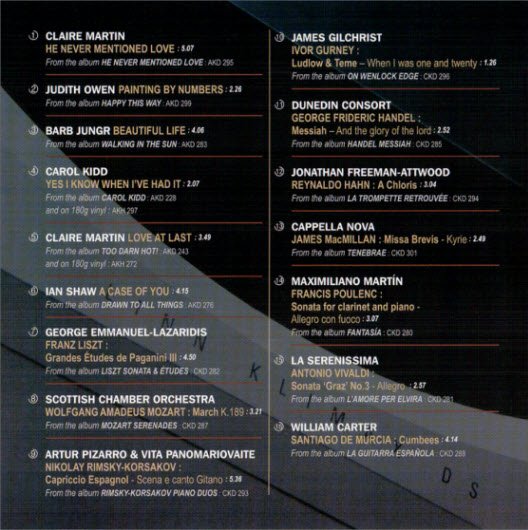 专辑曲目:
01. He never mentioned love 5:07 他从未提起爱
02. Painting by Numbers 2:26 以数字作画
03. Beautiful Life 4:06 美丽人生
04. Yes I Know When I've Had It 2:07 当我得到时我会知道
05. Love At Last 3:49 终究是爱
06. A Case of You 4:15 一整箱的你
07. Grandes Etudes de Paganini Etude III 4:50 李斯特:帕格尼尼练习曲第三号
08. March, (K.189) 3:21 莫札特:进行曲作品K.189
09. Capriccio Espagnol Op.34 Scena e canto gitano 5:36 林姆斯基-高沙可夫:西班牙随想曲选曲
10. Ludlow and Teme - When I was one and twenty 1:26 葛尼:当我一百二十岁时
11. Messiah: And the Glory of the Lord (chorus) 2:52 韩德尔:弥赛亚选曲
12. A Chloris 3:04 雷纳多韩:花神
13. Missa Brevis - Kyrie 2:49 麦克米兰:简易弥撒
14. Sonata for Clarinet and Piano Allegro Con Fuoco 3:07 浦朗克:竖笛与钢琴奏鸣曲
15. Sonata 'Graz' (No.3) for violin & continuo in D, RV 11 Allegro 2:57 韦瓦第:奏鸣曲第三号
16. Cumbees 4:14 迪莫西亚:坎毕舞曲
这里是其它用户补充的资源(我也要补充):
暂无补充资源