中文名: 远程控制
英文名: NetSarang Xmanager Enterprise
资源格式: 压缩包
版本: v4.0.0186<持续更新>
发行时间: 2011年
制作发行:
NetSarang Computer, Inc.
简介: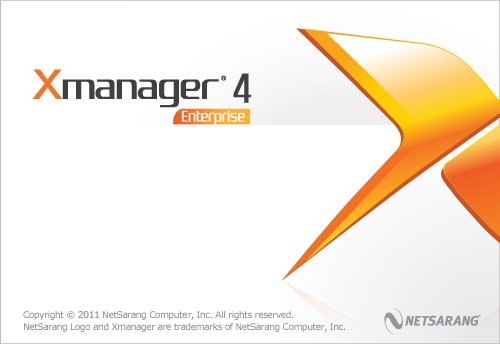 软件类型:软件>网络软件
软件性质:破解软件
操作系统:Windows
应用平台:Windows
问题反馈: http://www.netsarang.com/support/main.html
网站链接: http://www.netsarang.com/products/enterprise.html
软件介绍:

Xmanager是一个简单易用的高性能的运行在Windows平台上的X Server软件。它能把远端Unix/Linux的桌面无缝地带到你的Windows上,甚至当你的电脑是在内网或防火墙后,你也能通过SSH协议安全的运行远端的X应用程序。特点包括: -可通过Xcongfig工具设置多个Xmanager设置; -支持多用户的Windows终端环境; -支持多个IP地址; -支持本地资源数据库; -通过热键转换键盘映射; -支持多窗口下的Windows打印功能等。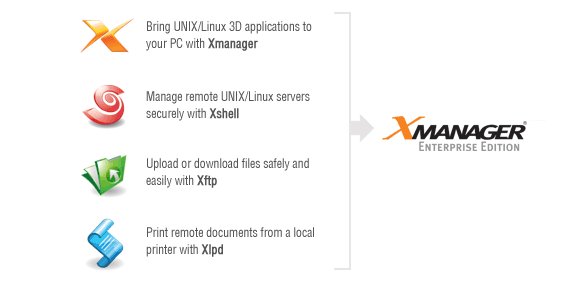 Xmanager Enterprise 4

The Complete Solution for Working with Linux and UNIX

Xmanager Enterprise is the complete network connectivity suite. It comes with a high performance PC X server, OpenGL (GLX) support, 3D hardware acceleration, secure terminal emulator, file transfer client and LPD printer server. 3D X applications run faster on Xmanager Enterprise 4 and offers secure access to remote terminal via SSH and TELNET, convenient transfer files via SFTP/FTP, and printing remote documents locally with LPD. All applications in the Xmanager Enterprise package are designed to work together to ensure the highest level of interoperability. All applications are developed by NetSarang from the ground up, so you can expect expert technical support from our skilled technicians.

All-in-One UNIX/Linux & Windows Integration Solution

Xmanager Enterprise is an all-in-one solution that includes Xmanager 3D, Xshell, Xftp and Xlpd in a single package. Xmanager 3D lets you share 3D (OpenGL) X window applications, and Xshell enables you to manage remote Unix/Linux servers with a secure terminal. Xftp allows you to transfer files between systems easily and securely. In addition, Xlpd offers local printing for remote documents on other systems.

Interoperability for Maximum Productivity

All programs included in this product share a common SSH (Secure Shell) security module and interoperate with one another. This provides customers with a great convenience and improved productivity that cannot be found on any other competing products. Since these various features are integrated into a single package, customers can expect easier purchase, installation and maintenance as well as reduced total cost of ownership.
Access the Scattered System Resources and Reduce TCO

Xmanager Enterprise marks an epoch in reducing TCO by allowing users consolidate scattered system resources of various operation systems and manage servers more efficiently. The intuitive user interface allows users to get up-and-running with the program in virtually no me. We are running the highest quality customer support team with 10 years of experience to ensure the community of your business.



代码
▄ ▀ ▀ ▄
▄ ▄▄█▀ ▀█▄▄ ▄
▄▀▀█▄ ▄█▀ ▄▄▀██▀ ▀██▀▄▄ ▀█▄ ▄█▀▀▄
▄ ▐█▄▀ ▄ ▀▀ ▄██▀ t h e c r a c k e r s o f ▀██▄ ▀▀ ▄ ▀▄█▌ ▄
▀▄ ███▄ ▀ ▄▄▄▀ ███ ███ ▀▄▄▄ ▀ ▄███ ▄▀
▀ ▄▄ ▀▀▀▄▀███▀ ███ ▄▄▄ ▄▄▄ ▄▄▄ ▄▄▄▄ ▄▄▄ ███ ▀███▀▄▀▀▀ ▄▄ ▀
███ ▀█▀ ███ ▄██▓▓██▄ ▄███▓██▄ ████▓██▄ ▐█▓▓███▓█▌ ███ ▀█▀ ███
███ ▀ ███ ██▓█▀▀███▌█▓██▀▀██▓█▐█▓█▀███▌ ▓▓██▀██▀▀ ███ ▀ ███
███ ███ ▐███▌ █▓█▐███▌ ▐██ ███▌ █▓█ ▐██▌ ███ ███
█████ ▐█▓█ ▐██▀▐███ ███▌███ ▄███▌██▓█▄▄▄ █████
███ ███▌ █▓█▌ ▐█▓ ▐▓███▓█▀ ▐██████▌ ███
▄█▄▄▄█▄ ▐███ ██▄▐███ ███▌███▀▀███ ▓██▓▀▀▀ ▄█▄▄▄█▄
[rAD!s] ███▀▀ ▀▀▄ █▓█▌ ▐██▌███▌ ▐▓█ █▓█ █▓█▌▐███▌▄▄ ▄▀▀ ▀▀███
██▀ ▐█▓██▄█▓█▌▐█▓██▄███▌ ███ ▐███ █▓███▓█▄ ▀██
▓██▄ ▀███▓██▀ ▀███▓▓█▀ ▐█▓█▌ ▐█▓▌▐▓██▓████▌ ▄▓█▓
▀▓▓█ ▀▀▀ ▀▀▀ ▀▀▀▀▀ ▀▀▀ ▀▀▀▀▀ █▓█▀
▓▌ ▄ ▀█▌ ▐█▀ ▄ ▐▓
▐▌ █ █▌ p r e s e n t t h e 2 0 k - c o l l e c t i o n ▐█ █ ▐▌
▓ ▓ ■▀▀ ▀▀■ ▓ ▓
▐▌ █▌ NetSarang Xmanager Enterprise v4.0.0181 *INCL.KEYMAKER* ▐█ ▐
■ ▐█ █▌ ■
█▌ ▐█
▐█ Cracked by....: Cyrex Release-Name..: CR-QKS01.ZIP █▌
██ Supplied......: CORE Release-Date..: 2011/07/29 ██
██▌ Packaged......: Bergelmir Release-Type..: Util ██
█▓▌ Protection....: Serial OS............: Windows ▐▓█
▐██ Crack/SN......: Keymaker Language......: English ██▌
▐██▌ Rating........: [You decide!] Disks.........: 09 ██▌
▐██ ██▌
█▓█ █▓█
███ ▀█▄ ▄▀▀▀▄ ▄█▀ ███
███▄ ▀▄ ▄█▓▀▄▄▀ ▀▄▄▀▓█▄ ▄▀ ▄███
■ ▀█▓█▄▄ ▀▀▄▄ ▄▀▀ ▀▄ ▄▀ ▀▀▄ ▄▄▀▀ ▄▄█▓█▀ ■
▀▄▄ ▀▀█████▄ ▀▄ ▐ ▀▄▄ ▄▀ ▀▄ ▄▄▀ ▄▀ ▄█████▀▀ ▄▄▀
▀▀█▄▄▄ ▀█▓██ █ ▀ ▀▀█▄ ▄█▀▀ ▀ █ ██▓█▀ ▄▄▄█▀▀
▄ ▀▀██▀ ▀█ ■▀ ▄▀▀ ▐░▓ ▓░▌ ▀▀▄ ▀■ █▀ ▀██▀▀ ▄
▄■ ▄ ▄ ▐▌ ▒▒▌ ▐▒▒ ▐▌ ▄ ▄ ■▄
█▌ ▀ ▓▄▄▀ ▀▄▄ ▀▄▄ ▓▓█ █▓▓ ▄▄▀ ▄▀▀ ▀▄▄▓ ▀ ▐█
▐▓█▄▄▒ ▄▄▄██▀ ▀ ▄▄▓▓▀ ▀▓▓▄▄ ▀ ▀██▄▄▄ ▒▄▄█▓▌
▀▓█▓████▓▓█ ▄█▓▀ ▀▓█▄ █▓▓█████▓█▓▀
▀▀▀▀▀ ░█▀ ▀█░ ▀▀▀▀▀▀▀
░█ ▄▀▀▄ ▄▀▀▄ █
▐▌░▓▀ ▐▌ ▐▌ ▀▓░▐
▀▄ ▄▀ ▀▄ ▄▀
▀▀ ▀▀
▄■ ■▄ ▄▄▀ ▄▀▓▄
▄▓▀▄ ▀▄▄ █▌ ▀ ▓▄▄▀ ▀▄▄▓ ▀ ▐█ ▄▀▀ ▄▄▄ █
█ ▄▄▄ ▀▀▄ ▐▓█▄▄▒ ▄▄▄██▀ ▀██▄▄▄ ▒▄▄█▓▌ ▐▌ ▄▓░ ▀▀▄▄
▄▄▀▀ ░▓▄ ▐▌ ▀▓█▓████▓▓█ █▓▓█████▓█▓▀ ▀▄ ▀ ▀ ▄ ▀▄
▄▀ ▄ ▀ ▀ ▄▀ ▀▀▀▀▀ ▀▀▀▀▀▀▀ ▀▀▓░ █▀ ▐█
█▌ ▀█ ░▓▀▀ ■▀ ▓▌
▐▓ ▀■ ..: DESCRiPTiON :.. ▓▌
█▓ ▓█
█▓ ▓█
▓ Xmanager Enterprise enables users to control remote server ▓█
▓ systems, to use remote applications, and to transfer files and ▓█
▓ printing jobs between heterogeneous systems securely from their ▓█
▓ Windows workstation so that it makes possible to integrate the ▓█
▓ entire corporate computing resources into a networked whole for ▓█
▓ each user. Xmanager Enterprise is a must-have connectivity ▓█
▓ solution in today's complex corporate network environment. ▓█
▓ ▓█
▓ http://www.netsarang.com/products/enterprise.html ▓█
█▓ ▓█
▐▓▌▄ ▄▐▓▌
▀░▀ ▀░▀
■▀ ▀■
▀▄ ▄▄ ▄ ▄ ▄▄ ▄▀
▀ ▄ ■ ▄▀▀ ▀ ▀▒▀ ▀▒▀ ▀ ▀▀▄ ■ ▄ ▀
▐▌ ▀ ▄ ▄ ▄ ▄ ▀ ▐▌
▄▓▀▄ ▀▄▄ ▀■ ▄ ■▀ ▀■ ▄ ■▀ ▄▄▀ ▄▀▓▄
█ ▄▄▄ ▀▀▄ ▄▀▀ ▄▄▄ █
▄▄▀▀ ░▓▄ ▐▌ ▐▌ ▄▓░ ▀▀▄▄
▄▀ ▄ ▀ ▀ ▄▀ ▀▄ ▀ ▀ ▄ ▀▄
█▌ ▀█ ░▓▀▀ ..: iNSTALL/REGiSTER NOTES :.. ▀▀▓░ █▀ ▐█
▐▓ ▀■ ■▀ ▓▌
█▓ ▓█
█▓ ▓█
▓ Use our keymaker to register the application. ▓█
▓ ▓█
█▓ ▓█
█▓ ▓█
█▓ ▓█
█▓ Thanks for choosing ▓█
█▓ (C)hallenge (O)f (R)everse (E)ngineering! ▓█
█▓ ▓█
█▓ ▓█
▐█▓ ▓█▌
▐█▓ ▄■ ■▄ ▄▄▀ ▄▀▓▄▓█▌
▀▄ ▀▄▄ █▌ ▀ ▓▄▄▀ ▀▄▄▓ ▀ ▐█ ▄▀▀ ▄▄▄
▄▄▄ ▀▀▄ ▐▓█▄▄▒ ▄▄▄██▀ ▀██▄▄▄ ▒▄▄█▓▌ ▐▌ ▄▓░ ▀▀▄▄
▄▄▀▀ ░▓▄ ▐▌ ▀▓█▓████▓▓█ █▓▓█████▓█▓▀ ▀▄ ▀ ▀ ▄ ▀▄
▄▀ ▄ ▀ ▀ ▄▀ ▀▀▀▀▀ ▀▀▀▀▀▀▀ ▀▀▓░ █▀ ▐█
█▌ ▀█ ░▓▀▀ ■▀ ▓▌
▄▄ ▄ ..: CORE NEWS AND iNFOS :.. ▄ ▄▄
▄████ ▀▄ ▄▀ ████▄
▐██▓██▌ ▐▌ ▐▌ ▐██▓██▌
██▓███ █ - not available - █ ███▓██
▐▓█▓█▌ ▄▀ ▀▄ ▐█▓█▓▌
█▓██ ▐▌ ▐▌ ██▓█
▐█▓▌ ▀▄▄ ▄▄▀ ▐▓█▌
██▌ ▀▄ ▄▀ ▐██
▀█ ▐▌ ▐▌ █▀
▓ ▄▀ ▀▄ ▓
▄█▀ ▀█▄
▄▀▀ ▀▀▄
▄▀ ▀▄
▄█▌ ▐█▄
▓█▌ ██▓
▐██ ▐█▌
██ ██
██ ██
██ ██
▓██ ██
▐██▌ ■▀▄ ▄▀■ ▐█▌
█▓█▄ ▐▌ ▐▌ ▄█▓
▀████▄▄ ▄▄▄▄█▀ ▀█▄▄▄▄ ▄▄████
████▓█████▀▀ ▀▀█████▓████
▐▓█ ▀▀▀ ▀▀▀ █▓▌
▐█▌ ▐█▌
▐█▌ ▐█▌
█▓ ▓█
▐█▌ ▐█▌
█▓ ▓█
▐█▌ ▐█▌
█▓ ▓█
█▌ ██
██ ▐█▌
▐█▌ ▐█▌
▐▓▌ ▐▓▌
██ ▄ ▀■ ■▀ ▄ ██
▐▓▌ ■ ▀ ▀ ■ ▐▓▌
██ ▄█▀▀▄▄ ▄ ▀ ▀ ▀ ▀ ▄ ▄▄▀▀█▄ ██
▐▓▌▄▀▀ ▀█▄ ▀▓▀ ▀▓▀ ▄█▀ ▀▀▄▐▓▌
██ ▀ ▀ ██
███ ███
▓██ ██▓
▐██▌ ▐██▌
▓██ ██▓
██▓ ▓██
▓██ █▓█
███ ███
███ ███
██ ██
▐▌ ▐▌
█ ▄▄▄ ▄▄▄ █
█ ▄▀▀ ▀▀▄ lAYOUt & hEADER bY. [rAD!s] ▄▀▀ ▀▀▄ █
▀▄ ▀▄ █ nfO UPdATED ON [2011/01/01] █ ▄▀ ▄▀
▀▀▄▄▄ ▄▄▄▀ ▄ (c) C.O.R.E. 2 0 1 1 ▄ ▀▄▄▄ ▄▄▄▀▀
▀▀▀▀▀ ▀▀▀▀▀
· CRC 4A6D:A145
下载链接来自sharevirus,
未经过安装测试与安全检测,使用者后果自负与本论坛无关
软体版权归原作者及其公司所有,如果你喜欢,请购买正版
这里是其它用户补充的资源(我也要补充):
暂无补充资源