中文名: 系统分析评比工具
英文名: SiSoftware Sandra All Edition
资源格式: 压缩包
版本: v2011.11.17.84
发行时间: 2011年
简介:



SiSoftware Sandra是一套功能强大的系统分析评比工具,拥有超过 30 种以上的分析与测试模组,主要包括有CPU、Drives、CD-ROM/DVD、Memory、SCSI、APM/ACPI、鼠标、键盘、网络、主板、打印机等,还有 CPU、Drives、CD-ROM/DVD、Memory 的 Benchmark 工具,它还可将分析结果报告列表存盘。

SiSoftware Sandra (the System ANalyser, Diagnostic and Reporting Assistant) is an information & diagnostic utility. It should provide most of the information (including undocumented) you need to know about your hardware, software and other devices whether hardware or software.

SiSoftware Sandra 2011 Released: London, UK, 4th November 2010 - Media Transcode, Blu-Ray and further GPGPU support.

A year ago, SiSoftware released Sandra 2010 with full support for Windows 7; in the 18 months since the launch of Windows 7, more than ever before we have seen the line blur between PC and entertainment hubs. Two months ago we released a Blu-Ray benchmark, now we have added a brand-new Media Transcoding benchmark using the new Media Foundation of Windows 7. We have also added yet another benchmark (GPGPU Cryptography) which allows direct comparison of CPU performance (using crypto instruction sets) and GPGPU performance.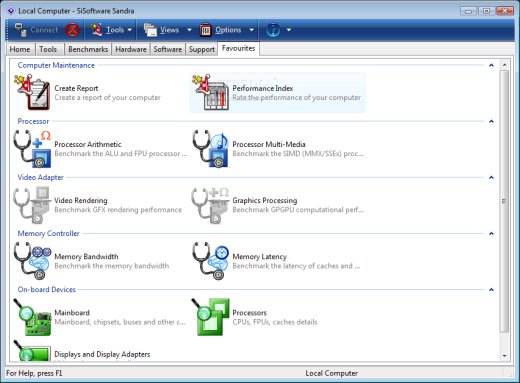 SiSoftware Sandra 2011 Released:
Media Transcode, Blu-Ray and further GPGPU support

London, UK, November 4th 2010 - We are pleased to announce the launch of SiSoftware Sandra 2011, the latest version of our award-winning utility, which includes remote analysis, benchmarking and diagnostic features for PCs, servers, mobile devices and networks.

At SiSoftware we strive to ensure that we give our users the best software experience. We observe the industry, try to predict where trends are going, but more than that: we also come up with new ideas on how to measure performance. SiSoftware works with all major hardware vendors to ensure we can accurately measure, report and present performance in the most accurate and informative way.

A year ago, SiSoftware released Sandra 2010 with full support for Windows 7; in the 18 months since the launch of Windows 7, more than ever before we have seen the line blur between PC and entertainment hubs. Two months ago we released a Blu-Ray benchmark, now we have added a brand-new Media Transcoding benchmark using the new Media Foundation of Windows 7. We have also added yet another benchmark (GPGPU Cryptography) which allows direct comparison of CPU performance (using crypto instruction sets) and GPGPU performance.


Here is the full change-log of Sandra 2011:
New Benchmark: Media Transcode
Measures the transcoding bandwidth converting media from one format to another


Why? Most devices cannot play video recorded by a camcorder. Such media would most likely require to be edited first and then to be transcoded (possibly transparently) when copied to a device for playback. With current high-definition media such an operation can be a lenghthy process, thus any performance improvements will save a lot of time.

Using the new Media Foundation in Windows 7, we measure WMV (e.g. Movie Maker) > MP4/H264 and MP4/H264 (e.g. phone video) > MP4/H264 using common media profiles (HD TV 720p, SD TV 480p, tablet, phone, etc.).

The benchmark can compare the performance of hardware accelerated media transcoders (including GPGPUs and CPU graphics, e.g. Sandy Bridge) with traditional multi-threaded software (CPU) transcoders.
New Benchmark: GPGPU Cryptography
Measures the encryption, decryption and hashing bandwidth of GPGPUs


Why? While modern CPUs include special instruction sets (Intel AES, VIA PadLock) to accelerate cryptographic operations, are they a match for modern GPGPUs? The benchmark uses the same workload as the CPU Cryptography benchmark allowing direct comparison of modern CPUs and GPGPUs of the most common algorithms in use today (AES256, AES128, SHA256, SHA1).

OpenCL 1.x, DirectX 11 Compute Shader and CUDA3 3.x are supported. Multiple video cards are supported and CPUs can also be used in parallel in OpenCL. The benchmark allocates workload based on the respective processing power of GPGPUs and CPUs.

OpenCL "Fission" (not to be confused with "Fusion") is supported when using CPU in parallel with GPGPUs which allows better resource utilisation and thus better performance.
New Benchmark: Blu-ray
Measures the performance of Blu-ray optical drives


Why? While Blu-ray won the high-definition war some time ago, it has finally become affordable for computer users as a replacement for DVD. We have thus added a brand new Blu-ray Test Disk to measure the performance of the latest drives on the market, adding to the existing DVD and CD Test Disks which are still required to measure DVD and CD disk performance.

Updates:
AVX/FMA instruction set support for new CPUs
Processor Multi-Media, Processor Cryptography, Memory Bandwidth, Cache and Memory Benchmarks


Using 256-bit register width (instead of 128-bit of SSE/2/3/4) yields further performance gains through greater parallelism in most algorithms. Combined with the increase in processor cores and threads we have CPUs rivaling (low-end) GPGPUs in performance.
Measure each operation execution time
Report Min-Max score as well as the Average


Why? The maximum time an operation can take is just as important as the average time; if the measured performance varies greatly from test to test, the response time is not consistent and thus the performance unreliable. If a minimum performance is required, then a slower (on average) but consistent device would be preferable to a faster but inconsistent one.

Using the scores submitted to the Ranker, we further measure the consistency of the performance of a device; we can also verify whether the measured performance falls between the range of performance expected for the tested device.
Geometric mean for aggregate scores


Why? When combining components of very different magnitudes, a geometric mean is more meaningful than an arithmetic one. This makes comparing the relative performance of very different devices much fairer, especially between platforms (e.g. desktop to mobile or to server).
Ranker Engine: improved


Why? The SiSoftware Official Live Ranker 2011 now provides the reference results by aggregating submitted results from users - which are downloaded by Sandra automatically. We had over 200,000 submissions for just one benchmark in 2010 which allowed the generation of tens of thousands of new results. The Ranker can also be searched for specific results.

By creating an account, the Ranker synchronises all your results in "the Cloud" and updates all other Sandra installations automatically.
Price Engine: invaluable


Why? The Price engine enhances the user's experience by providing product pictures and additional specifications - as well as the the latest price. It enables the calculation of important metrics like Performance vs. Price and Capacity vs. Price (for storage media) which are extremely useful when making comparisons. All this is done automatically rather than manually searching for pricing in stores.

Key features

3 native architectures support (x86, x64, ARM).
5 native virtualisation technologies support (Virtual PC 7, Virtual Server 2005, Hyper-V Server2, VMware Server2, VMware WorkStation/Player)
5 native GPGPU platforms support (OpenCL, DirectX 11 Compute Shader/DirectCompute, CUDA, STREAM1).
4 native Graphics platforms support (DirectX 11, DirectX 10.x, DirectX 9, OpenGL 2.0+).
Huge official hardware support through technology partners (Intel, AMD/ATI, SiS, VIA).
8 language versions (English, German, French, Italian, Spanish3, Russian, Chinese (Traditional3, Simplified), Japanese) in a single installer.
Enhanced Sandra Lite version (free for personal/educational use)



代码

²  ²
     ²      
       WAR    
 °   °   °      °   °   ° 
²² ± ² ² ² ± ² ²² ² ² ± ² ² ± ² ² ± ²
² ²  ²  ² ²  ² ²  ² ²  ² ²  ² ² 
 ±   ±      ±   ±   ±   ± 
 °   °   ±²²²²   °   °   °  
    °±±±±      
      ± 
 ²  ²²²²²²²²²²²²²²²²²²²²²±±±±±±±±±±±±°°°°°°°°°°   ² 
 ±    ± 
 °  ‏ Celebrating our History... Heritage 2011 ‏  ° 
     



ײִִִִִִִִִִִִִִִִִִִִִ[ HERiTAGE '2011 PRESENTS ]ִִִִִִִִִִִִִִִִִִִִִ·
ײִִִִִִִִִִִִִִִִִִִִִִִִִִִִִִִִִִִִִִִִִִִִִִִִִִִִִִִִִִִִִִִִִִִִִִִִִִִִ·
÷ SiSoftware Sandra Professional Home v2011.4.17.43 ÷
÷ (c) SiSoftware ÷
׃ִִִִִִִִִִִִִ¿ִִִִִִִִִִִִִִִִִִִִִִִִ¿ִִִִִִִִִִִִִִִ¿ִִִִִִִִִִִִִִִִִִִִִ·
÷ SUPPLiER: ³ HERiTAGE ³ TYPE: ³ Utility ÷
÷ PACKAGER: ³ HERiTAGE ³ # OF DiSKS: ³ 12 x 5.00 MB ÷
÷ PROTECTiON: ³ Gone ³ RELEASE DATE: ³ 22.03.2011 ÷
÷ CRACKER: ³ HERiTAGE ³ RATiNG: ³ Rate it yourself ÷
׃ְִִִִִִִִִִִִִִִִִִִִִ¿ְְִִִִִִִִִִִִִִִִִִִִִִִִִִִִִִִִִִִִִִִִִִִִִִִִִִִ·
÷ SYSTEM REQUiREMENTS: ³ PC/WinALL ÷
÷ ³ ÷
׃ְִִִִִִִִִִִִִִִִִִִִִִִִִִִִִִִִִִִִִִִִִִִִִִִִִִִִִִִִִִִִִִִִִִִִִִִִִִִ·
÷ RELEASE NOTES: ÷
÷ ~~~~~~~~~~~~~ ÷
÷ SiSoftware Sandra (the System ANalyser, Diagnostic and Reporting ÷
÷ Assistant) is an information & diagnostic utility. It should provide most ÷
÷ of the information (including undocumented) you need to know about your ÷
÷ hardware, software and other devices whether hardware or software. ÷
÷ ÷
÷ Sandra is a (girl) name of Greek origin that means "defender", "helper of ÷
÷ mankind". We think that's quite fitting. ÷
÷ ÷
÷ It works along the lines of other Windows utilities, however it tries to ÷
÷ go beyond them and show you more of what's really going on. Giving the ÷
÷ user the ability to draw comparisons at both a high and low-level. You can ÷
÷ get information about the CPU, chipset, video adapter, ports, printers, ÷
÷ sound card, memory, network, Windows internals, AGP, PCI, PCI-X, PCIe ÷
÷ (PCI Express), database, USB, USB2, 1394/Firewire, etc. ÷
÷ ÷
÷ You can save/print/fax/e-mail/post/upload or insert into ADO/ODBC ÷
÷ databases reports in text, HTML, XML, SMS/DMI or RPT format. ÷
÷ ÷
÷ This version supports multiple sources of information gathering including: ÷
÷ remote computers, Virtual Machines (VMs), PDAs, Smart Phones, ADO/ODBC ÷
÷ databases or saved system reports. ÷
÷ ÷
÷ All benchmarks are optimised for both SMP & SMT (Hyper-Threading), up to ÷
÷ 32/64 CPUs depending on the platform. ÷
÷ ÷
÷ Enjoy another fine release from HERiTAGE! ÷
׃ְִִִִִִִִִִִִִִִִִִִִִִִִִִִִִִִִִִִִִִִִִִִִִִִִִִִִִִִִִִִִִִִִִִִִִִִִִִִ·
÷ INSTALL NOTES: ÷
÷ ~~~~~~~~~~~~~ ÷
÷ Unpack, Install. ÷
÷ Use the keygen to register with. ÷
÷ ÷
÷ HERiTAGE / HERiTAGE 2011 ÷
׃ִִִִִִִִִִִִִִִִִִִִִִִִִִִִִִִִִִִִִִִִִִִִִִִִִִִִִִִִִִִִִִִִִִִִִִִִִִִִ½
׃ִִִִִִִִִִִִִִִִִִִִִִִִִִִִִִִִִִִִִִִִִִִִִִִִִִִִִִִִִִִִִִִִִִִִ½



ײִִִִִִִִִִִִִִִִִִִִִִִִ[ HERiTAGE MEMBERS ]ִִִִִִִִִִִִִִִִִִִִִִִִ·
ײִִִִִִִִִִִִִִִִִִִִִִִִִִִִִִִִִִִִִִִִִִִִִִִִִִִִִִִִִִִִִִִִִִִִִִִִִִִִ·
÷ [HTG] REMEMBERING THE PAST AND FULFILLING OUR GOALS IN THE PRESENT [HTG] ÷
׃ִִִִִִִִִִִִִִִִִִִִִִִִִִִִִִִִִִִִִִִִִִִִִִִִִִִִִִִִִִִִִִִִִִִִִִִִִִִִ·
÷ ALL HERiTAGE MEMBERS WERE TAKEN OUT DUE TO SECURITY REASONS! ÷
÷ OFFiCiAL HERiTAGE MEMBERS KNOW WHO THEY ARE;) ÷
׃ִִִִִִִִִִִִִִִִִִִִִִִִִִִִִִִִִִִִִִִִִִִִִִִִִִִִִִִִִִִִִִִִִִִִִִִִִִִִ½
׃ִִִִִִִִִִִִִִִִִִִִִִִִִִִִִִִִִִִִִִִִִִִִִִִִִִִִִִִִִִִִִִִִִִִִ½



ײִִִִִִִִִִִִִִִִִִִִִִִִִִ[ HERiTAGE SiTES ]ִִִִִִִִִִִִִִִִִִִִִִִִ·
ֹֽֽֽֽֽֽֽֽֽֽֽֽֽֽֽֽֽֽֽֽֽֽ¸ֽֽֽֽֽֽֽֽֽֽֽֽֽֽֽֽֽֽֽ¸ֽֽֽֽֽֽֽ¸ֽֽֽֽֽֽֽ¸ֽֽֽֽֽֽֽֽֽֽֽֽֽֽֽֽֽ»
÷ SYSTEM NAME ³ SYSTEM OPERATOR ³ NODES ³ SPEED ³ POSiTiON ÷
ָֽֽֽֽֽֽֽֽֽֽֽֽֽֽֽֽֽֽֽֽֽֽ¸ֽֽֽֽֽֽֽֽֽֽֽֽֽֽֽֽֽֽֽ¸ֽֽֽֽֽֽֽ¸ֽֽֽֽֽֽֽ¸ֽֽֽֽֽֽֽֽֽֽֽֽֽֽֽֽֽ»
÷ ÷
÷ REMOVED FOR SECURiTY REASONS... YOU KNOW WHO YOU ARE, AND THANKS ::} ÷
÷ ÷
׃ִִִִִִִִִִִִִִִִִִִִִִִִִִִִִִִִִִִִִִִִִִִִִִִִִִִִִִִִִִִִִִִִִִִִִִִִִִִִ·
÷ -+- All Sites Staff are Heritage Members -+- ÷
׃ִִִִִִִִִִִִִִִִִִִִִִִִִִִִִִִִִִִִִִִִִִִִִִִִִִִִִִִִִִִִִִִִִִִִִִִִִִִִ½
׃ִִִִִִִִִִִִִִִִִִִִִִִִִִִִִִִִִִִִִִִִִִִִִִִִִִִִִִִִִִִִִִִִִִִִ½



ײִִִִִִִִִִִִִִִִִִִִִִִִִ[ HERiTAGE NEWS ]ִִִִִִִִִִִִִִִִִִִִִִִִִִ·
ײִִִִִִִִִִִִִִִִִִִִִִִִִִִִִִִִִִִִִִִִִִִִִִִִִִִִִִִִִִִִִִִִִִִִִִִִִִִִ·
÷ NEWS ÷
÷ ~~~~~~~~~~~~~~~~~~~ ÷
÷ No NEWS iS GOOD NEWS THEY DO SAY!! ÷
÷ "We're all just trial evaluation versions for God, We can not be cracked ÷
÷ or keygenned and eventually we will all expire!" ÷
׃ִִִִִִִִִִִִִִִִִִִִִִִִִִִִִִִִִִִִִִִִִִִִִִִִִִִִִִִִִִִִִִִִִִִִִִִִִִִִ÷

ײִִִִִִִִִִִִִִִִִִִִִִִִִִִִִִִִִִִִִִִִִִִִִִִִִִִִִִִִִִִִִִִִִִִִִִִִִִִִ·
÷ GROUP GREETiNGS ÷
÷ ~~~~~~~~~~~~~~~~~ ÷
÷ ÷
÷ GREETS GO OUT TO ALL THOSE KEEPiNG THE SCENE ALiVE!! ÷
÷ ÷
׃ִִִִִִִִִִִִִִִִִִִִִִִִִִִִִִִִִִִִִִִִִִִִִִִִִִִִִִִִִִִִִִִִִִִִִִִִִִִִ·
÷ PERSONAL GREETiNGS ÷
÷ ~~~~~~~~~~~~~~~~~~~~ ÷
÷ Too many dudes to thank, you know who you are! ÷
÷ ÷
׃ִִִִִִִִִִִִִִִִִִִִִִִִִִִִִִִִִִִִִִִִִִִִִִִִִִִִִִִִִִִִִִִִִִִִִִִִִִִִ½
׃ִִִִִִִִִִִִִִִִִִִִִִִִִִִִִִִִִִִִִִִִִִִִִִִִִִִִִִִִִִִִִִִִִִִִ½

ײִִִִִִִִִִִִִִִִִִִִִִִִִִ[ FiNAL NOTES ]ִִִִִִִִִִִִִִִִִִִִִִִִִִִ·
ײִִִִִִִִִִִִִִִִִִִִִִִִִִִִִִִִִִִִִִִִִִִִִִִִִִִִִִִִִִִִִִִִִִִִִִִִִִִִ·
÷ If you really like this software, consider purchasing it! Seriously, keep ÷
÷ the hard working programmers paid; Motivate them to create more good stuff ÷
÷ for us to pirate. If you don't care about this software, then delete it ÷
÷ because it's only fair. This program is for the purpose of evaluation. ÷
׃ִִִִִִִִִִִִִִִִִִִִִִִִִִִִִִִִִִִִִִִִִִִִִִִִִִִִִִִִִִִִִִִִִִִִִִִִִִִִ½
׃ִִִִִִִִִִִִִִִִִִִִִִִִִִִִִִִִִִִִִִִִִִִִִִִִִִִִִִִִִִִִִִִִִִִִ½

ײִִִִִִִִִִִִִִִִִִִִִִִִִִִִ[ CREDiTS ]ִִִִִִִִִִִִִִִִִִִִִִִִִִִִִ·
ײִִִִִִִִִִִִִִִִִִִִִִִִִִִִִִִִִִִִִִִִִִִִִִִִִִִִִִִִִִִִִִִִִִִִִִִִִִִִ·
÷ Header ASCii and NFO Layout by Manowar ÷
÷ NFO Updated by Leadership on 01/01/2011 ÷
÷ (c) Heritage Productions 2011 ÷
÷ "Remembering the past while fulfilling our goals in the present" ÷
÷ "Our little group has always been And always will until the end!" ÷
׃ִִִִִִִִִִִִִִִִִִִִִִִִִִִִִִִִִִִִִִִִִִִִִִִִִִִִִִִִִִִִִִִִִִִִִִִִִִִִ½
׃ִִִִִִִִִִִִִִִִִִִִִִִִִִִִִִִִִִִִִִִִִִִִִִִִִִִִִִִִִִִִִִִִִִִִ½
代码
▐▌ █▌ SiSoftware Sandra Enterprise v2011.10.17.80 *INCL.KEYMAKER* ▐█ ▐
▐ ▐█ ▐
■ ▐█ █▌ ■
█▌ ▐█
▐█ Cracked by....: Cyrex Release-Name..: CR-QNV0D.ZIP █▌
██ Supplied......: CORE Release-Date..: 2011/09/19 ██
██▌ Packaged......: CORE Release-Type..: Util ██
█▓▌ Protection....: Serial OS............: Windows ▐▓█
▐██ Crack/SN......: Keymaker Language......: Multilingual ██▌
▐██▌ Rating........: [You decide!] Disks.........: 12 ██▌
▐██ ██▌
█▓█ █▓█
███ ▀█▄ ▄▀▀▀▄ ▄█▀ ███
███▄ ▀▄ ▄█▓▀▄▄▀ ▀▄▄▀▓█▄ ▄▀ ▄███
■ ▀█▓█▄▄ ▀▀▄▄ ▄▀▀ ▀▄ ▄▀ ▀▀▄ ▄▄▀▀ ▄▄█▓█▀ ■
▀▄▄ ▀▀█████▄ ▀▄ ▐ ▀▄▄ ▄▀ ▀▄ ▄▄▀ ▄▀ ▄█████▀▀ ▄▄▀
▀▀█▄▄▄ ▀█▓██ █ ▀ ▀▀█▄ ▄█▀▀ ▀ █ ██▓█▀ ▄▄▄█▀▀
▄ ▀▀██▀ ▀█ ■▀ ▄▀▀ ▐░▓ ▓░▌ ▀▀▄ ▀■ █▀ ▀██▀▀ ▄
▄■ ▄ ▄ ▐▌ ▒▒▌ ▐▒▒ ▐▌ ▄ ▄ ■▄
█▌ ▀ ▓▄▄▀ ▀▄▄ ▀▄▄ ▓▓█ █▓▓ ▄▄▀ ▄▀▀ ▀▄▄▓ ▀ ▐█
▐▓█▄▄▒ ▄▄▄██▀ ▀ ▄▄▓▓▀ ▀▓▓▄▄ ▀ ▀██▄▄▄ ▒▄▄█▓▌
▀▓█▓████▓▓█ ▄█▓▀ ▀▓█▄ █▓▓█████▓█▓▀
▀▀▀▀▀ ░█▀ ▀█░ ▀▀▀▀▀▀▀
░█ ▄▀▀▄ ▄▀▀▄ █
▐▌░▓▀ ▐▌ ▐▌ ▀▓░▐
▀▄ ▄▀ ▀▄ ▄▀
▀▀ ▀▀
▄■ ■▄ ▄▄▀ ▄▀▓▄
▄▓▀▄ ▀▄▄ █▌ ▀ ▓▄▄▀ ▀▄▄▓ ▀ ▐█ ▄▀▀ ▄▄▄ █
█ ▄▄▄ ▀▀▄ ▐▓█▄▄▒ ▄▄▄██▀ ▀██▄▄▄ ▒▄▄█▓▌ ▐▌ ▄▓░ ▀▀▄▄
▄▄▀▀ ░▓▄ ▐▌ ▀▓█▓████▓▓█ █▓▓█████▓█▓▀ ▀▄ ▀ ▀ ▄ ▀▄
▄▀ ▄ ▀ ▀ ▄▀ ▀▀▀▀▀ ▀▀▀▀▀▀▀ ▀▀▓░ █▀ ▐█
█▌ ▀█ ░▓▀▀ ■▀ ▓▌
▐▓ ▀■ ..: DESCRiPTiON :.. ▓▌
█▓ ▓█
█▓ ▓█
▓ SiSoftware Sandra (the System ANalyser, Diagnostic and Reporting ▓█
▓ Assistant) is an information & diagnostic utility. It should ▓█
▓ provide most of the information (including undocumented) you need ▓█
▓ to know about your hardware, software and other devices whether ▓█
▓ hardware or software. ▓█
▓ ▓█
▓ It works along the lines of other Windows utilities, however it ▓█
▓ tries to go beyond them and show you more of what's really going ▓█
▓ on. Giving the user the ability to draw comparisons at both a high ▓█
▓ and low-level. You can get information about the CPU, chipset, ▓█
▓ video adapter, ports, printers, sound card, memory, network, ▓█
▓ Windows internals, AGP, PCI, PCI-X, PCIe (PCI Express), database, ▓█
▓ USB, USB2, 1394/Firewire, etc. ▓█
▓ ▓█
▓ http://www.sisoftware.net ▓█
█▓ ▓█
▐▓▌▄ ▄▐▓▌
▀░▀ ▀░▀
■▀ ▀■
▀▄ ▄▄ ▄ ▄ ▄▄ ▄▀
▀ ▄ ■ ▄▀▀ ▀ ▀▒▀ ▀▒▀ ▀ ▀▀▄ ■ ▄ ▀
▐▌ ▀ ▄ ▄ ▄ ▄ ▀ ▐▌
▄▓▀▄ ▀▄▄ ▀■ ▄ ■▀ ▀■ ▄ ■▀ ▄▄▀ ▄▀▓▄
█ ▄▄▄ ▀▀▄ ▄▀▀ ▄▄▄ █
▄▄▀▀ ░▓▄ ▐▌ ▐▌ ▄▓░ ▀▀▄▄
▄▀ ▄ ▀ ▀ ▄▀ ▀▄ ▀ ▀ ▄ ▀▄
█▌ ▀█ ░▓▀▀ ..: iNSTALL/REGiSTER NOTES :.. ▀▀▓░ █▀ ▐█
▐▓ ▀■ ■▀ ▓▌
█▓ ▓█
█▓ ▓█
▓ Use our keymaker to register the application. ▓█
▓ ▓█
█▓ ▓█
█▓ ▓█
█▓ ▓█
█▓ Thanks for choosing ▓█
█▓ (C)hallenge (O)f (R)everse (E)ngineering! ▓█
█▓ ▓█
█▓ ▓█
▐█▓ ▓█▌
▐█▓ ▄■ ■▄ ▄▄▀ ▄▀▓▄▓█▌
▀▄ ▀▄▄ █▌ ▀ ▓▄▄▀ ▀▄▄▓ ▀ ▐█ ▄▀▀ ▄▄▄
▄▄▄ ▀▀▄ ▐▓█▄▄▒ ▄▄▄██▀ ▀██▄▄▄ ▒▄▄█▓▌ ▐▌ ▄▓░ ▀▀▄▄
▄▄▀▀ ░▓▄ ▐▌ ▀▓█▓████▓▓█ █▓▓█████▓█▓▀ ▀▄ ▀ ▀ ▄ ▀▄
▄▀ ▄ ▀ ▀ ▄▀ ▀▀▀▀▀ ▀▀▀▀▀▀▀ ▀▀▓░ █▀ ▐█
█▌ ▀█ ░▓▀▀ ■▀ ▓▌
▄▄ ▄ ..: CORE NEWS AND iNFOS :.. ▄ ▄▄
▄████ ▀▄ ▄▀ ████▄
▐██▓██▌ ▐▌ ▐▌ ▐██▓██▌
██▓███ █ - not available - █ ███▓██
下载链接来自sharevirus
未经过安装测试与安全检测,使用者后果自负与本论坛无关
软体版权归原作者及其公司所有,如果你喜欢,请购买正版
这里是其它用户补充的资源(我也要补充):
暂无补充资源