中文名: 同步文件备份工具
英文名: Super Flexible File Synchronizer Pro
资源格式: 压缩包
版本: v5.59a
发行时间: 2011年
制作发行:
Super Flexible Software Ltd. & Co. KG.
简介: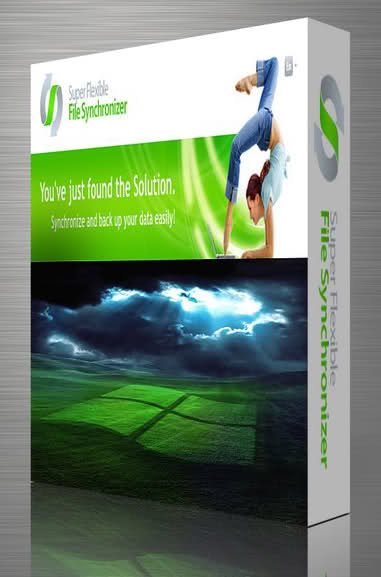 软件类型:软件>应用软件
软件性质:破解软件
操作系统:Windows
应用平台:Windows 98 thru Vista and Server 2003/2008 and Windows 7
问题反馈: support@superflexible.com
网站链接: http://www.superflexible.com/
软件介绍:

Super Flexible File Synchronizer 是一款同步文件备份工具。用于在不同位置(如PC和笔记本)备份数据或同步文件支持定时自动备份。可同步文件、支持多配置文件、检测删除的文件、支持计划运行、可用邮件通知、支持完全镜像模式备份、可安全备份数据库文件、支持备份一个文件的多个版本、支持日志、支持备份超过4GB的文件 。

Super Flexible File Synchronizer 是一款文件备份工具。用于在不同位置(如PC,服务器和笔记本)之间备份数据或同步文件.支持多个配置文件,支持FTP服务器、ZIP压缩、数据加密和定时自动运行。在NT/2K/XP下定时运行可作为服务运行而不需要用户登录。支持从树状列表中自由选择目录和文件,支持email提醒,多种过滤器!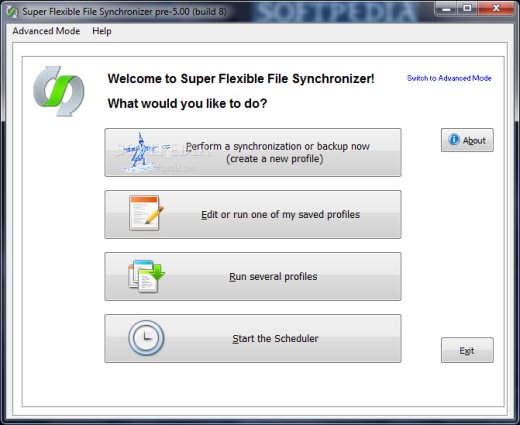 Product Description

Back up your data and synchronize PCs, Macs, servers, notebooks, and online storage space.

You can set up as many different jobs as you need and run them manually or using the scheduler. The software works with local hard drives, network drives and any other mounted volumes. In addition, it comes with support for FTP, SSH, HTTP, WebDAV, Amazon S3, and Google Docs. You can use ZIP compression and data encryption. On Windows NT/2000 or higher, the scheduler can run as a service - without users having to log on. There are powerful synchronization modes, including Standard Copying, Exact Mirror, and SmartTracking.

Version 4 features a completely redesigned GUI with numerous improvements to make an extremely versatile synchronizing and back-up tool. The wealth of features fulfills all requirements that users typically have, while still being easy to use.

Latest News:

A new Linux release is now available.

Version 5 has been released! The upgrade is free if you have a license for version 4.

NEW Features: Google Docs, Microsoft Azure, Synthetic Backup, and more!

Daily Summary Notification by email (choose on Program Settings dialog)

Chinese Web Site translation by our reseller COGITO SOFTWARE

New support for Google Docs is described here.

New documentation on the ExtremeSync Remote Service which helps speed up the "Building File List" phase.

Real-Time Synchronization now available for Windows and Mac.

Now available in English, French, German and Spanish.

Copy several files simultaneously - a great speed-up!

The Macintosh version has been fully released.

Check out this new screenshot of the Profile Overview.

Highlights:

Runs on Windows 98 thru Vista and Server 2003/2008 and Windows 7

Copy or synchronize data between local drives and/or network drives

FTP, SSL, SSH, WebDAV, and Amazon S3 support

Includes ZIP compression and Encryption

Scheduler can run as GUI or as a Windows Service

Copy file permissions and file shares

Trigger a job as soon as a network resource becomes available

Copy locked files on Windows XP/2003/Vista/2008

Run profiles in parallel

Partial updating of large files (delta copying)

Many more features - just download and try it!



代码
▄ ▀ ▀ ▄
▄ ▄▄█▀ ▀█▄▄ ▄
▄▀▀█▄ ▄█▀ ▄▄▀██▀ ▀██▀▄▄ ▀█▄ ▄█▀▀▄
▄ ▐█▄▀ ▄ ▀▀ ▄██▀ t h e c r a c k e r s o f ▀██▄ ▀▀ ▄ ▀▄█▌ ▄
▀▄ ███▄ ▀ ▄▄▄▀ ███ ███ ▀▄▄▄ ▀ ▄███ ▄▀
▀ ▄▄ ▀▀▀▄▀███▀ ███ ▄▄▄ ▄▄▄ ▄▄▄ ▄▄▄▄ ▄▄▄ ███ ▀███▀▄▀▀▀ ▄▄ ▀
███ ▀█▀ ███ ▄██▓▓██▄ ▄███▓██▄ ████▓██▄ ▐█▓▓███▓█▌ ███ ▀█▀ ███
███ ▀ ███ ██▓█▀▀███▌█▓██▀▀██▓█▐█▓█▀███▌ ▓▓██▀██▀▀ ███ ▀ ███
███ ███ ▐███▌ █▓█▐███▌ ▐██ ███▌ █▓█ ▐██▌ ███ ███
█████ ▐█▓█ ▐██▀▐███ ███▌███ ▄███▌██▓█▄▄▄ █████
███ ███▌ █▓█▌ ▐█▓ ▐▓███▓█▀ ▐██████▌ ███
▄█▄▄▄█▄ ▐███ ██▄▐███ ███▌███▀▀███ ▓██▓▀▀▀ ▄█▄▄▄█▄
[rAD!s] ███▀▀ ▀▀▄ █▓█▌ ▐██▌███▌ ▐▓█ █▓█ █▓█▌▐███▌▄▄ ▄▀▀ ▀▀███
██▀ ▐█▓██▄█▓█▌▐█▓██▄███▌ ███ ▐███ █▓███▓█▄ ▀██
▓██▄ ▀███▓██▀ ▀███▓▓█▀ ▐█▓█▌ ▐█▓▌▐▓██▓████▌ ▄▓█▓
▀▓▓█ ▀▀▀ ▀▀▀ ▀▀▀▀▀ ▀▀▀ ▀▀▀▀▀ █▓█▀
▓▌ ▄ ▀█▌ ▐█▀ ▄ ▐▓
▐▌ █ █▌ p r e s e n t t h e 2 0 k - c o l l e c t i o n ▐█ █ ▐▌
▓ ▓ ■▀▀ ▀▀■ ▓ ▓
▐▌ █▌ Super Flexible File Synchronizer Pro v5.35a *INCL.KEYMAKER* ▐█ ▐
▐ ▐█ ▐
■ ▐█ █▌ ■
█▌ ▐█
▐█ Cracked by....: KaiZer SoZe Release-Name..: CR-9PT07.ZIP █▌
██ Supplied......: CORE Release-Date..: 2011/02/22 ██
██▌ Packaged......: Bergelmir Release-Type..: Util ██
█▓▌ Protection....: Serial OS............: Windows ▐▓█
▐██ Crack/SN......: Keymaker Language......: English ██▌
▐██▌ Rating........: [You decide!] Disks.........: 03 ██▌
▐██ ██▌
█▓█ █▓█
███ ▀█▄ ▄▀▀▀▄ ▄█▀ ███
███▄ ▀▄ ▄█▓▀▄▄▀ ▀▄▄▀▓█▄ ▄▀ ▄███
■ ▀█▓█▄▄ ▀▀▄▄ ▄▀▀ ▀▄ ▄▀ ▀▀▄ ▄▄▀▀ ▄▄█▓█▀ ■
▀▄▄ ▀▀█████▄ ▀▄ ▐ ▀▄▄ ▄▀ ▀▄ ▄▄▀ ▄▀ ▄█████▀▀ ▄▄▀
▀▀█▄▄▄ ▀█▓██ █ ▀ ▀▀█▄ ▄█▀▀ ▀ █ ██▓█▀ ▄▄▄█▀▀
▄ ▀▀██▀ ▀█ ■▀ ▄▀▀ ▐░▓ ▓░▌ ▀▀▄ ▀■ █▀ ▀██▀▀ ▄
▄■ ▄ ▄ ▐▌ ▒▒▌ ▐▒▒ ▐▌ ▄ ▄ ■▄
█▌ ▀ ▓▄▄▀ ▀▄▄ ▀▄▄ ▓▓█ █▓▓ ▄▄▀ ▄▀▀ ▀▄▄▓ ▀ ▐█
▐▓█▄▄▒ ▄▄▄██▀ ▀ ▄▄▓▓▀ ▀▓▓▄▄ ▀ ▀██▄▄▄ ▒▄▄█▓▌
▀▓█▓████▓▓█ ▄█▓▀ ▀▓█▄ █▓▓█████▓█▓▀
▀▀▀▀▀ ░█▀ ▀█░ ▀▀▀▀▀▀▀
░█ ▄▀▀▄ ▄▀▀▄ █
▐▌░▓▀ ▐▌ ▐▌ ▀▓░▐
▀▄ ▄▀ ▀▄ ▄▀
▀▀ ▀▀
▄■ ■▄ ▄▄▀ ▄▀▓▄
▄▓▀▄ ▀▄▄ █▌ ▀ ▓▄▄▀ ▀▄▄▓ ▀ ▐█ ▄▀▀ ▄▄▄ █
█ ▄▄▄ ▀▀▄ ▐▓█▄▄▒ ▄▄▄██▀ ▀██▄▄▄ ▒▄▄█▓▌ ▐▌ ▄▓░ ▀▀▄▄
▄▄▀▀ ░▓▄ ▐▌ ▀▓█▓████▓▓█ █▓▓█████▓█▓▀ ▀▄ ▀ ▀ ▄ ▀▄
▄▀ ▄ ▀ ▀ ▄▀ ▀▀▀▀▀ ▀▀▀▀▀▀▀ ▀▀▓░ █▀ ▐█
█▌ ▀█ ░▓▀▀ ■▀ ▓▌
▐▓ ▀■ ..: DESCRiPTiON :.. ▓▌
█▓ ▓█
█▓ ▓█
▓ This software is used to back up data and to synchronize PCs, ▓█
▓ servers, and notebooks. The settings are stored in multiple ▓█
▓ profiles, and the software comes with support for FTP servers, ZIP ▓█
▓ compression, data encryption, and a scheduler for automated ▓█
▓ backups. On Windows NT/2000 or higher, the scheduler can run as a ▓█
▓ service - without users having to log on. This file ▓█
▓ synchronization tool features the ability to freely select files ▓█
▓ and folders across the whole folder hierarchy in tree-views and it ▓█
▓ has support for e-mail notification, profile categories, and ▓█
▓ various filters. ▓█
▓ ▓█
▓ http://www.superflexible.net/ ▓█
█▓ ▓█
▐▓▌▄ ▄▐▓▌
▀░▀ ▀░▀
■▀ ▀■
▀▄ ▄▄ ▄ ▄ ▄▄ ▄▀
▀ ▄ ■ ▄▀▀ ▀ ▀▒▀ ▀▒▀ ▀ ▀▀▄ ■ ▄ ▀
▐▌ ▀ ▄ ▄ ▄ ▄ ▀ ▐▌
▄▓▀▄ ▀▄▄ ▀■ ▄ ■▀ ▀■ ▄ ■▀ ▄▄▀ ▄▀▓▄
█ ▄▄▄ ▀▀▄ ▄▀▀ ▄▄▄ █
▄▄▀▀ ░▓▄ ▐▌ ▐▌ ▄▓░ ▀▀▄▄
▄▀ ▄ ▀ ▀ ▄▀ ▀▄ ▀ ▀ ▄ ▀▄
█▌ ▀█ ░▓▀▀ ..: iNSTALL/REGiSTER NOTES :.. ▀▀▓░ █▀ ▐█
▐▓ ▀■ ■▀ ▓▌
█▓ ▓█
█▓ ▓█
▓ Use our keymaker to register the application. ▓█
▓ ▓█
█▓ ▓█
█▓ ▓█
█▓ ▓█
█▓ Thanks for choosing ▓█
█▓ (C)hallenge (O)f (R)everse (E)ngineering! ▓█
█▓ ▓█
█▓ ▓█
▐█▓ ▓█▌
▐█▓ ▄■ ■▄ ▄▄▀ ▄▀▓▄▓█▌
▀▄ ▀▄▄ █▌ ▀ ▓▄▄▀ ▀▄▄▓ ▀ ▐█ ▄▀▀ ▄▄▄
▄▄▄ ▀▀▄ ▐▓█▄▄▒ ▄▄▄██▀ ▀██▄▄▄ ▒▄▄█▓▌ ▐▌ ▄▓░ ▀▀▄▄
▄▄▀▀ ░▓▄ ▐▌ ▀▓█▓████▓▓█ █▓▓█████▓█▓▀ ▀▄ ▀ ▀ ▄ ▀▄
▄▀ ▄ ▀ ▀ ▄▀ ▀▀▀▀▀ ▀▀▀▀▀▀▀ ▀▀▓░ █▀ ▐█
█▌ ▀█ ░▓▀▀ ■▀ ▓▌
▄▄ ▄ ..: CORE NEWS AND iNFOS :.. ▄ ▄▄
▄████ ▀▄ ▄▀ ████▄
▐██▓██▌ ▐▌ ▐▌ ▐██▓██▌
██▓███ █ - not available - █ ███▓██
▐▓█▓█▌ ▄▀ ▀▄ ▐█▓█▓▌
█▓██ ▐▌ ▐▌ ██▓█
▐█▓▌ ▀▄▄ ▄▄▀ ▐▓█▌
██▌ ▀▄ ▄▀ ▐██
▀█ ▐▌ ▐▌ █▀
▓ ▄▀ ▀▄ ▓
▄█▀ ▀█▄
▄▀▀ ▀▀▄
▄▀ ▀▄
▄█▌ ▐█▄
▓█▌ ██▓
▐██ ▐█▌
██ ██
██ ██
██ ██
▓██ ██
▐██▌ ■▀▄ ▄▀■ ▐█▌
█▓█▄ ▐▌ ▐▌ ▄█▓
▀████▄▄ ▄▄▄▄█▀ ▀█▄▄▄▄ ▄▄████
████▓█████▀▀ ▀▀█████▓████
▐▓█ ▀▀▀ ▀▀▀ █▓▌
▐█▌ ▐█▌
▐█▌ ▐█▌
█▓ ▓█
▐█▌ ▐█▌
█▓ ▓█
▐█▌ ▐█▌
█▓ ▓█
█▌ ██
██ ▐█▌
▐█▌ ▐█▌
▐▓▌ ▐▓▌
██ ▄ ▀■ ■▀ ▄ ██
▐▓▌ ■ ▀ ▀ ■ ▐▓▌
██ ▄█▀▀▄▄ ▄ ▀ ▀ ▀ ▀ ▄ ▄▄▀▀█▄ ██
▐▓▌▄▀▀ ▀█▄ ▀▓▀ ▀▓▀ ▄█▀ ▀▀▄▐▓▌
██ ▀ ▀ ██
███ ███
▓██ ██▓
▐██▌ ▐██▌
▓██ ██▓
██▓ ▓██
▓██ █▓█
███ ███
███ ███
██ ██
▐▌ ▐▌
█ ▄▄▄ ▄▄▄ █
█ ▄▀▀ ▀▀▄ lAYOUt & hEADER bY. [rAD!s] ▄▀▀ ▀▀▄ █
▀▄ ▀▄ █ nfO UPdATED ON [2011/01/01] █ ▄▀ ▄▀
▀▀▄▄▄ ▄▄▄▀ ▄ (c) C.O.R.E. 2 0 1 1 ▄ ▀▄▄▄ ▄▄▄▀▀
▀▀▀▀▀ ▀▀▀▀▀
· CRC 6B4D:CC2D
代码
▄ ▀ ▀ ▄
▄ ▄▄█▀ ▀█▄▄ ▄
▄▀▀█▄ ▄█▀ ▄▄▀██▀ ▀██▀▄▄ ▀█▄ ▄█▀▀▄
▄ ▐█▄▀ ▄ ▀▀ ▄██▀ t h e c r a c k e r s o f ▀██▄ ▀▀ ▄ ▀▄█▌ ▄
▀▄ ███▄ ▀ ▄▄▄▀ ███ ███ ▀▄▄▄ ▀ ▄███ ▄▀
▀ ▄▄ ▀▀▀▄▀███▀ ███ ▄▄▄ ▄▄▄ ▄▄▄ ▄▄▄▄ ▄▄▄ ███ ▀███▀▄▀▀▀ ▄▄ ▀
███ ▀█▀ ███ ▄██▓▓██▄ ▄███▓██▄ ████▓██▄ ▐█▓▓███▓█▌ ███ ▀█▀ ███
███ ▀ ███ ██▓█▀▀███▌█▓██▀▀██▓█▐█▓█▀███▌ ▓▓██▀██▀▀ ███ ▀ ███
███ ███ ▐███▌ █▓█▐███▌ ▐██ ███▌ █▓█ ▐██▌ ███ ███
█████ ▐█▓█ ▐██▀▐███ ███▌███ ▄███▌██▓█▄▄▄ █████
███ ███▌ █▓█▌ ▐█▓ ▐▓███▓█▀ ▐██████▌ ███
▄█▄▄▄█▄ ▐███ ██▄▐███ ███▌███▀▀███ ▓██▓▀▀▀ ▄█▄▄▄█▄
[rAD!s] ███▀▀ ▀▀▄ █▓█▌ ▐██▌███▌ ▐▓█ █▓█ █▓█▌▐███▌▄▄ ▄▀▀ ▀▀███
██▀ ▐█▓██▄█▓█▌▐█▓██▄███▌ ███ ▐███ █▓███▓█▄ ▀██
▓██▄ ▀███▓██▀ ▀███▓▓█▀ ▐█▓█▌ ▐█▓▌▐▓██▓████▌ ▄▓█▓
▀▓▓█ ▀▀▀ ▀▀▀ ▀▀▀▀▀ ▀▀▀ ▀▀▀▀▀ █▓█▀
▓▌ ▄ ▀█▌ ▐█▀ ▄ ▐▓
▐▌ █ █▌ p r e s e n t t h e 2 0 k - c o l l e c t i o n ▐█ █ ▐▌
▓ ▓ ■▀▀ ▀▀■ ▓ ▓
▐▌ █▌ Super Flexible File Synchronizer Pro v5.35b *INCL.KEYMAKER* ▐█ ▐
▐ ▐█ ▐
■ ▐█ █▌ ■
█▌ ▐█
▐█ Cracked by....: KaiZer SoZe Release-Name..: CR-9TB01.ZIP █▌
██ Supplied......: CORE Release-Date..: 2011/02/26 ██
██▌ Packaged......: Bergelmir Release-Type..: Util ██
█▓▌ Protection....: Serial OS............: Windows ▐▓█
▐██ Crack/SN......: Keymaker Language......: English ██▌
▐██▌ Rating........: [You decide!] Disks.........: 03 ██▌
▐██ ██▌
█▓█ █▓█
███ ▀█▄ ▄▀▀▀▄ ▄█▀ ███
███▄ ▀▄ ▄█▓▀▄▄▀ ▀▄▄▀▓█▄ ▄▀ ▄███
■ ▀█▓█▄▄ ▀▀▄▄ ▄▀▀ ▀▄ ▄▀ ▀▀▄ ▄▄▀▀ ▄▄█▓█▀ ■
▀▄▄ ▀▀█████▄ ▀▄ ▐ ▀▄▄ ▄▀ ▀▄ ▄▄▀ ▄▀ ▄█████▀▀ ▄▄▀
▀▀█▄▄▄ ▀█▓██ █ ▀ ▀▀█▄ ▄█▀▀ ▀ █ ██▓█▀ ▄▄▄█▀▀
▄ ▀▀██▀ ▀█ ■▀ ▄▀▀ ▐░▓ ▓░▌ ▀▀▄ ▀■ █▀ ▀██▀▀ ▄
▄■ ▄ ▄ ▐▌ ▒▒▌ ▐▒▒ ▐▌ ▄ ▄ ■▄
█▌ ▀ ▓▄▄▀ ▀▄▄ ▀▄▄ ▓▓█ █▓▓ ▄▄▀ ▄▀▀ ▀▄▄▓ ▀ ▐█
▐▓█▄▄▒ ▄▄▄██▀ ▀ ▄▄▓▓▀ ▀▓▓▄▄ ▀ ▀██▄▄▄ ▒▄▄█▓▌
▀▓█▓████▓▓█ ▄█▓▀ ▀▓█▄ █▓▓█████▓█▓▀
▀▀▀▀▀ ░█▀ ▀█░ ▀▀▀▀▀▀▀
░█ ▄▀▀▄ ▄▀▀▄ █
▐▌░▓▀ ▐▌ ▐▌ ▀▓░▐
▀▄ ▄▀ ▀▄ ▄▀
▀▀ ▀▀
▄■ ■▄ ▄▄▀ ▄▀▓▄
▄▓▀▄ ▀▄▄ █▌ ▀ ▓▄▄▀ ▀▄▄▓ ▀ ▐█ ▄▀▀ ▄▄▄ █
█ ▄▄▄ ▀▀▄ ▐▓█▄▄▒ ▄▄▄██▀ ▀██▄▄▄ ▒▄▄█▓▌ ▐▌ ▄▓░ ▀▀▄▄
▄▄▀▀ ░▓▄ ▐▌ ▀▓█▓████▓▓█ █▓▓█████▓█▓▀ ▀▄ ▀ ▀ ▄ ▀▄
▄▀ ▄ ▀ ▀ ▄▀ ▀▀▀▀▀ ▀▀▀▀▀▀▀ ▀▀▓░ █▀ ▐█
█▌ ▀█ ░▓▀▀ ■▀ ▓▌
▐▓ ▀■ ..: DESCRiPTiON :.. ▓▌
█▓ ▓█
█▓ ▓█
▓ This software is used to back up data and to synchronize PCs, ▓█
▓ servers, and notebooks. The settings are stored in multiple ▓█
▓ profiles, and the software comes with support for FTP servers, ZIP ▓█
▓ compression, data encryption, and a scheduler for automated ▓█
▓ backups. On Windows NT/2000 or higher, the scheduler can run as a ▓█
▓ service - without users having to log on. This file ▓█
▓ synchronization tool features the ability to freely select files ▓█
▓ and folders across the whole folder hierarchy in tree-views and it ▓█
▓ has support for e-mail notification, profile categories, and ▓█
▓ various filters. ▓█
▓ ▓█
▓ http://www.superflexible.net/ ▓█
█▓ ▓█
▐▓▌▄ ▄▐▓▌
▀░▀ ▀░▀
■▀ ▀■
▀▄ ▄▄ ▄ ▄ ▄▄ ▄▀
▀ ▄ ■ ▄▀▀ ▀ ▀▒▀ ▀▒▀ ▀ ▀▀▄ ■ ▄ ▀
▐▌ ▀ ▄ ▄ ▄ ▄ ▀ ▐▌
▄▓▀▄ ▀▄▄ ▀■ ▄ ■▀ ▀■ ▄ ■▀ ▄▄▀ ▄▀▓▄
█ ▄▄▄ ▀▀▄ ▄▀▀ ▄▄▄ █
▄▄▀▀ ░▓▄ ▐▌ ▐▌ ▄▓░ ▀▀▄▄
▄▀ ▄ ▀ ▀ ▄▀ ▀▄ ▀ ▀ ▄ ▀▄
█▌ ▀█ ░▓▀▀ ..: iNSTALL/REGiSTER NOTES :.. ▀▀▓░ █▀ ▐█
▐▓ ▀■ ■▀ ▓▌
█▓ ▓█
█▓ ▓█
▓ Use our keymaker to register the application. ▓█
▓ ▓█
█▓ ▓█
█▓ ▓█
█▓ ▓█
█▓ Thanks for choosing ▓█
█▓ (C)hallenge (O)f (R)everse (E)ngineering! ▓█
█▓ ▓█
█▓ ▓█
▐█▓ ▓█▌
▐█▓ ▄■ ■▄ ▄▄▀ ▄▀▓▄▓█▌
▀▄ ▀▄▄ █▌ ▀ ▓▄▄▀ ▀▄▄▓ ▀ ▐█ ▄▀▀ ▄▄▄
▄▄▄ ▀▀▄ ▐▓█▄▄▒ ▄▄▄██▀ ▀██▄▄▄ ▒▄▄█▓▌ ▐▌ ▄▓░ ▀▀▄▄
▄▄▀▀ ░▓▄ ▐▌ ▀▓█▓████▓▓█ █▓▓█████▓█▓▀ ▀▄ ▀ ▀ ▄ ▀▄
▄▀ ▄ ▀ ▀ ▄▀ ▀▀▀▀▀ ▀▀▀▀▀▀▀ ▀▀▓░ █▀ ▐█
█▌ ▀█ ░▓▀▀ ■▀ ▓▌
▄▄ ▄ ..: CORE NEWS AND iNFOS :.. ▄ ▄▄
▄████ ▀▄ ▄▀ ████▄
▐██▓██▌ ▐▌ ▐▌ ▐██▓██▌
██▓███ █ - not available - █ ███▓██
▐▓█▓█▌ ▄▀ ▀▄ ▐█▓█▓▌
█▓██ ▐▌ ▐▌ ██▓█
▐█▓▌ ▀▄▄ ▄▄▀ ▐▓█▌
██▌ ▀▄ ▄▀ ▐██
▀█ ▐▌ ▐▌ █▀
▓ ▄▀ ▀▄ ▓
▄█▀ ▀█▄
▄▀▀ ▀▀▄
▄▀ ▀▄
▄█▌ ▐█▄
▓█▌ ██▓
▐██ ▐█▌
██ ██
██ ██
██ ██
▓██ ██
▐██▌ ■▀▄ ▄▀■ ▐█▌
█▓█▄ ▐▌ ▐▌ ▄█▓
▀████▄▄ ▄▄▄▄█▀ ▀█▄▄▄▄ ▄▄████
████▓█████▀▀ ▀▀█████▓████
▐▓█ ▀▀▀ ▀▀▀ █▓▌
▐█▌ ▐█▌
▐█▌ ▐█▌
█▓ ▓█
▐█▌ ▐█▌
█▓ ▓█
▐█▌ ▐█▌
█▓ ▓█
█▌ ██
██ ▐█▌
▐█▌ ▐█▌
▐▓▌ ▐▓▌
██ ▄ ▀■ ■▀ ▄ ██
▐▓▌ ■ ▀ ▀ ■ ▐▓▌
██ ▄█▀▀▄▄ ▄ ▀ ▀ ▀ ▀ ▄ ▄▄▀▀█▄ ██
▐▓▌▄▀▀ ▀█▄ ▀▓▀ ▀▓▀ ▄█▀ ▀▀▄▐▓▌
██ ▀ ▀ ██
███ ███
▓██ ██▓
▐██▌ ▐██▌
▓██ ██▓
██▓ ▓██
▓██ █▓█
███ ███
███ ███
██ ██
▐▌ ▐▌
█ ▄▄▄ ▄▄▄ █
█ ▄▀▀ ▀▀▄ lAYOUt & hEADER bY. [rAD!s] ▄▀▀ ▀▀▄ █
▀▄ ▀▄ █ nfO UPdATED ON [2011/01/01] █ ▄▀ ▄▀
▀▀▄▄▄ ▄▄▄▀ ▄ (c) C.O.R.E. 2 0 1 1 ▄ ▀▄▄▄ ▄▄▄▀▀
▀▀▀▀▀ ▀▀▀▀▀
· CRC 6FC2:FFAA
代码
▄ ▀ ▀ ▄
▄ ▄▄█▀ ▀█▄▄ ▄
▄▀▀█▄ ▄█▀ ▄▄▀██▀ ▀██▀▄▄ ▀█▄ ▄█▀▀▄
▄ ▐█▄▀ ▄ ▀▀ ▄██▀ t h e c r a c k e r s o f ▀██▄ ▀▀ ▄ ▀▄█▌ ▄
▀▄ ███▄ ▀ ▄▄▄▀ ███ ███ ▀▄▄▄ ▀ ▄███ ▄▀
▀ ▄▄ ▀▀▀▄▀███▀ ███ ▄▄▄ ▄▄▄ ▄▄▄ ▄▄▄▄ ▄▄▄ ███ ▀███▀▄▀▀▀ ▄▄ ▀
███ ▀█▀ ███ ▄██▓▓██▄ ▄███▓██▄ ████▓██▄ ▐█▓▓███▓█▌ ███ ▀█▀ ███
███ ▀ ███ ██▓█▀▀███▌█▓██▀▀██▓█▐█▓█▀███▌ ▓▓██▀██▀▀ ███ ▀ ███
███ ███ ▐███▌ █▓█▐███▌ ▐██ ███▌ █▓█ ▐██▌ ███ ███
█████ ▐█▓█ ▐██▀▐███ ███▌███ ▄███▌██▓█▄▄▄ █████
███ ███▌ █▓█▌ ▐█▓ ▐▓███▓█▀ ▐██████▌ ███
▄█▄▄▄█▄ ▐███ ██▄▐███ ███▌███▀▀███ ▓██▓▀▀▀ ▄█▄▄▄█▄
[rAD!s] ███▀▀ ▀▀▄ █▓█▌ ▐██▌███▌ ▐▓█ █▓█ █▓█▌▐███▌▄▄ ▄▀▀ ▀▀███
██▀ ▐█▓██▄█▓█▌▐█▓██▄███▌ ███ ▐███ █▓███▓█▄ ▀██
▓██▄ ▀███▓██▀ ▀███▓▓█▀ ▐█▓█▌ ▐█▓▌▐▓██▓████▌ ▄▓█▓
▀▓▓█ ▀▀▀ ▀▀▀ ▀▀▀▀▀ ▀▀▀ ▀▀▀▀▀ █▓█▀
▓▌ ▄ ▀█▌ ▐█▀ ▄ ▐▓
▐▌ █ █▌ p r e s e n t t h e 2 0 k - c o l l e c t i o n ▐█ █ ▐▌
▓ ▓ ■▀▀ ▀▀■ ▓ ▓
▐▌ █▌ Super Flexible File Synchronizer Pro v5.40d *INCL.KEYMAKER* ▐█ ▐
▐ ▐█ ▐
■ ▐█ █▌ ■
█▌ ▐█
▐█ Cracked by....: KaiZer SoZe Release-Name..: CR-9WA01.ZIP █▌
██ Supplied......: CORE Release-Date..: 2011/03/29 ██
██▌ Packaged......: Bergelmir Release-Type..: Util ██
█▓▌ Protection....: Serial OS............: Windows ▐▓█
▐██ Crack/SN......: Keymaker Language......: English ██▌
▐██▌ Rating........: [You decide!] Disks.........: 03 ██▌
▐██ ██▌
█▓█ █▓█
███ ▀█▄ ▄▀▀▀▄ ▄█▀ ███
███▄ ▀▄ ▄█▓▀▄▄▀ ▀▄▄▀▓█▄ ▄▀ ▄███
■ ▀█▓█▄▄ ▀▀▄▄ ▄▀▀ ▀▄ ▄▀ ▀▀▄ ▄▄▀▀ ▄▄█▓█▀ ■
▀▄▄ ▀▀█████▄ ▀▄ ▐ ▀▄▄ ▄▀ ▀▄ ▄▄▀ ▄▀ ▄█████▀▀ ▄▄▀
▀▀█▄▄▄ ▀█▓██ █ ▀ ▀▀█▄ ▄█▀▀ ▀ █ ██▓█▀ ▄▄▄█▀▀
▄ ▀▀██▀ ▀█ ■▀ ▄▀▀ ▐░▓ ▓░▌ ▀▀▄ ▀■ █▀ ▀██▀▀ ▄
▄■ ▄ ▄ ▐▌ ▒▒▌ ▐▒▒ ▐▌ ▄ ▄ ■▄
█▌ ▀ ▓▄▄▀ ▀▄▄ ▀▄▄ ▓▓█ █▓▓ ▄▄▀ ▄▀▀ ▀▄▄▓ ▀ ▐█
▐▓█▄▄▒ ▄▄▄██▀ ▀ ▄▄▓▓▀ ▀▓▓▄▄ ▀ ▀██▄▄▄ ▒▄▄█▓▌
▀▓█▓████▓▓█ ▄█▓▀ ▀▓█▄ █▓▓█████▓█▓▀
▀▀▀▀▀ ░█▀ ▀█░ ▀▀▀▀▀▀▀
░█ ▄▀▀▄ ▄▀▀▄ █
▐▌░▓▀ ▐▌ ▐▌ ▀▓░▐
▀▄ ▄▀ ▀▄ ▄▀
▀▀ ▀▀
▄■ ■▄ ▄▄▀ ▄▀▓▄
▄▓▀▄ ▀▄▄ █▌ ▀ ▓▄▄▀ ▀▄▄▓ ▀ ▐█ ▄▀▀ ▄▄▄ █
█ ▄▄▄ ▀▀▄ ▐▓█▄▄▒ ▄▄▄██▀ ▀██▄▄▄ ▒▄▄█▓▌ ▐▌ ▄▓░ ▀▀▄▄
▄▄▀▀ ░▓▄ ▐▌ ▀▓█▓████▓▓█ █▓▓█████▓█▓▀ ▀▄ ▀ ▀ ▄ ▀▄
▄▀ ▄ ▀ ▀ ▄▀ ▀▀▀▀▀ ▀▀▀▀▀▀▀ ▀▀▓░ █▀ ▐█
█▌ ▀█ ░▓▀▀ ■▀ ▓▌
▐▓ ▀■ ..: DESCRiPTiON :.. ▓▌
█▓ ▓█
█▓ ▓█
▓ This software is used to back up data and to synchronize PCs, ▓█
▓ servers, and notebooks. The settings are stored in multiple ▓█
▓ profiles, and the software comes with support for FTP servers, ZIP ▓█
▓ compression, data encryption, and a scheduler for automated ▓█
▓ backups. On Windows NT/2000 or higher, the scheduler can run as a ▓█
▓ service - without users having to log on. This file ▓█
▓ synchronization tool features the ability to freely select files ▓█
▓ and folders across the whole folder hierarchy in tree-views and it ▓█
▓ has support for e-mail notification, profile categories, and ▓█
▓ various filters. ▓█
▓ ▓█
▓ http://www.superflexible.net/ ▓█
█▓ ▓█
▐▓▌▄ ▄▐▓▌
▀░▀ ▀░▀
■▀ ▀■
▀▄ ▄▄ ▄ ▄ ▄▄ ▄▀
▀ ▄ ■ ▄▀▀ ▀ ▀▒▀ ▀▒▀ ▀ ▀▀▄ ■ ▄ ▀
▐▌ ▀ ▄ ▄ ▄ ▄ ▀ ▐▌
▄▓▀▄ ▀▄▄ ▀■ ▄ ■▀ ▀■ ▄ ■▀ ▄▄▀ ▄▀▓▄
█ ▄▄▄ ▀▀▄ ▄▀▀ ▄▄▄ █
▄▄▀▀ ░▓▄ ▐▌ ▐▌ ▄▓░ ▀▀▄▄
▄▀ ▄ ▀ ▀ ▄▀ ▀▄ ▀ ▀ ▄ ▀▄
█▌ ▀█ ░▓▀▀ ..: iNSTALL/REGiSTER NOTES :.. ▀▀▓░ █▀ ▐█
▐▓ ▀■ ■▀ ▓▌
█▓ ▓█
█▓ ▓█
▓ Use our keymaker to register the application. ▓█
▓ ▓█
█▓ ▓█
█▓ ▓█
█▓ ▓█
█▓ Thanks for choosing ▓█
█▓ (C)hallenge (O)f (R)everse (E)ngineering! ▓█
█▓ ▓█
█▓ ▓█
▐█▓ ▓█▌
▐█▓ ▄■ ■▄ ▄▄▀ ▄▀▓▄▓█▌
▀▄ ▀▄▄ █▌ ▀ ▓▄▄▀ ▀▄▄▓ ▀ ▐█ ▄▀▀ ▄▄▄
▄▄▄ ▀▀▄ ▐▓█▄▄▒ ▄▄▄██▀ ▀██▄▄▄ ▒▄▄█▓▌ ▐▌ ▄▓░ ▀▀▄▄
▄▄▀▀ ░▓▄ ▐▌ ▀▓█▓████▓▓█ █▓▓█████▓█▓▀ ▀▄ ▀ ▀ ▄ ▀▄
▄▀ ▄ ▀ ▀ ▄▀ ▀▀▀▀▀ ▀▀▀▀▀▀▀ ▀▀▓░ █▀ ▐█
█▌ ▀█ ░▓▀▀ ■▀ ▓▌
▄▄ ▄ ..: CORE NEWS AND iNFOS :.. ▄ ▄▄
▄████ ▀▄ ▄▀ ████▄
▐██▓██▌ ▐▌ ▐▌ ▐██▓██▌
██▓███ █ - not available - █ ███▓██
▐▓█▓█▌ ▄▀ ▀▄ ▐█▓█▓▌
█▓██ ▐▌ ▐▌ ██▓█
▐█▓▌ ▀▄▄ ▄▄▀ ▐▓█▌
██▌ ▀▄ ▄▀ ▐██
▀█ ▐▌ ▐▌ █▀
▓ ▄▀ ▀▄ ▓
▄█▀ ▀█▄
▄▀▀ ▀▀▄
▄▀ ▀▄
▄█▌ ▐█▄
▓█▌ ██▓
▐██ ▐█▌
██ ██
██ ██
██ ██
▓██ ██
▐██▌ ■▀▄ ▄▀■ ▐█▌
█▓█▄ ▐▌ ▐▌ ▄█▓
▀████▄▄ ▄▄▄▄█▀ ▀█▄▄▄▄ ▄▄████
████▓█████▀▀ ▀▀█████▓████
▐▓█ ▀▀▀ ▀▀▀ █▓▌
▐█▌ ▐█▌
▐█▌ ▐█▌
█▓ ▓█
▐█▌ ▐█▌
█▓ ▓█
▐█▌ ▐█▌
█▓ ▓█
█▌ ██
██ ▐█▌
▐█▌ ▐█▌
▐▓▌ ▐▓▌
██ ▄ ▀■ ■▀ ▄ ██
▐▓▌ ■ ▀ ▀ ■ ▐▓▌
██ ▄█▀▀▄▄ ▄ ▀ ▀ ▀ ▀ ▄ ▄▄▀▀█▄ ██
▐▓▌▄▀▀ ▀█▄ ▀▓▀ ▀▓▀ ▄█▀ ▀▀▄▐▓▌
██ ▀ ▀ ██
███ ███
▓██ ██▓
▐██▌ ▐██▌
▓██ ██▓
██▓ ▓██
▓██ █▓█
███ ███
███ ███
██ ██
▐▌ ▐▌
█ ▄▄▄ ▄▄▄ █
█ ▄▀▀ ▀▀▄ lAYOUt & hEADER bY. [rAD!s] ▄▀▀ ▀▀▄ █
▀▄ ▀▄ █ nfO UPdATED ON [2011/01/01] █ ▄▀ ▄▀
▀▀▄▄▄ ▄▄▄▀ ▄ (c) C.O.R.E. 2 0 1 1 ▄ ▀▄▄▄ ▄▄▄▀▀
▀▀▀▀▀ ▀▀▀▀▀
· CRC C706:535C
代码
▄ ▀ ▀ ▄
▄ ▄▄█▀ ▀█▄▄ ▄
▄▀▀█▄ ▄█▀ ▄▄▀██▀ ▀██▀▄▄ ▀█▄ ▄█▀▀▄
▄ ▐█▄▀ ▄ ▀▀ ▄██▀ t h e c r a c k e r s o f ▀██▄ ▀▀ ▄ ▀▄█▌ ▄
▀▄ ███▄ ▀ ▄▄▄▀ ███ ███ ▀▄▄▄ ▀ ▄███ ▄▀
▀ ▄▄ ▀▀▀▄▀███▀ ███ ▄▄▄ ▄▄▄ ▄▄▄ ▄▄▄▄ ▄▄▄ ███ ▀███▀▄▀▀▀ ▄▄ ▀
███ ▀█▀ ███ ▄██▓▓██▄ ▄███▓██▄ ████▓██▄ ▐█▓▓███▓█▌ ███ ▀█▀ ███
███ ▀ ███ ██▓█▀▀███▌█▓██▀▀██▓█▐█▓█▀███▌ ▓▓██▀██▀▀ ███ ▀ ███
███ ███ ▐███▌ █▓█▐███▌ ▐██ ███▌ █▓█ ▐██▌ ███ ███
█████ ▐█▓█ ▐██▀▐███ ███▌███ ▄███▌██▓█▄▄▄ █████
███ ███▌ █▓█▌ ▐█▓ ▐▓███▓█▀ ▐██████▌ ███
▄█▄▄▄█▄ ▐███ ██▄▐███ ███▌███▀▀███ ▓██▓▀▀▀ ▄█▄▄▄█▄
[rAD!s] ███▀▀ ▀▀▄ █▓█▌ ▐██▌███▌ ▐▓█ █▓█ █▓█▌▐███▌▄▄ ▄▀▀ ▀▀███
██▀ ▐█▓██▄█▓█▌▐█▓██▄███▌ ███ ▐███ █▓███▓█▄ ▀██
▓██▄ ▀███▓██▀ ▀███▓▓█▀ ▐█▓█▌ ▐█▓▌▐▓██▓████▌ ▄▓█▓
▀▓▓█ ▀▀▀ ▀▀▀ ▀▀▀▀▀ ▀▀▀ ▀▀▀▀▀ █▓█▀
▓▌ ▄ ▀█▌ ▐█▀ ▄ ▐▓
▐▌ █ █▌ p r e s e n t t h e 2 0 k - c o l l e c t i o n ▐█ █ ▐▌
▓ ▓ ■▀▀ ▀▀■ ▓ ▓
▐▌ █▌ Super Flexible File Synchronizer Pro v5.45b *INCL.KEYMAKER* ▐█ ▐
▐ ▐█ ▐
■ ▐█ █▌ ■
█▌ ▐█
▐█ Cracked by....: KaiZer SoZe Release-Name..: CR-QAH01.ZIP █▌
██ Supplied......: CORE Release-Date..: 2011/05/11 ██
██▌ Packaged......: Bergelmir Release-Type..: Util ██
█▓▌ Protection....: Serial OS............: Windows ▐▓█
▐██ Crack/SN......: Keymaker Language......: English ██▌
▐██▌ Rating........: [You decide!] Disks.........: 03 ██▌
▐██ ██▌
█▓█ █▓█
███ ▀█▄ ▄▀▀▀▄ ▄█▀ ███
███▄ ▀▄ ▄█▓▀▄▄▀ ▀▄▄▀▓█▄ ▄▀ ▄███
■ ▀█▓█▄▄ ▀▀▄▄ ▄▀▀ ▀▄ ▄▀ ▀▀▄ ▄▄▀▀ ▄▄█▓█▀ ■
▀▄▄ ▀▀█████▄ ▀▄ ▐ ▀▄▄ ▄▀ ▀▄ ▄▄▀ ▄▀ ▄█████▀▀ ▄▄▀
▀▀█▄▄▄ ▀█▓██ █ ▀ ▀▀█▄ ▄█▀▀ ▀ █ ██▓█▀ ▄▄▄█▀▀
▄ ▀▀██▀ ▀█ ■▀ ▄▀▀ ▐░▓ ▓░▌ ▀▀▄ ▀■ █▀ ▀██▀▀ ▄
▄■ ▄ ▄ ▐▌ ▒▒▌ ▐▒▒ ▐▌ ▄ ▄ ■▄
█▌ ▀ ▓▄▄▀ ▀▄▄ ▀▄▄ ▓▓█ █▓▓ ▄▄▀ ▄▀▀ ▀▄▄▓ ▀ ▐█
▐▓█▄▄▒ ▄▄▄██▀ ▀ ▄▄▓▓▀ ▀▓▓▄▄ ▀ ▀██▄▄▄ ▒▄▄█▓▌
▀▓█▓████▓▓█ ▄█▓▀ ▀▓█▄ █▓▓█████▓█▓▀
▀▀▀▀▀ ░█▀ ▀█░ ▀▀▀▀▀▀▀
░█ ▄▀▀▄ ▄▀▀▄ █
▐▌░▓▀ ▐▌ ▐▌ ▀▓░▐
▀▄ ▄▀ ▀▄ ▄▀
▀▀ ▀▀
▄■ ■▄ ▄▄▀ ▄▀▓▄
▄▓▀▄ ▀▄▄ █▌ ▀ ▓▄▄▀ ▀▄▄▓ ▀ ▐█ ▄▀▀ ▄▄▄ █
█ ▄▄▄ ▀▀▄ ▐▓█▄▄▒ ▄▄▄██▀ ▀██▄▄▄ ▒▄▄█▓▌ ▐▌ ▄▓░ ▀▀▄▄
▄▄▀▀ ░▓▄ ▐▌ ▀▓█▓████▓▓█ █▓▓█████▓█▓▀ ▀▄ ▀ ▀ ▄ ▀▄
▄▀ ▄ ▀ ▀ ▄▀ ▀▀▀▀▀ ▀▀▀▀▀▀▀ ▀▀▓░ █▀ ▐█
█▌ ▀█ ░▓▀▀ ■▀ ▓▌
▐▓ ▀■ ..: DESCRiPTiON :.. ▓▌
█▓ ▓█
█▓ ▓█
▓ This software is used to back up data and to synchronize PCs, ▓█
▓ servers, and notebooks. The settings are stored in multiple ▓█
▓ profiles, and the software comes with support for FTP servers, ZIP ▓█
▓ compression, data encryption, and a scheduler for automated ▓█
▓ backups. On Windows NT/2000 or higher, the scheduler can run as a ▓█
▓ service - without users having to log on. This file ▓█
▓ synchronization tool features the ability to freely select files ▓█
▓ and folders across the whole folder hierarchy in tree-views and it ▓█
▓ has support for e-mail notification, profile categories, and ▓█
▓ various filters. ▓█
▓ ▓█
▓ http://www.superflexible.net/ ▓█
█▓ ▓█
▐▓▌▄ ▄▐▓▌
▀░▀ ▀░▀
■▀ ▀■
▀▄ ▄▄ ▄ ▄ ▄▄ ▄▀
▀ ▄ ■ ▄▀▀ ▀ ▀▒▀ ▀▒▀ ▀ ▀▀▄ ■ ▄ ▀
▐▌ ▀ ▄ ▄ ▄ ▄ ▀ ▐▌
▄▓▀▄ ▀▄▄ ▀■ ▄ ■▀ ▀■ ▄ ■▀ ▄▄▀ ▄▀▓▄
█ ▄▄▄ ▀▀▄ ▄▀▀ ▄▄▄ █
▄▄▀▀ ░▓▄ ▐▌ ▐▌ ▄▓░ ▀▀▄▄
▄▀ ▄ ▀ ▀ ▄▀ ▀▄ ▀ ▀ ▄ ▀▄
█▌ ▀█ ░▓▀▀ ..: iNSTALL/REGiSTER NOTES :.. ▀▀▓░ █▀ ▐█
▐▓ ▀■ ■▀ ▓▌
█▓ ▓█
█▓ ▓█
▓ Use our keymaker to register the application. ▓█
▓ ▓█
█▓ ▓█
█▓ ▓█
█▓ ▓█
█▓ Thanks for choosing ▓█
█▓ (C)hallenge (O)f (R)everse (E)ngineering! ▓█
█▓ ▓█
█▓ ▓█
▐█▓ ▓█▌
▐█▓ ▄■ ■▄ ▄▄▀ ▄▀▓▄▓█▌
▀▄ ▀▄▄ █▌ ▀ ▓▄▄▀ ▀▄▄▓ ▀ ▐█ ▄▀▀ ▄▄▄
▄▄▄ ▀▀▄ ▐▓█▄▄▒ ▄▄▄██▀ ▀██▄▄▄ ▒▄▄█▓▌ ▐▌ ▄▓░ ▀▀▄▄
▄▄▀▀ ░▓▄ ▐▌ ▀▓█▓████▓▓█ █▓▓█████▓█▓▀ ▀▄ ▀ ▀ ▄ ▀▄
▄▀ ▄ ▀ ▀ ▄▀ ▀▀▀▀▀ ▀▀▀▀▀▀▀ ▀▀▓░ █▀ ▐█
█▌ ▀█ ░▓▀▀ ■▀ ▓▌
▄▄ ▄ ..: CORE NEWS AND iNFOS :.. ▄ ▄▄
▄████ ▀▄ ▄▀ ████▄
▐██▓██▌ ▐▌ ▐▌ ▐██▓██▌
██▓███ █ - not available - █ ███▓██
▐▓█▓█▌ ▄▀ ▀▄ ▐█▓█▓▌
█▓██ ▐▌ ▐▌ ██▓█
▐█▓▌ ▀▄▄ ▄▄▀ ▐▓█▌
██▌ ▀▄ ▄▀ ▐██
▀█ ▐▌ ▐▌ █▀
▓ ▄▀ ▀▄ ▓
▄█▀ ▀█▄
▄▀▀ ▀▀▄
▄▀ ▀▄
▄█▌ ▐█▄
▓█▌ ██▓
▐██ ▐█▌
██ ██
██ ██
██ ██
▓██ ██
▐██▌ ■▀▄ ▄▀■ ▐█▌
█▓█▄ ▐▌ ▐▌ ▄█▓
▀████▄▄ ▄▄▄▄█▀ ▀█▄▄▄▄ ▄▄████
████▓█████▀▀ ▀▀█████▓████
▐▓█ ▀▀▀ ▀▀▀ █▓▌
▐█▌ ▐█▌
▐█▌ ▐█▌
█▓ ▓█
▐█▌ ▐█▌
█▓ ▓█
▐█▌ ▐█▌
█▓ ▓█
█▌ ██
██ ▐█▌
▐█▌ ▐█▌
▐▓▌ ▐▓▌
██ ▄ ▀■ ■▀ ▄ ██
▐▓▌ ■ ▀ ▀ ■ ▐▓▌
██ ▄█▀▀▄▄ ▄ ▀ ▀ ▀ ▀ ▄ ▄▄▀▀█▄ ██
▐▓▌▄▀▀ ▀█▄ ▀▓▀ ▀▓▀ ▄█▀ ▀▀▄▐▓▌
██ ▀ ▀ ██
███ ███
▓██ ██▓
▐██▌ ▐██▌
▓██ ██▓
██▓ ▓██
▓██ █▓█
███ ███
███ ███
██ ██
▐▌ ▐▌
█ ▄▄▄ ▄▄▄ █
█ ▄▀▀ ▀▀▄ lAYOUt & hEADER bY. [rAD!s] ▄▀▀ ▀▀▄ █
▀▄ ▀▄ █ nfO UPdATED ON [2011/01/01] █ ▄▀ ▄▀
▀▀▄▄▄ ▄▄▄▀ ▄ (c) C.O.R.E. 2 0 1 1 ▄ ▀▄▄▄ ▄▄▄▀▀
▀▀▀▀▀ ▀▀▀▀▀
· CRC F968:60E4
代码
▐▌ █▌ Super Flexible File Synchronizer Pro v5.48d *INCL.KEYMAKER* ▐█ ▐
▐ ▐█ ▐
■ ▐█ █▌ ■
█▌ ▐█
▐█ Cracked by....: KaiZer SoZe Release-Name..: CR-QEN04.ZIP █▌
██ Supplied......: CORE Release-Date..: 2011/06/22 ██
██▌ Packaged......: Bergelmir Release-Type..: Util ██
█▓▌ Protection....: Serial OS............: Windows ▐▓█
▐██ Crack/SN......: Keymaker Language......: English ██▌
▐██▌ Rating........: [You decide!] Disks.........: 03 ██▌
▐██ ██▌
█▓█ █▓█
███ ▀█▄ ▄▀▀▀▄ ▄█▀ ███
███▄ ▀▄ ▄█▓▀▄▄▀ ▀▄▄▀▓█▄ ▄▀ ▄███
■ ▀█▓█▄▄ ▀▀▄▄ ▄▀▀ ▀▄ ▄▀ ▀▀▄ ▄▄▀▀ ▄▄█▓█▀ ■
▀▄▄ ▀▀█████▄ ▀▄ ▐ ▀▄▄ ▄▀ ▀▄ ▄▄▀ ▄▀ ▄█████▀▀ ▄▄▀
▀▀█▄▄▄ ▀█▓██ █ ▀ ▀▀█▄ ▄█▀▀ ▀ █ ██▓█▀ ▄▄▄█▀▀
▄ ▀▀██▀ ▀█ ■▀ ▄▀▀ ▐░▓ ▓░▌ ▀▀▄ ▀■ █▀ ▀██▀▀ ▄
▄■ ▄ ▄ ▐▌ ▒▒▌ ▐▒▒ ▐▌ ▄ ▄ ■▄
█▌ ▀ ▓▄▄▀ ▀▄▄ ▀▄▄ ▓▓█ █▓▓ ▄▄▀ ▄▀▀ ▀▄▄▓ ▀ ▐█
▐▓█▄▄▒ ▄▄▄██▀ ▀ ▄▄▓▓▀ ▀▓▓▄▄ ▀ ▀██▄▄▄ ▒▄▄█▓▌
▀▓█▓████▓▓█ ▄█▓▀ ▀▓█▄ █▓▓█████▓█▓▀
▀▀▀▀▀ ░█▀ ▀█░ ▀▀▀▀▀▀▀
░█ ▄▀▀▄ ▄▀▀▄ █
▐▌░▓▀ ▐▌ ▐▌ ▀▓░▐
▀▄ ▄▀ ▀▄ ▄▀
▀▀ ▀▀
▄■ ■▄ ▄▄▀ ▄▀▓▄
▄▓▀▄ ▀▄▄ █▌ ▀ ▓▄▄▀ ▀▄▄▓ ▀ ▐█ ▄▀▀ ▄▄▄ █
█ ▄▄▄ ▀▀▄ ▐▓█▄▄▒ ▄▄▄██▀ ▀██▄▄▄ ▒▄▄█▓▌ ▐▌ ▄▓░ ▀▀▄▄
▄▄▀▀ ░▓▄ ▐▌ ▀▓█▓████▓▓█ █▓▓█████▓█▓▀ ▀▄ ▀ ▀ ▄ ▀▄
▄▀ ▄ ▀ ▀ ▄▀ ▀▀▀▀▀ ▀▀▀▀▀▀▀ ▀▀▓░ █▀ ▐█
█▌ ▀█ ░▓▀▀ ■▀ ▓▌
▐▓ ▀■ ..: DESCRiPTiON :.. ▓▌
█▓ ▓█
█▓ ▓█
▓ This software is used to back up data and to synchronize PCs, ▓█
▓ servers, and notebooks. The settings are stored in multiple ▓█
▓ profiles, and the software comes with support for FTP servers, ZIP ▓█
▓ compression, data encryption, and a scheduler for automated ▓█
▓ backups. On Windows NT/2000 or higher, the scheduler can run as a ▓█
▓ service - without users having to log on. This file ▓█
▓ synchronization tool features the ability to freely select files ▓█
▓ and folders across the whole folder hierarchy in tree-views and it ▓█
▓ has support for e-mail notification, profile categories, and ▓█
▓ various filters. ▓█
▓ ▓█
▓ http://www.superflexible.net/ ▓█
█▓ ▓█
▐▓▌▄ ▄▐▓▌
▀░▀ ▀░▀
■▀ ▀■
▀▄ ▄▄ ▄ ▄ ▄▄ ▄▀
▀ ▄ ■ ▄▀▀ ▀ ▀▒▀ ▀▒▀ ▀ ▀▀▄ ■ ▄ ▀
▐▌ ▀ ▄ ▄ ▄ ▄ ▀ ▐▌
▄▓▀▄ ▀▄▄ ▀■ ▄ ■▀ ▀■ ▄ ■▀ ▄▄▀ ▄▀▓▄
█ ▄▄▄ ▀▀▄ ▄▀▀ ▄▄▄ █
▄▄▀▀ ░▓▄ ▐▌ ▐▌ ▄▓░ ▀▀▄▄
▄▀ ▄ ▀ ▀ ▄▀ ▀▄ ▀ ▀ ▄ ▀▄
█▌ ▀█ ░▓▀▀ ..: iNSTALL/REGiSTER NOTES :.. ▀▀▓░ █▀ ▐█
▐▓ ▀■ ■▀ ▓▌
█▓ ▓█
█▓ ▓█
▓ Use our keymaker to register the application. ▓█
▓ ▓█
█▓ ▓█
█▓ ▓█
█▓ ▓█
█▓ Thanks for choosing ▓█
█▓ (C)hallenge (O)f (R)everse (E)ngineering! ▓█
█▓ ▓█
█▓ ▓█
代码
▐▌ █▌ Super Flexible File Synchronizer Pro v5.54a *INCL.KEYMAKER* ▐█ ▐
▐ ▐█ ▐
■ ▐█ █▌ ■
█▌ ▐█
▐█ Cracked by....: KaiZer SoZe Release-Name..: CR-QMS0A.ZIP █▌
██ Supplied......: CORE Release-Date..: 2011/09/21 ██
██▌ Packaged......: Bergelmir Release-Type..: Util ██
█▓▌ Protection....: Serial OS............: Windows ▐▓█
▐██ Crack/SN......: Keymaker Language......: English ██▌
▐██▌ Rating........: [You decide!] Disks.........: 03 ██▌
▐██ ██▌
█▓█ █▓█
███ ▀█▄ ▄▀▀▀▄ ▄█▀ ███
███▄ ▀▄ ▄█▓▀▄▄▀ ▀▄▄▀▓█▄ ▄▀ ▄███
■ ▀█▓█▄▄ ▀▀▄▄ ▄▀▀ ▀▄ ▄▀ ▀▀▄ ▄▄▀▀ ▄▄█▓█▀ ■
▀▄▄ ▀▀█████▄ ▀▄ ▐ ▀▄▄ ▄▀ ▀▄ ▄▄▀ ▄▀ ▄█████▀▀ ▄▄▀
▀▀█▄▄▄ ▀█▓██ █ ▀ ▀▀█▄ ▄█▀▀ ▀ █ ██▓█▀ ▄▄▄█▀▀
▄ ▀▀██▀ ▀█ ■▀ ▄▀▀ ▐░▓ ▓░▌ ▀▀▄ ▀■ █▀ ▀██▀▀ ▄
▄■ ▄ ▄ ▐▌ ▒▒▌ ▐▒▒ ▐▌ ▄ ▄ ■▄
█▌ ▀ ▓▄▄▀ ▀▄▄ ▀▄▄ ▓▓█ █▓▓ ▄▄▀ ▄▀▀ ▀▄▄▓ ▀ ▐█
▐▓█▄▄▒ ▄▄▄██▀ ▀ ▄▄▓▓▀ ▀▓▓▄▄ ▀ ▀██▄▄▄ ▒▄▄█▓▌
▀▓█▓████▓▓█ ▄█▓▀ ▀▓█▄ █▓▓█████▓█▓▀
▀▀▀▀▀ ░█▀ ▀█░ ▀▀▀▀▀▀▀
░█ ▄▀▀▄ ▄▀▀▄ █
▐▌░▓▀ ▐▌ ▐▌ ▀▓░▐
▀▄ ▄▀ ▀▄ ▄▀
▀▀ ▀▀
▄■ ■▄ ▄▄▀ ▄▀▓▄
▄▓▀▄ ▀▄▄ █▌ ▀ ▓▄▄▀ ▀▄▄▓ ▀ ▐█ ▄▀▀ ▄▄▄ █
█ ▄▄▄ ▀▀▄ ▐▓█▄▄▒ ▄▄▄██▀ ▀██▄▄▄ ▒▄▄█▓▌ ▐▌ ▄▓░ ▀▀▄▄
▄▄▀▀ ░▓▄ ▐▌ ▀▓█▓████▓▓█ █▓▓█████▓█▓▀ ▀▄ ▀ ▀ ▄ ▀▄
▄▀ ▄ ▀ ▀ ▄▀ ▀▀▀▀▀ ▀▀▀▀▀▀▀ ▀▀▓░ █▀ ▐█
█▌ ▀█ ░▓▀▀ ■▀ ▓▌
▐▓ ▀■ ..: DESCRiPTiON :.. ▓▌
█▓ ▓█
█▓ ▓█
▓ This software is used to back up data and to synchronize PCs, ▓█
▓ servers, and notebooks. The settings are stored in multiple ▓█
▓ profiles, and the software comes with support for FTP servers, ZIP ▓█
▓ compression, data encryption, and a scheduler for automated ▓█
▓ backups. On Windows NT/2000 or higher, the scheduler can run as a ▓█
▓ service - without users having to log on. This file ▓█
▓ synchronization tool features the ability to freely select files ▓█
▓ and folders across the whole folder hierarchy in tree-views and it ▓█
▓ has support for e-mail notification, profile categories, and ▓█
▓ various filters. ▓█
▓ ▓█
▓ http://www.superflexible.net/ ▓█
█▓ ▓█
▐▓▌▄ ▄▐▓▌
▀░▀ ▀░▀
■▀ ▀■
▀▄ ▄▄ ▄ ▄ ▄▄ ▄▀
▀ ▄ ■ ▄▀▀ ▀ ▀▒▀ ▀▒▀ ▀ ▀▀▄ ■ ▄ ▀
▐▌ ▀ ▄ ▄ ▄ ▄ ▀ ▐▌
▄▓▀▄ ▀▄▄ ▀■ ▄ ■▀ ▀■ ▄ ■▀ ▄▄▀ ▄▀▓▄
█ ▄▄▄ ▀▀▄ ▄▀▀ ▄▄▄ █
▄▄▀▀ ░▓▄ ▐▌ ▐▌ ▄▓░ ▀▀▄▄
▄▀ ▄ ▀ ▀ ▄▀ ▀▄ ▀ ▀ ▄ ▀▄
█▌ ▀█ ░▓▀▀ ..: iNSTALL/REGiSTER NOTES :.. ▀▀▓░ █▀ ▐█
▐▓ ▀■ ■▀ ▓▌
█▓ ▓█
█▓ ▓█
▓ Use our keymaker to register the application. ▓█
▓ ▓█
█▓ ▓█
█▓ ▓█
█▓ ▓█
█▓ Thanks for choosing ▓█
█▓ (C)hallenge (O)f (R)everse (E)ngineering! ▓█
下载链接来自sharevirus
未经过安装测试与安全检测,使用者后果自负与本论坛无关
软体版权归原作者及其公司所有,如果你喜欢,请购买正版
这里是其它用户补充的资源(我也要补充):
暂无补充资源