Michael Giacchino -《荣誉勋章:神兵天降》(Medal of Honor:Airborne Original Soundtrack)[MP3]

专辑中文名: 荣誉勋章:神兵天降
专辑英文名: Medal of Honor:Airborne Original Soundtrack
资源格式: MP3
发行时间: 2007年07月25日
简介: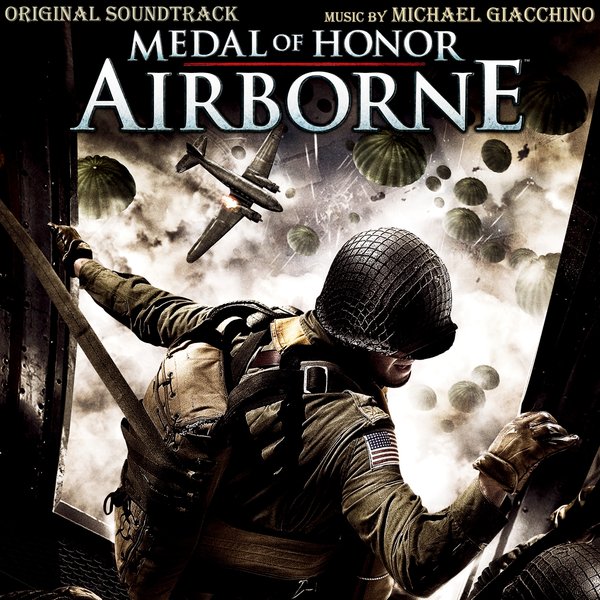 已更新 MP3 320Kbps

专辑介绍:

作为一个享誉已久的电视电影音乐专业户,Giacchino曾经分别为电视剧《迷失》(Lost),电影《双面女间谍》(Alias) ,《谍中谍3》(M:i:III , 2007),《超人特工队》(The Incredibles, 2004)以及最新的影片《料理鼠王》(Ratatouille, 2007)担任音乐创作,并凭借他充满戏剧性的作曲受到了大家的肯定。《荣誉勋章》系列主题音乐深入人心,作为原创者,Giacchino建立了用音乐在游戏表达情绪的方式。Giacchino不凡的天赋和敏锐的音乐感悟为《荣誉勋章 神兵天降》这款二战第一人称射击游戏(FPS)注入了全新的享受。正义、悲壮充满了音乐的旋律中,喜欢二战的朋友推荐下载。

英文评论:

Medal of Honor Earns its Wings
Review by Christopher Coleman

After the success of Infiniti Ward's CALL OF DUTY 2 and 3 for the XBOX 360, the hope and expectations placed on EA's MEDAL OF HONOR: AIRBORNE were high. AIRBORNE would be EA's first WWII shooter release for the a next-gen console and with the increased processing speeds, storage capacity, an even more immersive gaming experience was the expectation of gamers. While there was little worry that composer Michael Giacchino would deliver, it turns out the game itself was not as well received as EA would have hoped - especially from the PC community. For whatever bugs the game might have, it has to be admitted that parachuting into a war zone is quite a different experience than any other WWII shooter has provided until now - thus hopefully providing some virgin territory for the Giacchino to jump into. So we endured a pretty big build-up for the game, then somewhat of a let down, but what of the score?

No one was more surprised than I, as I found myself quite undwerwhelmed (yes "under") with MEDAL OF HONOR: AIRBORNE after my first few listens. Something just failed to grab me. Perhaps expectations were just too high. After bringing the Medal of Honor series to what I have considered its highest musical moment in FRONTLINE, I didn't think there was much head-room left. After listening through a two or three times, my initial impression was that I had been right. It took a quite a few listens for me to begin to appreciate just what MICHAEL GIACCHINO had done for AIRBORNE. While remaining faithful to his past works, he was still able to take the music in some new directions and make the most of what room did exist.

The first track is a good example. Among a somewhat non-descript smattering of blasts of brass and encircling strings, my ears were finally perked as the memorable Medal of Honor franchise theme gets its first full orchestral performance at about the 2/3 mark. And so goes the listening experience through the balance of the score...at least for one's first few listens. The score moves on, solid as it is, but only causing a "Hmmm. That's interesting." only so often. I listened to track after track only to find myself interested when a familiar theme appeared, but I'm happy to say that my experience didn't stay like this. Given time...MEDAL OF HONOR: AIRBORNE earns its wings.

Now what slowly comes to light, as I was able pour over AIRBORNE over and over, are how those "somewhat non-descript smatterings" contain very entertaining and detailed elements. The most noticeable is the new main theme he has developed for the game. While it is introduced in the first track, it goes on to make numerous appearances throughout the soundtrack - each variation a welcome one. More accurately, there is an eight-note segment of the overall theme that resurfaces time and time again. This motif, itself, seems to build off of a variation of the orignal, 5-note, Medal of Honor motif.

Listening closely to the AIRBORNE score, I pick up homages to the late, great, Jerry Goldmsith and of course John Williams. It's all done in good taste and I can't help but smile each time I hear such nods to greatness. For example, in track 2, "Operation Husky," Giacchino revives a technique long since dropped from John Williams' "toolbag." Quick-paced strings form the backbone of this piece provide a familiar bit of tension. It takes a second or two but I find myself transported to Williams' work of the 1980s, in particular THE EMPIRE STRIKES BACK and the low-flying search of a snowspeeder over the terrain of Hoth.

Now this soundtrack doesn't have anything that comes close to warranting a "bad" tag, yet there remain several tracks which eventually come to truly stand out. First, we have Giacchino's almost jazz-influenced orchestration in "Restoration Temple" (track 5). This is immediately followed by the quick-tempoed, "Gunfight in the Ruins" (track 6), which also derives a lot of its initial character from the percussion section. Then on the heels of this track comes another slight nod to the aforementioned "Empire" in "Operation Neptune" (track 7). We have the most optimistic piece of the lot, "Unblocking Utah" (track 10) which continually builds to a very satisfying crescendo of the fanchise's main theme. And finally this release of MEDAL OF HONOR: AIRBORNE concludes with the somberly majestic "Medal of Honor: Airborne End Credits."

Due to its relatively short game-play, buggy PC version, and laughable multiplayer, MEDAL OF HONOR: AIRBORNE has taken some hard lumps from fans and critics. Still, MICHAEL GIACCHINO contribution remains a significant player in the game's immersive qualities and does deliver the goods once again. In the end, I don't feel it reaches the heights of MEDAL OF HONOR: FRONTLINE, but the score remains an entertaining listen. The music from the franchise has become readily available from iTunes and also directly from Nettwerk Music as mid-quality mp3s. And even more recently, two of MICHAEL GIACCHINO's Medal of Honor works have now become available to download as DRM-less, 256kb, mp3s from Amazon.com! One of them being - AIRBORNE! I'm increasingly becoming less of a fan of the world of audio compression (relative to CD quality, DVD-audio and the like, but it's still worth getting your hands on these tracks by whatever means available (legal means that is) and MEDAL OF HONOR: AIRBORNE is no exception.
专辑曲目:
1. Medal of honor - Airborne (Main Theme) 3:48
2. Operation Husky 3:27
3. Back Alleys 2:24
4. In The Trenches 2:34
5. Restoration Temple 2:46
6. Gunfight in the Ruins 5:24
7. Operation Neptune 2:34
8. Following the Demolition Wires 1:06
9. Room By Room 2:23
10. Unblocking Utah 2:43
11. Operation Varsity 3:38
12. Sniper Showdown 3:16
13. Das Flakturn 2:36
14. Destroying the Fuel Reserves 2:29
15. Dropping into Nijmegen 3:00
16. Wreckage of Nijmegen 7:04
17. Defusing the Charges 2:37
18. Taking Out the Sighting Tower 2:30
19. Paestum Landing 2:50
20. Medal of Honor - Airborne (End Credits) 4:14
这里是其它用户补充的资源(我也要补充):
暂无补充资源